Social Media Marketing Trends Overview 2021/2022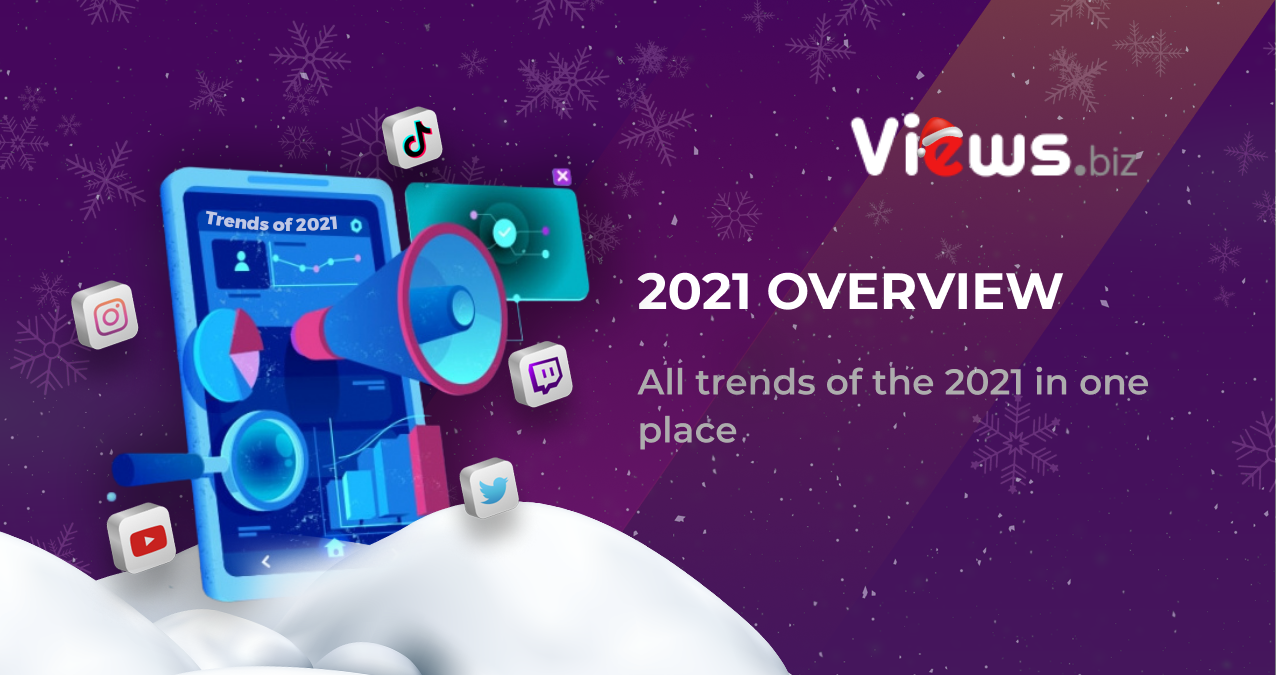 Social Media Trends & Statistics for 2021/2022
In order to achieve maximum audience coverage, brands don't have to register on all possible sites – it's enough to have corporate accounts on the most popular ones, but it's important to take into account their specifics and functionality. Social media marketing has become not just a useful tool for brand promotion, but also an important part of a successful business. SMM trends 2022 is a guarantee of a successful promotion strategy in social networks, an opportunity to predict the next trends and actively apply them, as well as to avoid mistakes.
Trends
1.Authenticity
Live photos without any photoshop, "human" answers without a hint of sales scripts, openness. The more real you are and closer to your subscribers, the more trust you have.
2.User Generated Content (UGC)
In 2021, the trend for creating special chips that stimulate the creation of user content has strengthened. Instagram interiors of cafes and salons, unusual presentation or packaging, special photo zones. If your project is just at the start, be sure to pay attention to creating such details - and people themselves will want to take a photo and share it with friends.
3.Live Streams
A lot of companies have switched to live streams to interact with their customers. This is a quick and affordable way to provide information about what your brand has to offer. More importantly, many consumers prefer live video to text content. Live streams are much like video chat. This allows subscribers to react when you share your content and establishes a closer relationship.
Some statistics:
It is expected that by 2022, live streams will account for 17% of all Internet traffic (Cisco, 2020).
80% of buyers prefer livestreams to reading brand blogs.
Live content viewing time is 27% longer than video on demand (Conviva, 2020).
4.Stories
Stories in social media are a visual not text-rich news feed in fact. This trend has become one of the fastest growing trends in social networks in recent years. Another useful feature of stories is the ability to add surveys or ask questions, which allows you to collect information from your audience, increasing engagement with simple interactive content. Disappearing content allows you to share a lot of unedited, less than perfect moments. And it resonates with a wider audience. So, in 2022, we can expect even more stories.
5.Video content has gained popularity
Video is one of the most attractive types of content. It will soon dominate social media and prove to be a clear winner among other formats. Whether it's short videos on TikTok, Stories or Reels, or even long content on YouTube, videos are the future of social media. According to a Cisco study, by 2022, 82% of all online content will be video content.
6.Gamification or game on
The boundaries between social networks and games are increasingly blurring, more and more gamified content is appearing on social networks, and more gaming platforms offering social spaces are also appearing. Gamers are a much larger audience than you might think: 92% of millennials and Generation Z are active gamers, and surprisingly, 65% of boomers also fall into this category. That is why there will be more quizzes, interactive videos and other types of game content in 2022.
What trends will be popular in 2022?
1.Short videos
If last year someone else didn't take Tik Tok seriously, now it's obviously the most truly powerful and relevant tool for promotion. Other platforms are following in its footsteps: Instagram is promoting its alternative - Reels, YouTube launched the Shorts format in the summer of 2021. It's obvious that large platforms are confidently betting on short videos. So, you totally need to study the features of each platform and make your own choice, but in any case, in 2022 it is worth paying attention to the format of short videos, now adored not only by generation Z.
2.Virtual Reality
It's becoming more difficult to really interest and captivate people, so digital marketing is turning to increasingly complex and unusual formats. Advances in technology allow us to offer an interesting virtual and augmented reality experience to the audience. With access to VR and AR technologies, brands conduct tours of the facilities, introduce users to the production and create interactive 3D models so that customers can thoroughly study the products. AR is already used by large companies: for example, IKEA gives customers the opportunity to see how the furniture will look in the room using a mobile application even before buying. AR/VR technologies are becoming more accessible, and in 2022 even more companies will be able to turn to the possibilities of virtual and augmented reality.
3.Video content
Video content is already a must-have in content marketing, and live video will take one of the most important roles in 2022. Expect to see even more of this live content next year, from short tutorials and tutorials to live webinars.
4.Shopping via social media
Social platforms extend the functionality of shopping (for example, Facebook Shops and Instagram Shopping). Even Snapchat and TikTok have picked up on this trend. According to forecasts, in 2022 social networks will integrate even more strongly with e-commerce. According to Smartinsights, 87% of online shoppers believe that social networks help them make a purchase decision, and 30% of consumers claim that they will purchase goods and services directly through these channels.
In this article we have tried to collect the most effective trends that will definitely help companies, marketers and just people who want to be popular, develop and implement the necessary actions to increase profitability. Following these tips will provide the best result in achieving the set goals and will be able to assist in realizing the existing potential. If you want to be a part of trends, just stay tuned!
Don't forget that our services will totally help you to stay in trends!
YouTube Live Stream Viewers - prices are from $50.00
Services for TikTok promotion - prices are from $0.80
Services for Instagram promotion - prices are from $1.12
Stay tuned!
Subscribe to our newsletter and never miss a post
You've successfully subscribed
Thank you for your interest!
Don't forget to check your mailbox