Holiday Season: Best Christmas holiday ideas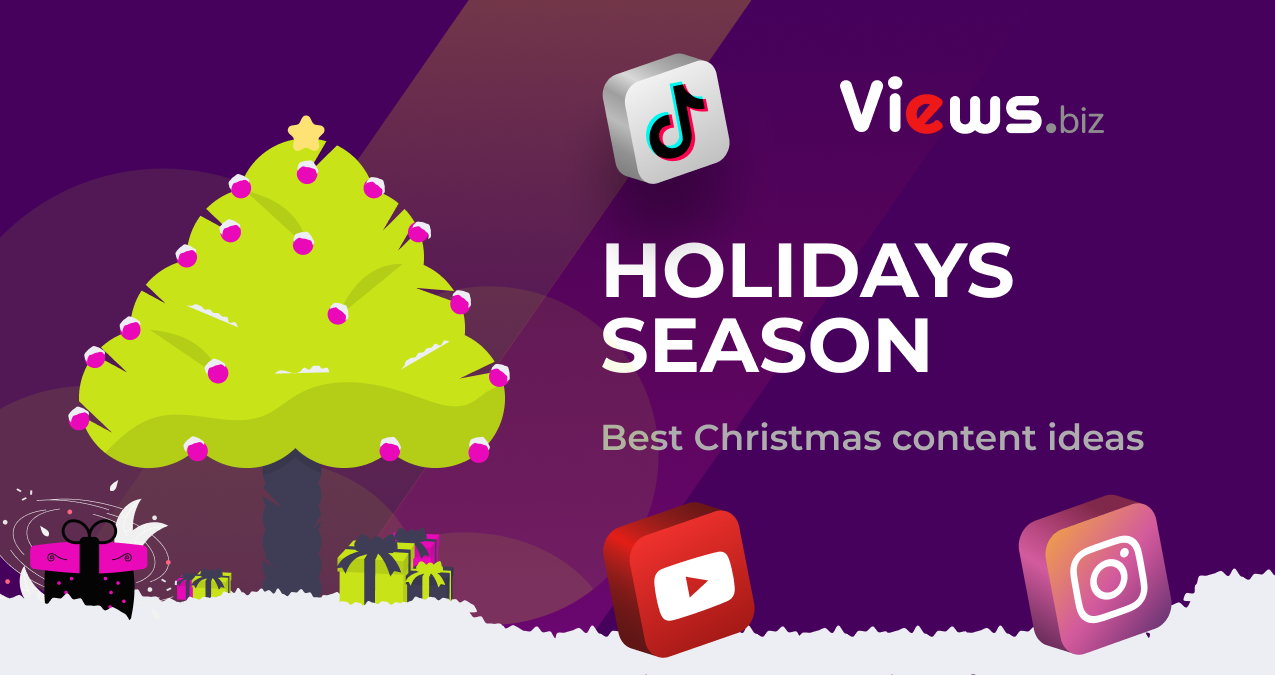 Christmas is around the corner and now it is the best time to think about your content and what you can post to attract wider audiences. According to statistics, during the holiday season people are more interested in participating in holiday activities, buying presents, looking for Christmas ideas, etc.
We become more keen on creating a special atmosphere around us and we look for more information to help us create this special mood. This is where your content can really make a statement and become more noticeable among other types of content.
In this article we come up with different ideas for three social media platforms: YouTube, Instagram and TikTok. Here you will find out more about Christmas marketing ideas 2023.
What to post on holidays?
To attract more attention to your content try to focus on some of the following ideas:
Run a Contest/ Giveaway
What can work better to spark the interest in your profile if not a holiday contest? Think about your content, what is your niche precisely and what thing you can put to your contest as a present. Here we will also advise you to come up with your unique hashtag for the contest so it would be easier for users to find more information about it and to share with their followers or subscribers.
You can contest anything starting from a piece of clothing (maybe you design it yourself) to a gift box with a lot of small things inside. Once users see that the gift that you run for a contest is unique and worthy they will share the information with their friends.
As a result more people will come across your content and you will improve your engagement rate. In addition, it is far more likely that more people would follow you after just seeing the details about the contest. You can run contests on any platform: on Instagram, in a short video on TikTok, and on YouTube as well. These are truly one of the nicest Christmas social media post ideas.
Gift Guide
This format is suitable mostly for Instagram where it is all about video representation. Making reviews of any kind of product or a service is always a thing online. In fact, we all look for reviews when it comes to choosing presents, buying something. People need more information and so during holidays they search for 80% more information and more reviews.
You can also make a review video containing YouTube Christmas ideas and share details about any product or services with your subscribers. You can come up with your own list of 'go to' presents for Christmas and why. Provide as many details as you can. The more details you give to your potential subscriber, the more trusted your profile looks. You also show that you provide reliable information and not hiding any information from people.


Create your Own Christmas Product
Сome up with your own product that can be considered as a present and sell it. For example, if you cook you can sell Christmas designed donuts or cupcakes, you will see how many people will find it useful and you could even increase your sales. This is a great Christmas social media posts for TikTok to gain maximum exposure of your content in a short and interactive video.
The vast majority of users look for products on social media platforms so they are far more likely to search for something they can buy as a present. You will gain more recognition if your product looks unlike any other, especially when it is handmade. Same thing goes for anything you can do yourself, for example you can sew Christmas clothes: pajamas, dresses or suits for an event.
Cooking Ideas
You can not only sell what you cook but just share recipes for this holiday event and teach users how to do your best dishes. Christmas is all about families gathering together to celebrate so a lot of people look for new recipes to make something new for their families.
This kind of content is better to post on Instagram, where under the post you can add up around 2.000 symbols with the exact recipe you used in your video.
Uploading cooking recipes is always a good idea to post and a very popular niche and during the holiday season it becomes 100% more popular. Don't miss your chance and share your cooking ideas.
How can you boost your visibility on social media?
You can save a lot of your time on promotion if you get services from reliable SMM-sources like Views.Biz. With our SMM panel you'll be able to improve your engagement rate and visibility on YouTube, Instagram and TikTok for this upcoming holiday. Also, the vast majority of Views.Biz's clients choose to get:
Views.Biz offers only high quality services and ALL of them have been tested and they comply with terms and conditions of any social media platforms.
Stay tuned!
Subscribe to our newsletter and never miss a post
You've successfully subscribed
Thank you for your interest!
Don't forget to check your mailbox