How to Share a YouTube Video on Instagram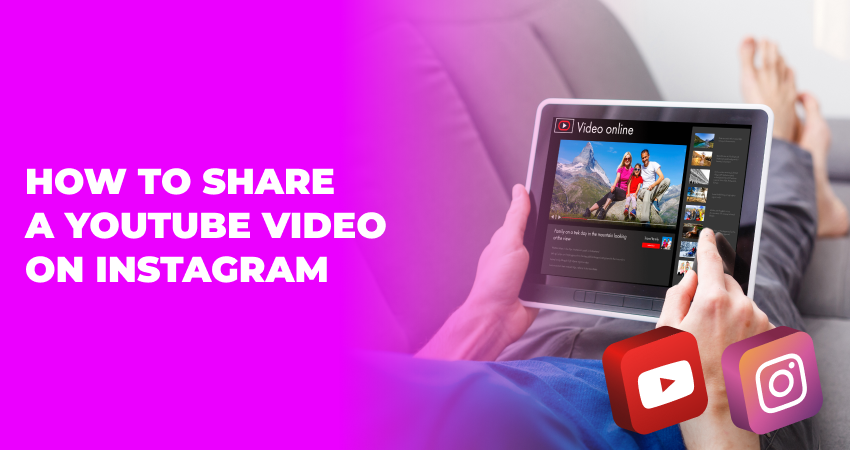 In today's interconnected digital age, platforms like Instagram and YouTube play significant roles in how we consume and share content. While Instagram excels in visual storytelling through photos and short videos, YouTube remains a powerhouse for video content of all lengths. Although Instagram doesn't offer a direct method to post YouTube videos, with a few maneuvers, you can make it happen and here we want to talk more about how to share a YouTube video on Instagram.
Table of Contents
Start by choosing the YouTube video you wish to share. It's essential to remember Instagram's video limitations when making this choice. Videos shared on the main Instagram feed cannot exceed 1 minute in length. On the other hand, Instagram stories are even shorter, allowing for only 15 seconds of footage, though it's possible to divide a longer video into consecutive stories.
Once you've made your pick, the next task is downloading the YouTube video onto your device. Various tools and online platforms facilitate this. On desktops, websites like Y2mate and ClipConverter offer the convenience of downloading videos by simply pasting the YouTube link. For mobile users, applications such as TubeMate for Android or Documents by Readdle for iOS serve the same purpose. When downloading content, always be mindful of copyright laws and ensure you have the content creator's permission before sharing their work.
Sometimes, the video you choose might exceed Instagram's time limit, requiring you to edit it. Desktop users can utilize programs like iMovie for Mac or Windows Movie Maker to cut down the video's length. If you're working directly on a mobile device, built-in editing tools or third-party apps like InShot or Quik can be incredibly helpful. These apps not only allow trimming but also provide options to add music, text, or other special effects to enhance the video.
If you've performed the downloading and editing processes on a desktop, the video file needs to be transferred to your mobile device. Several methods can be employed here, ranging from cloud services like Google Drive and Dropbox to direct transfers through a USB cable. For Apple users, Airdrop offers a quick and convenient wireless transfer method.
With the video on your mobile device, it's now time to post to Instagram. For sharing on your feed, open the Instagram app, tap the '+' icon at the bottom, choose 'Library', and then select your video. If further trimming is required, Instagram's built-in editor is at your disposal. After adjusting the video to your liking, add a caption, and tags, and finally hit 'Share.' If you're aiming to share it as a story, swipe right or tap your avatar in the top left corner, select your video, edit if necessary, and then tap 'Your Story' to post.
A critical step that should never be overlooked is giving credit. Always acknowledge the original content creator, either by mentioning them in the caption or tagging their account. This gesture not only respects the creator's rights but can also minimize potential copyright issues.
For those not inclined to download and re-upload videos, there's a simpler alternative: sharing the link. You can directly share the YouTube link to your Instagram story using the platform's link sticker. Another approach is to copy the YouTube link, paste it into your bio, or use platforms like Linktree to group multiple links together.
In conclusion, while sharing YouTube videos on Instagram requires a bit of effort and a few extra steps, the process is straightforward. Whether you're doing it for promotional purposes, to inform, or simply to entertain, the above guide ensures you can bring YouTube's rich content spectrum to your Instagram audience with ease.
Do I have to download the YouTube video to upload it to Instagram?
Yes, to upload a YouTube video directly to Instagram (either to your feed or story), you first need to download the video to your device. Instagram doesn't allow you to directly post from a YouTube URL.
What if my video is longer than 1 minute, can I still share it on Instagram?
Videos on your main Instagram feed are limited to 1 minute. If your video is longer than that, you have a few options like trimming the video to fit within the 1-minute limit, splitting the video into multiple parts, and posting them as a series or carousel.
Can I add a YouTube video via Instagram swipe?
The swipe feature is only available for verified accounts or accounts with more than 10,000 followers. In this case, you'd be sharing a link to the video, not the video content itself. Viewers would swipe up and be redirected to YouTube to watch the video.
Can I add a YouTube video to Instagram Reels?
Yes, but with a caveat. You'd need to download the YouTube video first, ensure it fits within the time limit set for Reels, and then upload it to Instagram Reels.
Stay tuned!
Subscribe to our newsletter and never miss a post
You've successfully subscribed
Thank you for your interest!
Don't forget to check your mailbox