New Features Of Social Media For Your Promotion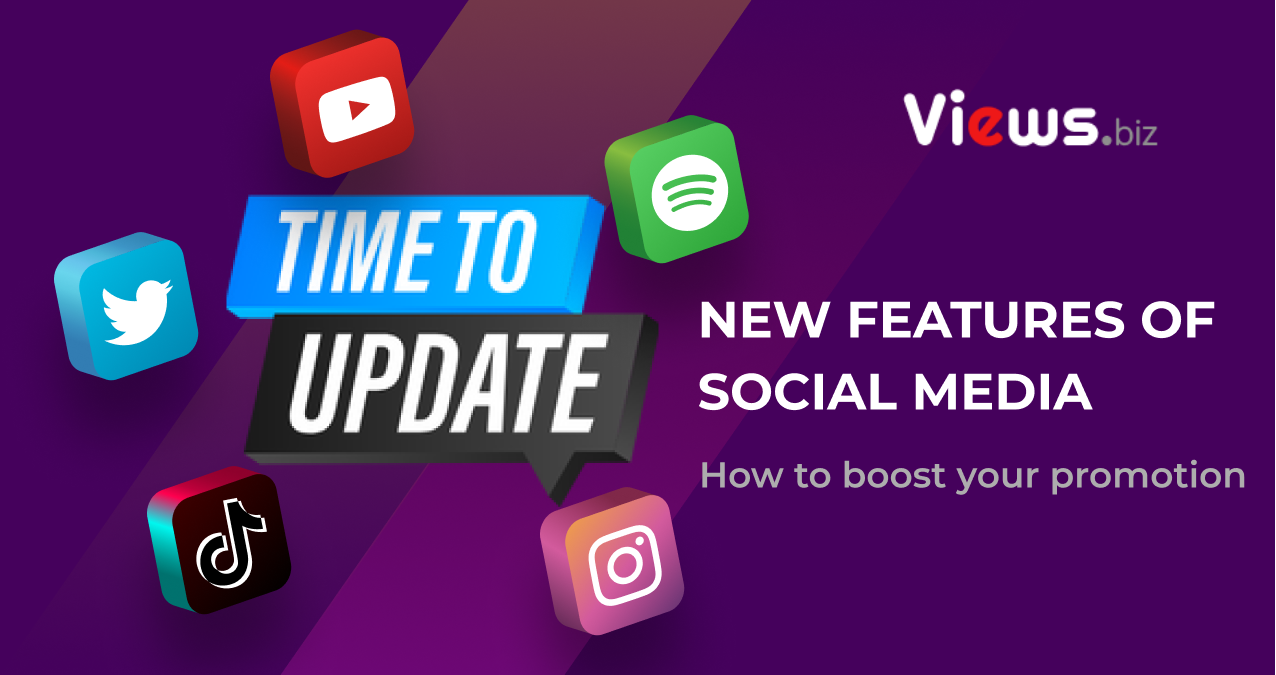 The main changes in social media in 2022: news and updates
It's hard to imagine modern life without using social networks. A huge amount of content is downloaded every day. People spend a lot of time on the Internet. The year 2021 was a time of changes and updates for social networks. Let's see what new features are available in 2022 and what new features should we wait for?
Let's start with Instagram, where updates are released almost every day:
1.
Audio calls appeared on the platform.
Now users have the opportunity in the beta version of the application to connect calls, you can do this even with a business account. Businesses can now set up a support line on Instagram. Also now you can set up text answer templates in case you can't answer the call, or connect an answering machine.
2.
Updates for Reels.
Now in order to reach a larger audience there is an option to post Reels to the profile layout, Instagram has also increased the duration of the video as well, now the maximum length of Reels is 90 seconds. You can increase your subscriber base and get your account at the top, you need to buy Instagram Reels likes for that!
3. New Reshare-hub feature.
The compass icon in your Direct now allows you to share your saved posts, likes, and recommendations with other users.
4. Calendar of events in the profile header.
Now in your profile description, there is a block where you can post announcements of important events with an icon in the form of a calendar.
For example, if a user clicks on the icon, he will see your planned live broadcast with the date and name, and the new feature also allows you to send reminders of announcements 15 minutes in advance. Also, these reminders can be put not only in a sticker format on a Storyboard, but also as a direct link.
How did YouTube surprise us?
A new feature - an automatically generated media kit.
This feature is a ready-made commercial proposal for collaboration for brands, which can be downloaded in pdf.
It includes the following data:
- Channel viewer statistics: demographics, audience interests,
- average viewing time of the videos,
- best videos by views,
- past ad integrations.
Tik-Tok was not without updates either:
A new platform for bloggers and marketers has appeared - trends.tiktok.
It presents a public chart of video content with the leaders in views, for each country in real time.
Stories format in Tik-Tok
You will now be able to see a new "Quick" item when you open the camera in Tik-Tok.
The feature is still being tested, but it's already clear that this is a new way to create short content in Tik-Tok, just like Instagram Stories will only be available for viewing for 24 hours
Tik-Tok Stories will be shown in four places:
- On your recommendations page (FYP),
- on your followers page (Follow),
- on the author's profile
- and in a special sidebar.
Spotify is also testing new features:
Banner ads will appear on the platform
A click on an advertiser shows an interactive call-to-action button, meaning Spotify ads bring direct traffic to the site.
What's new on Twitter?
Now haters can show that they don't like the content. Twitter now has a downgrade feature:
Users can now click on the downgrade button. During testing, it became clear that mostly users downgrade offensive or inappropriate responses. At the same time, none of the social network users can see who downgraded them.
Social networks are always being updated. In 2022, experts predict that we will see an even greater shift towards video content and also the addition of new virtual reality features. Meta already has several globally significant AR related developments going on right now.
We think that other social networks won't want to stay away either. 90% of the business is already online. If you want to make a lot of money, start thinking about which social network to choose, and your promotion will be done by professionals on Views.biz.
Stay tuned!
Subscribe to our newsletter and never miss a post
You've successfully subscribed
Thank you for your interest!
Don't forget to check your mailbox