How to Create an Effective YouTube Video Marketing Strategy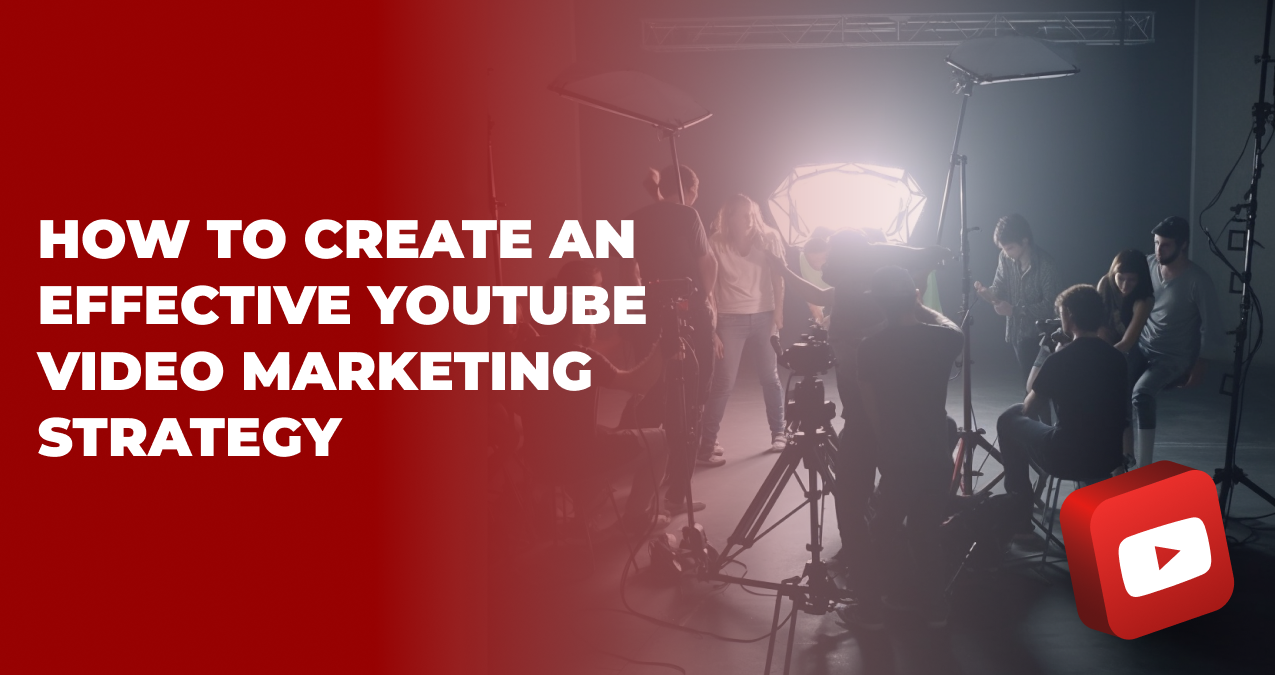 Table of Contents:
Importance of YouTube Video Marketing Strategy
YouTube Marketing Strategy Tips
1. Define Your Objectives
2. Know Your Target Audience
3. Create Compelling Video Content
4. Optimize Your YouTube Channel
5. Promote Your Videos on Social Media
6. Analyze and Improve Your Performance
Conclusion
Frequently Asked Questions (FAQs)
In today's tech-driven world, having an online presence is crucial for businesses to thrive. YouTube has emerged as a leading platform for brand promotion and reaching out to potential customers, boasting an impressive audience of over two billion monthly active users who consume around one billion hours of content daily. This has rendered YouTube a powerful tool for marketers. However, merely creating a YouTube channel and uploading videos won't suffice to tap into the platform's potential. To achieve optimal results, you need to adopt a well-planned YouTube video marketing strategy. This article highlights the importance of a YouTube marketing strategy and provides recommendations for developing an effective one.
Importance of YouTube Video Marketing:
Developing a solid marketing strategy is essential for any business that wants to tap into the vast audience of YouTube. Without a proper plan, your videos may easily get lost among the overwhelming amount of content on the platform. But with a well-crafted YouTube growth strategy, you can effectively target your intended audience, foster engagement, and drive more conversions. In addition, a YouTube marketing plan can establish your brand's identity, position your business as an industry leader, and increase traffic to your website. By continually monitoring your progress and refining your videos, you can achieve optimal results. Here are some helpful tips for implementing a successful YouTube digital marketing strategy.
YouTube Digital Marketing Strategy Tips
Businesses rely on YouTube as a crucial channel for promoting their products and services due to its vast audience of more than 2 billion monthly users. However, simply producing and sharing videos on the platform is insufficient to maximize its potential. To achieve optimal results, companies must develop an impactful marketing plan specifically designed for YouTube. The following are some helpful suggestions for creating a thriving YouTube marketing strategy:
Define Your Objectives: Before creating any video content, it's essential to define your objectives. What do you want to achieve through your YouTube marketing strategy? Do you want to increase brand awareness, generate leads, or drive sales? Having clear objectives will help you create relevant and targeted video content.
Know Your Target Audience: It's crucial to know your target audience and their preferences to create engaging content that resonates with them. Analyzing your audience's demographics, interests, and behavior will help you understand what type of content they are looking for and how you can cater to their needs.

Create Compelling Video Content: Creating compelling video content is the backbone of any successful YouTube social media marketing strategy. Your videos should be visually appealing, informative, and engaging to keep your audience hooked. It's essential to focus on the quality of your videos, including the script, visuals, and sound quality.

To improve your online presence and expand your audience, optimizing your YouTube channel is crucial. This involves creating a compelling channel trailer, incorporating appropriate keywords and descriptions, and organizing your videos into playlists.

Additionally, you can maximize your video exposure by leveraging social media platforms such as Facebook, Twitter, and Instagram. Sharing your videos on these channels can increase their visibility and attract a larger audience, potentially boosting their popularity.
Analyze and Improve Your Performance: Analyzing your channel's performance is crucial to improving your YouTube strategy. YouTube provides a range of metrics to measure your performance, including views, watch time, engagement, and demographics. Analyzing these metrics will help you identify what's working and what's not and improve your YouTube strategy accordingly.

By implementing these tips, businesses can create an effective YouTube marketing strategy that helps them achieve their objectives and connect with their target audience. Remember that consistency is key, and it's essential to keep creating quality content to maintain your audience's interest.
Conclusion
In the digital age, developing a strong YouTube video marketing strategy is critical for any business looking to succeed. With a vast audience on this platform, effective brand promotion can attract new customers, drive website traffic, and establish industry authority. This article offers valuable tips and insights for creating an effective YouTube marketing plan. For additional information, we recommend reading our other articles on 'How to boost YouTube video safe and reliable' and 'How to promote your YouTube channel cheap'. You can also refer to the frequently asked questions (FAQs) section for further guidance.
To increase your YouTube channel's visibility and engagement, you may use SMM panels to acquire a certain number of subscribers. While some may be hesitant to use SMM promotion services, they are undoubtedly popular, and some SMM panels offer secure services that safeguard personal information and comply with social media policies. One such reputable SMM panel is Views.Biz.
At Views.Biz, we only offer legal and proven services that adhere to YouTube's terms and conditions, ensuring that our clients' profiles are never suspected by the platform. Our service helps influencers increase their visibility and reach a broader audience through organic promotion of their YouTube channel, rather than relying on bot traffic. Try our best services and generate more popularity on your channel:
Frequently Asked Questions (FAQs)
Q1. What types of video content should I create for my YouTube channel?
A. The types of video content you create should align with your business goals and target audience. You can create tutorials, product demos, behind-the-scenes footage, interviews, reviews, and more. The key is to create content that engages and provides value to your audience.
Q2. How often should I post videos on my YouTube channel?
A. The frequency of your video posts will depend on your goals, resources, and audience engagement. Consistency is important, so aim for a schedule that you can maintain over time. Posting once a week or every two weeks is a good starting point.
Q3. How can I optimize my YouTube channel to reach a larger audience?
A. To optimize your channel, make sure to use relevant keywords in your video titles, descriptions, and tags. Create a visually appealing channel banner and profile picture, and organize your videos into playlists. Encourage viewers to subscribe to your channel and engage with your content.
Q4. How can I promote my YouTube videos on social media?
A. You can promote your YouTube videos on social media by sharing them on your business pages and groups, creating teaser clips or trailers to share, and using relevant hashtags to increase visibility. You can also collaborate with influencers or other businesses to expand your reach.
Q5. How can I measure the success of my Youtube Channel strategy?
A. Use YouTube Analytics to track your video performance, including views, engagement, and audience demographics. Use this data to inform your content and promotional strategies, and continually test and adjust your approach over time.
Stay tuned!
Subscribe to our newsletter and never miss a post
You've successfully subscribed
Thank you for your interest!
Don't forget to check your mailbox