LinkedIn Networking: How to Build Meaningful Connections and Relationships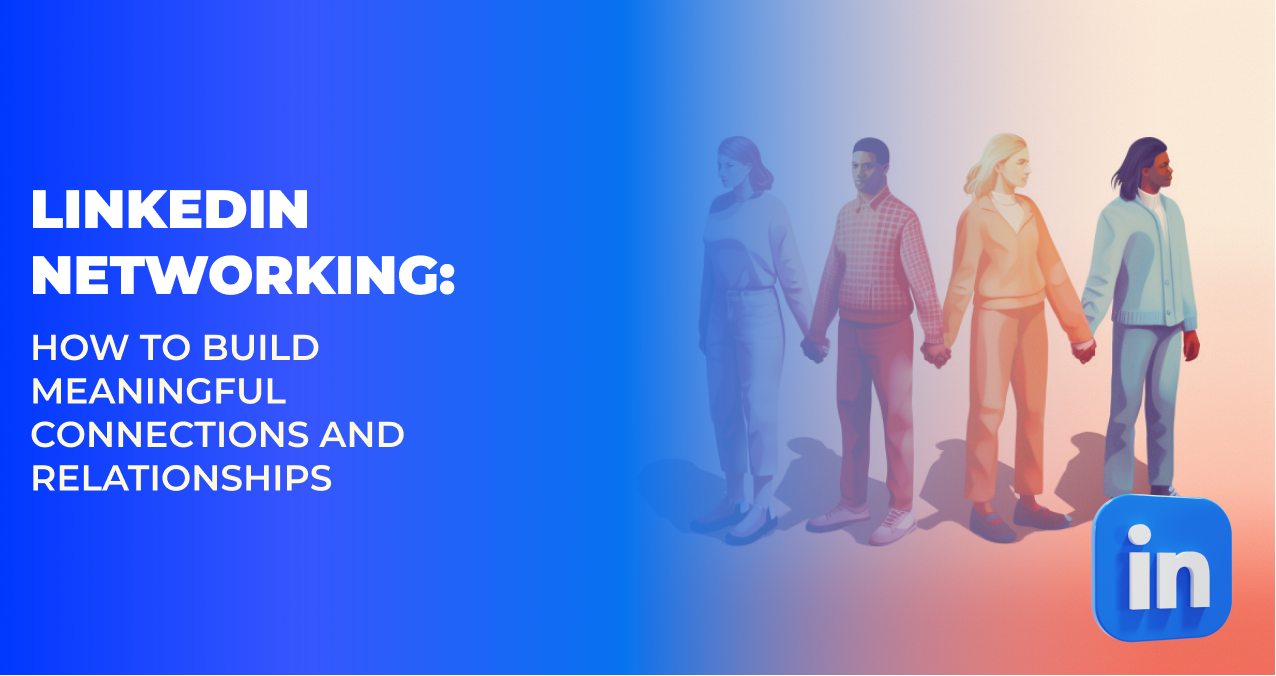 Table of Contents:
What is LinkedIn?
How to build a LinkedIn profile
LinkedIn profile tips
LinkedIn tips for job seekers
Tips to improve your LinkedIn profile
How to grow your LinkedIn network
LinkedIn connections
How to get more connections on LinkedIn
Conclusion
Frequently Asked Questions (FAQs)
Tips for Building LinkedIn Relationships
LinkedIn has become one of the most important networking tools for professionals in today's digital age. What is Linkedin? With more than 740 million users worldwide, LinkedIn offers a platform for professionals to build their personal brand, connect with other professionals in their industry, and grow their network of contacts. However, building a strong and meaningful network on LinkedIn is not as simple as just creating a profile and waiting for people to connect with you. It takes time, effort, and strategy to build a LinkedIn profile that will help you establish your professional presence, connect with like-minded professionals, and ultimately achieve your career goals.
In this article, we will provide you with LinkedIn tips and best practices on how to build a great LinkedIn profile, information on how to grow LinkedIn network and how to get connections on LinkedIn. We will cover everything you need to know to use LinkedIn to its fullest potential. Whether you're just getting started on LinkedIn or you're a seasoned user looking to improve your networking skills, this article is for you.
How to build a LinkedIn profile
LinkedIn is a powerful social media platform for professionals, recruiters, and job seekers. Your LinkedIn profile is essentially your online resume and can be a powerful tool in building your personal brand and showcasing your skills, experience, and accomplishments to potential employers. In this article, we will provide you with tips and guidance on how to build a strong LinkedIn profile that can help you stand out in a competitive job market.
LinkedIn profile tips
Start with a strong headline: Your headline is the first thing people will see when they visit your profile, so make sure it accurately reflects your professional identity and what you do. For example, instead of simply listing your job title, use it to showcase your unique selling point or areas of expertise.

Craft a compelling summary: Your summary is a chance to introduce yourself and highlight your achievements, skills, and goals. Keep it concise and engaging, and make sure to focus on how you can add value to potential connections or employers.

Add relevant experience: List your work experience in reverse chronological order, including your job title, company name, dates of employment, and a brief description of your responsibilities and achievements. Make sure to tailor your descriptions to the job you're targeting.

Highlight your education: Include your educational background, including any relevant certifications or degrees. If you're a recent graduate, consider adding coursework or extracurricular activities that demonstrate your skills.

Showcase your skills: LinkedIn allows you to list up to 50 skills, so take advantage of this feature to highlight your areas of expertise. Make sure your skills are relevant to your career goals and backed up by examples of how you've applied them in your work.

Get endorsements and recommendations: Endorsements and recommendations from colleagues, managers, and clients can help showcase your skills and credibility. Make sure to reach out to people you've worked with and ask them to endorse or recommend you.

Keep your profile up to date: Your profile should be a living document that reflects your current career goals and achievements. Make sure to update it regularly with new skills, experiences, and accomplishments.
2. LinkedIn tips for job seekers
For job seekers specifically, here are a few additional tips:
Use keywords: Many employers use LinkedIn's search function to find candidates, so make sure to include relevant keywords in your profile that match the job description you're targeting.

Join groups and follow companies: To build Linkedin profile join relevant LinkedIn groups and follow companies you're interested in. It can help you stay informed about job openings and industry news.

Reach out to recruiters: LinkedIn is a great place to connect with recruiters who specialize in your industry or job function. Reach out to them and let them know you're looking for opportunities.
How to grow your LinkedIn network:
Having a large and engaged LinkedIn network can help you build your personal brand, find new opportunities, and stay informed about industry trends. Here are some tips to grow your LinkedIn network:
Connect with people you know: Start by connecting with colleagues, classmates, friends, and family members to build your initial network.

Attend events: Attend industry events and conferences to meet new people and expand your network.

Join groups: Join LinkedIn groups relevant to your industry or profession to connect with other professionals and expand your reach.

Personalize your connection requests: When sending connection requests, personalize the message and explain why you want to connect.

Share engaging content: Share articles, insights, and updates that provide value to your network and encourage engagement.
LinkedIn connections:
LinkedIn connections are the foundation of your network on the platform, and building and maintaining strong connections can open doors to new opportunities and relationships. Here are some tips to help you manage your LinkedIn connections:
Stay organized: One of the best LinkedIn tips is to use LinkedIn's tagging and note-taking features to keep track of your connections and the conversations you've had with them.

Keep in touch: Regularly engage with your connections by commenting on their posts, sharing updates, and sending messages to stay top of mind.

Be selective: Only connect with people who you have a genuine interest in building a relationship with, and who are relevant to your professional goals.

Respond promptly: When someone reaches out to you on LinkedIn, respond promptly to show that you value their time and are interested in building a relationship.

Show gratitude: When someone endorses your skills or writes a recommendation for you, take the time to thank them and return the favor if possible.
How to Get More Connections on LinkedIn:
Building a strong network on LinkedIn can be extremely beneficial for your career growth and professional development. Here are some tips to help you increase your connections on LinkedIn:
Optimize your profile: Before you start reaching out to people, make sure your profile is complete and presents you in the best possible light. Use a professional headshot, write a compelling summary, and include all relevant experience, education, and skills.

Join relevant groups: Joining groups related to your industry or interests is a great way to connect with like-minded professionals. You can participate in group discussions, share insights, and engage with other members.

Connect with alumni: LinkedIn has a powerful alumni feature that allows you to connect with former classmates and colleagues. This can be a great way to expand your network and tap into new opportunities.

Attend events: LinkedIn also has a feature that shows you upcoming events in your area. Attending events relevant to your industry or interests can be a great way to meet new people and grow your network.

Reach out to people: Don't be afraid to reach out to people you admire or would like to work with. You can send a personalized message explaining why you'd like to connect and how you think you can help each other.
Conclusion
Building a strong LinkedIn profile and network takes time and effort, but it's worth it. By following these tips, you can increase your visibility on the platform and open up new opportunities for career growth and professional development. Remember to always be authentic and genuine in your interactions, and focus on building meaningful connections with people who share your interests and values. Good luck!
Frequently Asked Questions (FAQs)
Q 1. How do I create a LinkedIn profile?
A. To create a LinkedIn profile, go to the LinkedIn website and click on the "Join now" button. You will be prompted to enter your personal and professional information, such as your name, email address, and job history.
Q2. How can I optimize my LinkedIn account?
A. To optimize your LinkedIn profile, make sure to include a professional headshot, a compelling headline, a detailed summary, and a list of your skills and experience. You should also use keywords that are relevant to your industry and include links to your portfolio or website.
Q3. How can I get more connections on LinkedIn?
A. To get more connections on LinkedIn, you should start by connecting with people you know, such as colleagues, classmates, and industry contacts. You can also join LinkedIn groups related to your industry and participate in discussions to network with other professionals.
Q4.Can LinkedIn help me find a job?
A. Yes, LinkedIn can be a powerful tool for job seekers. You can use the platform to search for job openings, connect with recruiters and hiring managers, and showcase your skills and experience to potential employers.
Q5. How can I grow my LinkedIn network?
A. To grow your LinkedIn network, you should actively engage with other users on the platform. This can include sharing industry news and insights, commenting on other users' posts, and participating in group discussions. You should also attend networking events and conferences to meet other professionals in person.
Buying LinkedIn promotion from SMM panels can be an effective strategy for individuals and businesses looking to increase their visibility and reach on the professional networking platform. SMM panels, or social media marketing panels such as Views.Biz, offer various promotional services, including LinkedIn engagement, followers, likes, and comments. By purchasing these services, individuals and businesses can quickly enhance their LinkedIn presence, attract more connections, and improve their overall credibility.
This can be especially beneficial for professionals and companies seeking to establish themselves as industry leaders, generate leads, or expand their network. However, it is important to choose reputable SMM panels that provide genuine engagement and avoid those that engage in unethical practices such as the use of bots or fake accounts, as these can harm your reputation on the platform.
Do not hesitate, increase the number of LinkedIn followers and make more connections with our effective service:
Stay tuned!
Subscribe to our newsletter and never miss a post
You've successfully subscribed
Thank you for your interest!
Don't forget to check your mailbox