Top 10 Tips for Growing Your YouTube Channel in 2023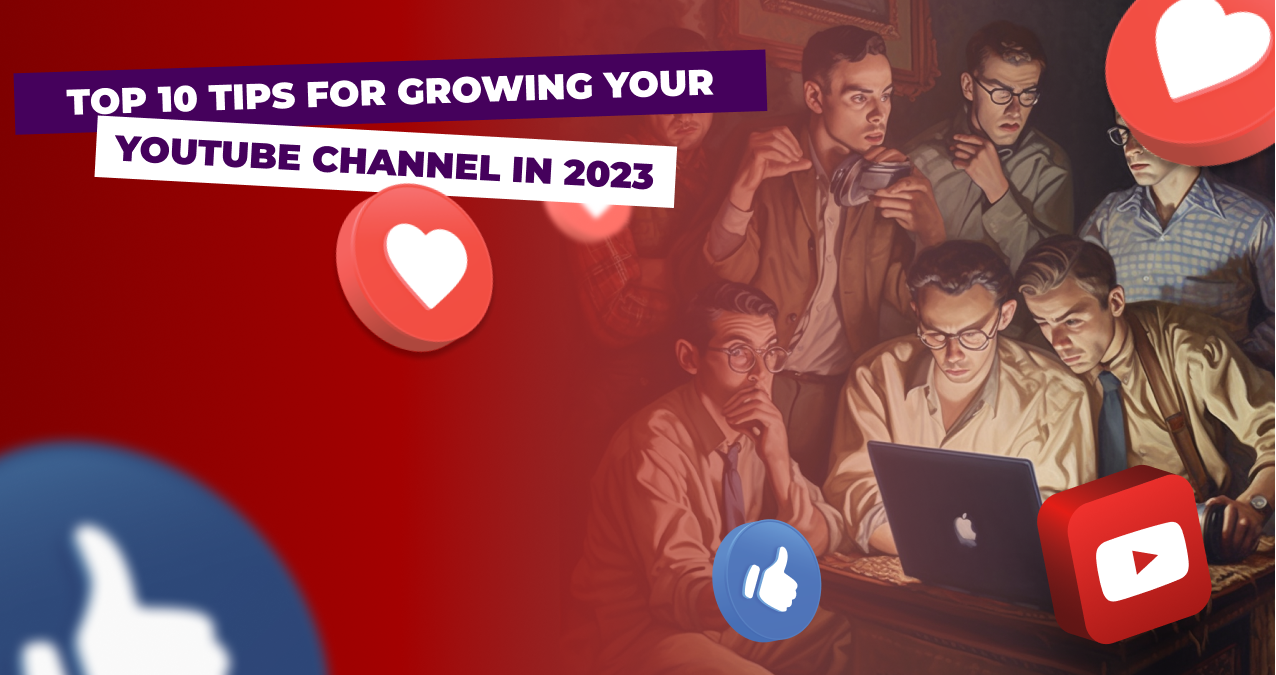 Wish to take your YouTube channel to the next level in 2023? Check out our top 10 tips for expanding your YouTube audience and increasing views and subscribers.
Table of Contents:
Trends in YouTube Promotion in 2023
10 Tips for Promoting a YouTube Channel in 2023
Optimize Your Channel and Videos

Consistently Create Quality Content

Leverage Social Media Platforms

Engage with Your Audience

Use YouTube Ads

Collaborate with Other YouTubers

Use SEO Strategies

Host Contests and Giveaways

Utilize Analytics and Data to Make Informed Decisions

Build a Strong Network with Other Content Creators & Industry Professionals
Conclusion
Frequently Asked Questions (FAQs)
10 Essential Strategies for Growing Your YouTube Channel in 2023
YouTube, with over 2 billion active users each month, has become a crucial part of our lives and one of the most extensive search engines on the web. This provides an excellent chance for businesses, content creators, and individuals to market their products, services, and concepts.
Trends in YouTube Promotion in 2023
Staying current with the latest trends in YouTube promotion is important in 2023, as it is an ever-evolving field, and it is important to keep up with the changes to differentiate oneself from the competition. Some of the trends in YouTube promotion in 2023 are:
The rise of short-form videos: With the success of TikTok and Instagram Reels, YouTube is expected to introduce short-form videos that will allow content creators to engage with their audience more effectively.
The trend of live streaming on YouTube has been increasing and it is expected to continue throughout 2023. Live streaming provides an exceptional opportunity to connect with the audience in real-time and produce compelling content.
The importance of niche content: With the vast amount of content on YouTube, creating niche content that targets a specific audience will become increasingly important in 2023. This will help to attract a dedicated audience and create a loyal following.
As YouTube keeps expanding and changing, promoting oneself on the platform has become increasingly critical. Due to the presence of over 2 billion active users, it is not astonishing that numerous businesses and individuals are striving to grab attention on the platform. If you aim to increase your YouTube channel's growth in 2023, here are ten tips to bear in mind.
Optimize Your Channel and Videos
The first step in promoting your YouTube channel is to optimize it for search. This means creating a clear and concise description of your channel, using relevant keywords, and ensuring that your videos are properly tagged and titled. This way you can better grow YouTube channel and improve your metrics
Consistently Create Quality Content
When it comes to building a successful YouTube channel, the most crucial aspect is the content that one creates. Consistently delivering captivating, high-quality content that appeals to viewers and motivates them to share it is essential in growing one's audience and enhancing engagement. Achieving this requires careful planning and preparation, including staying current with industry trends and popular topics and developing a long-term content strategy.
Leverage Social Media Platforms
Social media platforms like Twitter, Instagram, and Facebook can effectively promote one's YouTube channel. Use these platforms to share small parts of your latest videos as teasers, engage with your audience, and share relevant news.
Engage with Your Audience
To develop a devoted following on YouTube, it is essential to engage with the audience. This means responding to comments, creating polls and surveys, and gathering feedback from your viewers. This practice helps in forming a community around one's channel and encourages viewers to return for more.
Use YouTube Ads
While organic growth is always preferred, YouTube ads can be a powerful tool for reaching new viewers and promoting your channel. Consider investing in targeted ads to help boost your channel's visibility.
Collaborate with Other YouTubers
Working with fellow YouTubers can increase your viewership and introduce your channel to new audiences. Consider collaborating on videos, guest starring on each other's channels, or simply promoting each other's content on social media.
Use SEO Strategies
Search engine optimization (SEO) is key to ensuring that your channel and videos appear in search results. This means using relevant keywords, creating descriptive titles and descriptions, and including relevant tags on your videos. It will definitely facilitate your YouTube video promotion process.
Host Contests and Giveaways
The best YouTube promotion technique (especially when you are a beginner) is to focus on contests and giveaways to engage your audience and promote your channel. Consider offering prizes to viewers who share your videos, leave comments, or subscribe to your channel.
Utilize Analytics and Data to Make Informed Decisions
YouTube analytics provide insights for informed channel decisions. Use these insights to track your audience demographics, monitor your channel's growth, and identify areas for improvement.
Network with Other Content Creators and Industry Professionals
To positively affect your YouTube video promotion, choose to build a network with other content creators and industry professionals. It can be a powerful way to learn about new trends, expand your knowledge, and promote your channel. Attend industry events, join relevant forums and groups, and connect with other creators on social media.
Creators need to stay updated with YouTube promotion trends and tactics to appeal to their audience. They should optimize their channel and videos, create quality content, engage with their audience, use YouTube ads, collaborate with others, use SEO strategies, host giveaways, utilize analytics, and network with professionals. These tips can help them achieve their goals on YouTube.
Frequently Asked Questions (FAQs)
Q1. What are some effective ways to promote a YouTube channel without spending money on ads?
A. Some effective ways to promote your channel without spending money on ads include optimizing your channel and videos for search, consistently creating quality content, leveraging social media platforms, and collaborating with other YouTubers.
Q2. Can collaborating with other YouTubers promote my channel?
A. Grow YouTube channel by teaming up with YouTubers and expand your audience and promote your channel. You can share your knowledge, promote each other's content, and create exciting new videos for your viewers. Collaborating with established YouTubers who have a larger audience can also help increase your visibility and potentially attract new subscribers. It's important to choose a collaborator whose content, values, and goals align with yours to ensure a successful partnership.
Q3. What is the best way to engage with my audience on YouTube?
A. To build a loyal YouTube following, engaging with your audience is key. Effective strategies include responding to comments, seeking feedback, and creating resonant content. Additionally, you can leverage interactive tools like polls, community posts, and live streams to foster real-time interaction and connection with your audience.
Q4. How to measure success in promoting a YouTube channel?
A. You can use various metrics to gauge the effectiveness of your YouTube channel promotion tactics. These include YouTube views, watch time, engagement, and subscriber growth. Use YouTube Analytics to track progress and identify successful promotion strategies.
Q5. What are some common mistakes to avoid when promoting a YouTube channel?
A. To promote a YouTube channel successfully, it's crucial to avoid common mistakes. In general choosing correct YouTube video promotion is essential to achieve goals on the platform and a build a strong channel image online. These mistakes include using clickbait titles and thumbnails, neglecting SEO, not being consistent with content, failing to engage with the audience, and relying entirely on paid YouTube promotion. Instead, the focus should be on creating high-quality content that adds value to viewers' lives. Additionally, a combination of organic YouTube promotion and paid strategies can be used to reach the target audience. Also, don't forget that you can always opt to accelerate the process of becoming popular online by getting YouTube promotion services from reliable sources.
Choosing this kind of source can be really tricky. It is important to thoroughly analyze the webpage where the promotion is advertised. Despite the fact that there are a considerable number of SMM panels where the promotions services can be bought from, users still use legal and safe sources where they buy YouTube promotion. One of such webpages is considered to be Views.Biz. Our panel provides everyone with an opportunity to get more organic activity from users on YouTube and reach wider audiences by getting safe and high-quality YouTube promotion services. Try our best promotion services for your YouTube channel and see how your popularity will grow in just a couple of clicks!
Stay tuned!
Subscribe to our newsletter and never miss a post
You've successfully subscribed
Thank you for your interest!
Don't forget to check your mailbox