How to Get Paid Promotion on Your YouTube Channel ✔️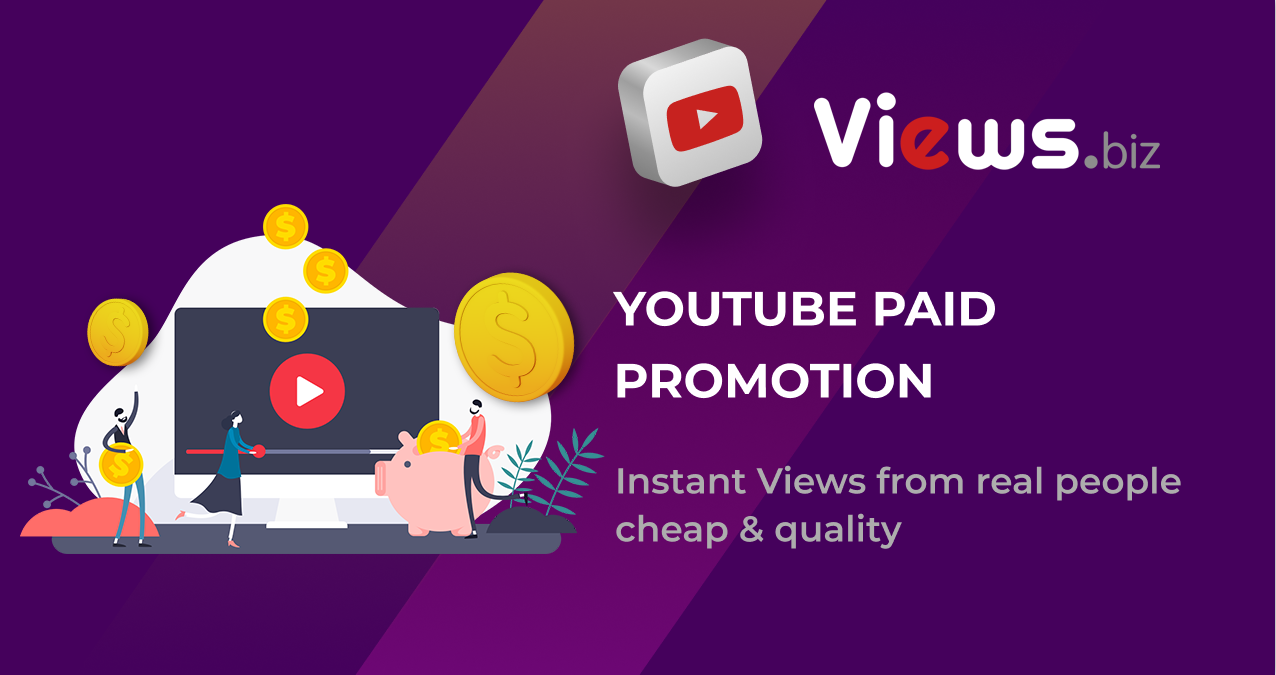 Youtube Paid Promotion


Paid Advertising? Why are they so popular among YouTube users and how does it all work? We can't deny the fact that offline advertising becomes less effective by marketers as they move to social media for building a brand image.
People are tired of watching annoying advertisements on TV or from sponsored posts on various platforms. Nevertheless, they still look for the best products that will meet their needs. The only way to do that is to check out a brand's advertising campaigns and see how the product is represented.
More than 4.5 billion people use social media platforms. The majority of social media platforms were created to let people share with each other and have fun on the network. Nowadays we can clearly see 2 types of people who use social media:
-The ones who share and watch entertaining content
-The ones who use social media for business and building a brand image
In fact, social networks contain a lot of information within. Users read news, watch different types of content and so - exposed to more information. Social networks really made a difference and changed the way we think of advertising. They become the marketing arena where everyone can promote their product or a service.
As a proof, remember how many sponsored posts you see in your feed, how your favorite bloggers advertise their product or collaborate with other businesses to show their services.
While users spend their time watching content others profit from it and make their brand more visible. It's true that thousands of brands have already joined social media where they can get maximum exposure.
Social media authorities make it possible for them to promote effectively. They come up with new updates and features that help brands to become more noticeable. It is a win-win situation: brands build their brand awareness and social networks get bigger audiences.
One such social network that is the second most visited site on the web (after Google) is YouTube. People do not only post entertaining content but also use the platform for their marketing purposes.
More and more individual entrepreneurs and brands choose YouTube as a source for brand promotion. Indeed, this platform is the best place to do that. According to statistics, YouTube users spend 1 billion hours watching YouTube videos every day. Imagine how many videos they watch.
People absorb and process information more effectively when it is shown in pictures or videos. YouTube is all about visual content and is used by more than 80% of online users. Brands and small businesses are able to reach their target audience easier, so it is very beneficial as they get maximum visibility.
On YouTube users who want to promote their content do that via: YouTube videos, Live streams, YouTube Shorts, and paid advertising. Advertisers choose to have paid ads over other types of promotion as it can be controlled and tracked, you can manage your budget and actually reach your potential customers.
It is already used on the most popular social network. You saw it on Facebook, Twitter, Linked in and, of course, on YouTube. The thing is that you pay for the advertising of your product or a service. People choose a channel or a source where they want to advertise their product and pay them for showing their ad.
YouTube paid promotion works the same way. In this case it is essential to thoroughly analyze your target audience and choose the source accordingly for a better reach. With paid YouTube channel promotion users get a chance to promote their brand on various platforms.
The benefits of paid promotion for YouTube
Getting YouTube paid promotion will help you to make your product or content more recognizable and even increase sales. There are a lot of benefits you get when you choose to get paid promotion on YouTube:
You reach target audience and make your brand visible

Affordable YouTube paid promotion price

You get

organic traffic

in several minutes (you're able to set daily or total budget)

You're able to test several ads you come up with and see which one worked better according to your audience feedback

You choose the most relevant platforms or websites where you want your ads to be shown (YouTube, Instagram, Facebook, Twitter, Reddit, TikTok, etc.)
The disadvantages of paid advertising
In comparison with advantages of paid promotion there are not so many disadvantages. Still they should be considered beforehand:
Spending a lot of time

on improving your ads, testing, choosing the best option and optimizing it further

Marketing skills

- one should know the basics of marketing and how to run advertising campaigns

When your potential clients click on the ad sometimes it is

not a guarantee

that they will buy your product or service
Despite the disadvantages of paid advertising it is still the most used form of promoting a brand online. It is a fact that social media platforms have their own algorithms. For example, seeing a particular promotion post in your feed, ads while watching YouTube videos have their own algorithms as well. Their aim is to target a specific audience.
YouTube is indeed preferred by a lot of brands and is actively used for marketing purposes. A vast majority of users choose Google Ads when it comes to getting a paid promotion on YouTube. There are 6 formats of such promotion:
Trueview Ads
Skippable video advertisement
All users are acquainted with this type of advertising. Advertisers choose this format to reach several goals: to better web traffic, to increase their sales, to attract a particular audience to buy a product and brand visibility.
Usually skippable ads last for 5 seconds. They can appear before, during a video or at the end of it. Viewers can skip watching the advertising after 5 seconds pass. Note that this kind of advertising format can be used not only on YouTube but on other websites as well.
As an advertiser you pay to the source only in two circumstances: when a user watched your videos for 30 seconds or when they engaged with your video (i.e. clicked on it).
In feed Video Ads
You could've seen this format on YouTube mobile homepage, in search results or in related YouTube videos. As a usual video on the platform they have a cover image (thumbnail) and a short text. The main feature of such an ad is that it expects users to click on the video and watch it. You'll be charged only when a user clicks on your video.
This format is all about allowing your target audience to choose to watch your advertisement. You're not making them do that but letting them decide on that themselves. Usually the format is used to make your audience consider choosing a product.
Additional Ad Formats
Non-skippable in-stream ads
The main goal of advertisers who use this ad format is to make their target audience watch the ad till the end. Non-skippable ads last for 15 seconds (they can be shorter) and a YouTube video where they appear is usually 10 mins or even longer. This kind of ads are also used before the video, while it is going and after it.
Advertisers use this format to make their target audience watch the entire video, understand its message and increase brand awareness among more users. Not being able to skip it makes it possible for users to get the idea about a product. If you use this format you'll pay for the number of impressions your ad gets.
1.Bumper Ads
A lot of users consider bumper ads to be the best promotion for YouTube. These videos are short and memorizable. They last for only 6 seconds and can be shown at any time while the video is going: at the beginning, during a video and after it.
Users tend to memorize what happened in the ad as it can last even less than 6 seconds. Moreover, viewers won't be able to skip it. With this format you get a chance to reach more potential customers and build your brand image. You'll pay only for impressions your ad will get.
2.Masthead Ads
This format is unlike any other listed above. Advertisers choose masthead ads when they need to spread the information about their product as soon as possible. It includes paying attention to potential clients to a new service or a product in a short period of time like sales.
With masthead your product will get the maximum attention from YouTube users. This ad format will look like a YouTube billboard that will be active for 24 hours. Users will get a chance to observe this type of advertising on their desktops, mobiles, and TV screens. Advertisers will pay for impressions they get (CPM - cost-per-thousand-impressions).
Native advertising
Simply put it is a sponsored or a branded advertising on a specific web page that appeals to the audience that visits it. For example, you read news about sporting events and after you see the ad of popular sneakers.
Very likely that you will click on the ad as it appeals to you and to the topic of interest. This way an advertiser gets a chance to see how much their product or a service is needed. Also, to collect information about the target audience and other necessary details to improve their ad campaign.
Paid search
You saw this kind of ad format when you were looking for something in Google. Remember the top web pages that are shown above others? Such advertising has a special sign of "Ad" meaning that the webpage is paid to be shown at the top or the ranking. So people actually pay for their advertisements to appear at the very top of the search.
Collaborations with bloggers
You can always choose to advertise your product or a service using the help of a well-known online figure - influencer. Get in touch with them and plan your advertising campaign. A lot of bloggers are open to collaborations so don't hesitate and contact them.
Make sure that your product and an influence's sphere are interconnected to avoid misunderstanding your target audience. Many marketers opt for this format of advertisement. It is pretty easy to communicate with a blogger and set the price you can spend on such a promotion.
Very often promoting your brand is not easy. A lot of users turn to get professional marketing help, others try to manage everything on their own. They try to show maximum activity on other channels or accounts to get the same feedback. They give likes, leave comments, watch other people's content, and even follow them.
Unfortunately, this is not a guarantee that you'll get the same activity back. That is the time when users think about a possible solution to their problem.
There is a lot of content on all social media platforms and YouTube is no exception. It is really hard to make it to the top if you don't consider basic things: how to make your content appealing, unique and how to promote it properly.
Cost of promoting YouTube may vary and for some users it can be expensive. In fact, as stated above YouTube paid promotion is not a 100% guarantee that your ad campaign will be successful.
In this situation users look for reliable sources that provide promotion services. Indeed, a huge number of users already use such resources that you might know as SMM-panels. On their websites one can buy promotion services for any social media platform and attract organic traffic to their page.
However, there are panels that are not trustworthy and that use bot activity. This is not the case with Views.Biz. Our customers choose our panel for effective and fact promotion. We also guarantee on time delivery of services.
On Views.Biz pay attention to the services that offer getting: likes, views, comments, subscriptions, live stream viewers and so on. These services involve only real users activity so you won't be blocked or suspended from any platform.
You may wonder:
How getting promotion services from Views.Biz will help me in promoting my brand? Views.Biz offers thousands of services that will help you in promotion. A lot of bloggers, influencers and public figures turn to our web page for quality promotion.
Customers choose this SMM panel as it is very easy to navigate through. Users get to see all the necessary details about a picked service: it's ID, start time, refill guarantee, price, the speed of the process and many more.
Users receive desired outcomes very easily and the pricing is very affordable. Moreover, a lot of services will come with a discount so you save up as well. One of the main features that makes Views.Biz distinct from other panels is that it offers getting services without registering on the page. This way customers get services within less than 3 mins.
All you have to do is to choose the necessary services type and what kind of metrics you'd like to promote and wait for the services to start processing. Don't hesitate and try our best services and make your brand stand out!
YouTube views - prices are from $3.10 per 1000
YouTube SEO views - prices are from $20.00 per 1000
YouTube likes - prices are from $4.00 per 1000
YouTube subscribers - prices are from $50.00 per 1000
YouTube Live Stream views - prices are from $15 per 1000
Stay tuned!
Subscribe to our newsletter and never miss a post
You've successfully subscribed
Thank you for your interest!
Don't forget to check your mailbox