How to Advertise your Youtube video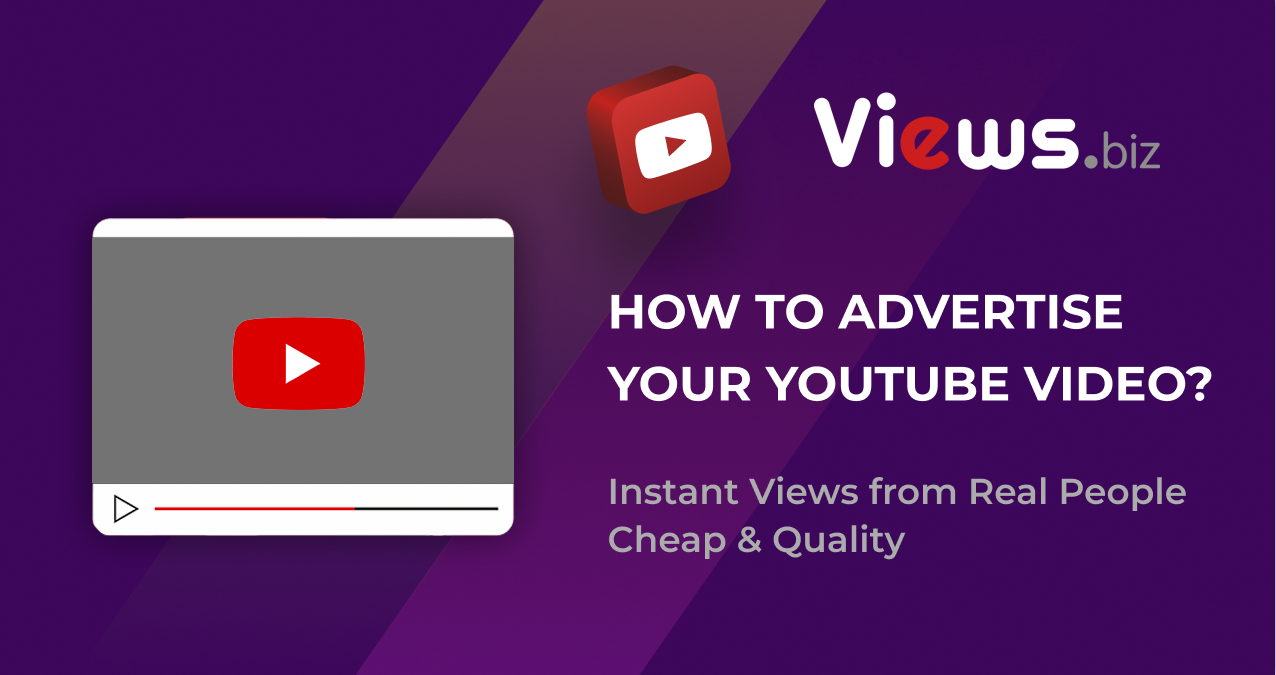 Advertise Your YouTube video
It's a fact that YouTube is one of the most popular social media platforms. It offers people a lot of opportunities. Some people use YouTube for entertainment purposes while others make money from it and build their brands.
It is not a surprise that we live in a world like that. For the past few years, people reconsidered their lifestyle: what they spend their free time on, eating habits, workplace, relationships, and so on. A lot of people asked themselves what they really want in their life. That is how working online came up.
Clearly, with 5/2 jobs, people get exhausted from commuting and stress at work and are keen on improving their lives. No doubt that there are still people who enjoy working from the office but the statistics speak for themselves. Almost 60% of employees say that they will be keener on choosing to work remotely than from the office.
In this case, it is not that hard to have a work-life balance. This is one of the main reasons why people still choose to work online. We get more opportunities doing it:
-Flexible working hours - you get to choose at which hour you'll be working, and you come up with your own schedule
-No more commuting - the vast majority of office workers don't live right next to the building where they work and they spend a lot of time commuting. When working online you save a lot of your free time
-More free time to do what you really like and spend it with your loved ones. No more excuses, working online you're free to balance different spheres of your life not thinking that work makes up to 80% of your day. You can spend your time with people you care for.
A lot of people wonder: how it is even possible to earn money online and where to do that. The answer is very simple: the key thing that will make it possible to earn online is your YouTube channel. Here we talk not only about monetizing your content but including ads while a user watches your content.
Here we should focus on advertising. It can be observed in our daily lives how people get tired of annoying and puzzling advertising on TV or, for instance, on the radio. Marketers had a solution for that. Advertise your YouTube video using two main advertising tools: Google Ads and YouTube Ads. As you can see the best places to advertise your YouTube channel are mainly Google and YouTube itself.
These two tools can make a huge difference and positively affect your business or brand. The reason for that is that Google and YouTube are the most visited browser and a platform worldwide. Also, we shouldn't forget that Google owns YouTube. The main difference between them is that Google deals more with web pages while YouTube has advertising within a video (in video format as well).
We as users use them to find something out, to see how something works and we expect that we will get relevant information and solve our problem. As a result a lot of marketers now pay a lot of their attention to how they advertise their products and represent their brands. Users who plan to make their brand well-known also should consider these tools to start profiting.
Advertising has never been so easy with these two tools that are a must if you want to sell your products or services online. Why do users choose Google and YouTube Ads for advertisement?
Advantages of using Google and YouTube Ads:
-Users can control their budget spent on an ad campaign and manage their income
-You can build your brand awareness and make your products and services more recognizable online
-Both Google and YouTube Ads show ads to your target audience
-You increase sales as more people visit your page
-It is possible to analyze your audience better and personalize ad campaigns
-You get fast results with this kind of advertising
A lot of influencers strongly believe that Google is truly the best place to advertise your YouTube channel. However, if you don't have it you still can create ads for your products from your YouTube web page online. According to Google, there are five campaigns to choose from:
1.Search campaigns
This kind of ad appears right away when a person Googles for something putting keywords in a search bar
2.Video campaigns
Video format ads that are shown on YouTube within a video (YouTube Ads are included in Google Ads)
3.Shopping Ads
Using this ad campaign is relevant when a customer is looking for particular products and plans to buy it
4.Display campaigns
Created for users who already visited a web page with a particular product but didn't buy it (retargeting them)
5.App campaigns
Simply put you make your application more visible y advertising it on Google
You may think that creating an ad campaign is hard. However, it consists only of 2 steps:
Create your Campaign

Billing
Let's see what this is all about in detail:
1.Choose your Objective
Firstly, you should choose the objective of your campaign. You aim to choose the most relevant objective for your future ad campaign. You'll be able to choose between 8 campaigns:
Before clicking on "Continue" decide for yourself:
-Is my goal to increase sales first?
-Do I want to attract more people to my page and improve my conversion rate?
-Is it important for me to target a specific audience with my ad?
-Do I want people to get to know my product first and see all the necessary details?
-Is it important for now to build brand awareness for a start?
-Or maybe I want to promote my app and improve my download rate?
-Do I need to attract people to visit stores?
As soon as you answer these questions you can turn to the next part of creating your first Google Ads which is "Selecting a campaign type". This part will vary and it will depend on the objective that you choose.
2.Change the details of your future ad
This is how the "Billing" step starts. Here all you have to do is simply choose the necessary details about your campaign. You choose:
Campaign name

Locations (region or country where you want your ad to be shown)

Your audience's language

Budget (the list of available currencies is more than 40)

You choose a schedule for your ads

Start and end dates and other additional information
For example, for our campaign, we chose Ireland as the location and English as the language.
Then we turn to the next part where we select the bidding we need (for us it will be viewable impressions, it is also recommended by Google), and then we choose the budget.
Then we added the schedule that we needed, picked the start and end dates and we didn't choose any additional features and decided to leave it like that.
Say we are a company that sells school supplies. We choose the most appropriate time for our audience (parents) from 19:30 up to 23:45 when they are free from work and other activities and watch videos. Then we set a date when we want our ad to start (Aug 31) and end date (Oct 1). Details may vary depending on what kind of product you advertise and your audience's interests.
When you are done you will see the next part where you should pick what your potential customers will see:
Ads logo

Videos

Headlines

Descriptions

Introduce your final URL

Choose the ad format (key ads, image ads, text ads, native ads
You can preview your ad campaign before starting it. Also, it is possible to see how your ads will be shown on a mobile screen and desktop.
When you're ready proceed to the last part of creating an ad: bidding. Here all you should do is enter your payment details and then you can submit the information and wait for your to start working.
Now you're done with Google Ads!
It won't be difficult either. In fact, YouTube is a very effective place to run advertising campaigns. Apart from being the second most visited website, YouTube has around 1.7 billion unique monthly visitors. This is the reason why a lot of marketers turn to the help of the platform to promote their brands online.
It can be seen from statistics that as well as Google YouTube is one of the most popular places to advertise YouTube videos. Here we talk about using ads and not only profiting from monetization.
It is a very trustworthy resource where people not only watch entertaining content but also get creative and profit from their ads. Let's see what YouTube Ads offer its users.
There are two main types of ad campaigns on YouTube: trueviews ads and additional ad formats.
Trueview Ads
1.In-feed Video Ads
This kind of ad campaign will have a cover image and text attached. When you access the YouTube homepage using your mobile device you will notice this kind of ad. They appear after you browse for particular videos and offer you something related to what you've been looking for. In-feed Video Ads expect a user to interact with the video while watching it. You are a creator of such advertising and will pay YouTube when someone clicks on the video ad.
2.Skippable video ads
Such video ads last for only 5 seconds and we all know what this kind of ad looks like. However, you have a chance to skip the ad without actually watching it till the end. Such videos may be shown at the beginning, in the middle, or at the end of the video. Those who choose to run this type of YouTube ad campaign usually pursue these aims:
Encourage the audience to buy a service or a product advertised

Build brand awareness and make it more recognizable

Improve sales and increase them

Improve your web traffic
You as an advertiser will be charged only when users watch your ad for 30 seconds or when they interact with it.
What are the additional ad formats?
1.Bumper Ads
As well as with previous advertisements it can appear at any time while the main video goes on. It lasts only for 6 seconds and can't be skipped, you have to watch it till the end. These kinds of ads are known to be short and drag your attention.
What is more, a lot of marketers and YouTubers came to the conclusion that this kind of campaign is the best one. Turns out that users memorize these videos much better than others as it shows a bright and intriguing image. So it makes it 100% possible for your potential clients to remember the image unconsciously. Advertisers in this case are charged when they get impressions for their bumper ads.
2.Non-skippable in-stream ads
As it could be understood from the name of this type of ad users who got to watch them are not able to skip them for 15 seconds. Sometimes such videos can be shorter but still, you won't get a chance to skip them. If you decided to go for non-skippable ads take into account that when using them you should pursue 2 main goals:
Spread your brand awareness

Your potential customers should understand the message in your ads
The more users understand your message the better. Your aim as an advertiser is to make your audience watch your video ad till the very end without skipping it after 15 seconds. Advertisers pay YouTube only when they get impressions for their ads.
3.Masthead Ads
This type of advertising on YouTube will work for those who want to make their product (or a service) visible as much as possible in a short time. Masthead Ads are truly unique, it lasts for 24h. Usually, it includes sales and information that should be spread as soon as it is possible.
YouTube users pay attention to these ad campaigns: it looks like a billboard on YouTube. If you want to choose this campaign for your product you'll pay for the impressions your video will get.
In this situation, we have a solution for you. Very often when users don't want to waste their time and want to make a change right here right now they choose to get services from reliable SMM panels. However, there are a lot of panels that offer promotions that involve bots activity that may get you suspended from the platform. But this is not the case with Views.Biz.
Our team of professionals makes sure that all the services that we have been proven to be effective and comply with the terms and conditions of various platforms. On our page, you can find hundreds of different promotional offers that will bring your social media profiles to the next level.
Advertising on YouTube and Google is effective yet can take a lot of your time that you could spend on improving your brand image or editing your YouTube videos. That is why the vast majority of our customers choose to buy YouTube likes, comments, subscribers, views, SEO views, and other services to get higher in ranking.
Our services involve only real users' activity and we don't use any kind of software in the promotion. We understand how quality services are important to you.
Make sure to check out our best offers and become a YouTube star now!
YouTube Views - prices are from $2.96 per 1000
YouTube SEO Views - prices are from $20.00 per 1000
YouTube Likes - prices are from $4.00 per 1000
YouTube Subscribers - prices are from $50.00 per 1000
YouTube Live Stream Viewers - prices are from $50.00 per 1000
YouTube Views AdWords - prices are from $9.00 per 1000
YouTube Watch Time - prices are from $50.00 per 1000
Stay tuned!
Subscribe to our newsletter and never miss a post
You've successfully subscribed
Thank you for your interest!
Don't forget to check your mailbox