Benefits of Social Media Marketing Promotions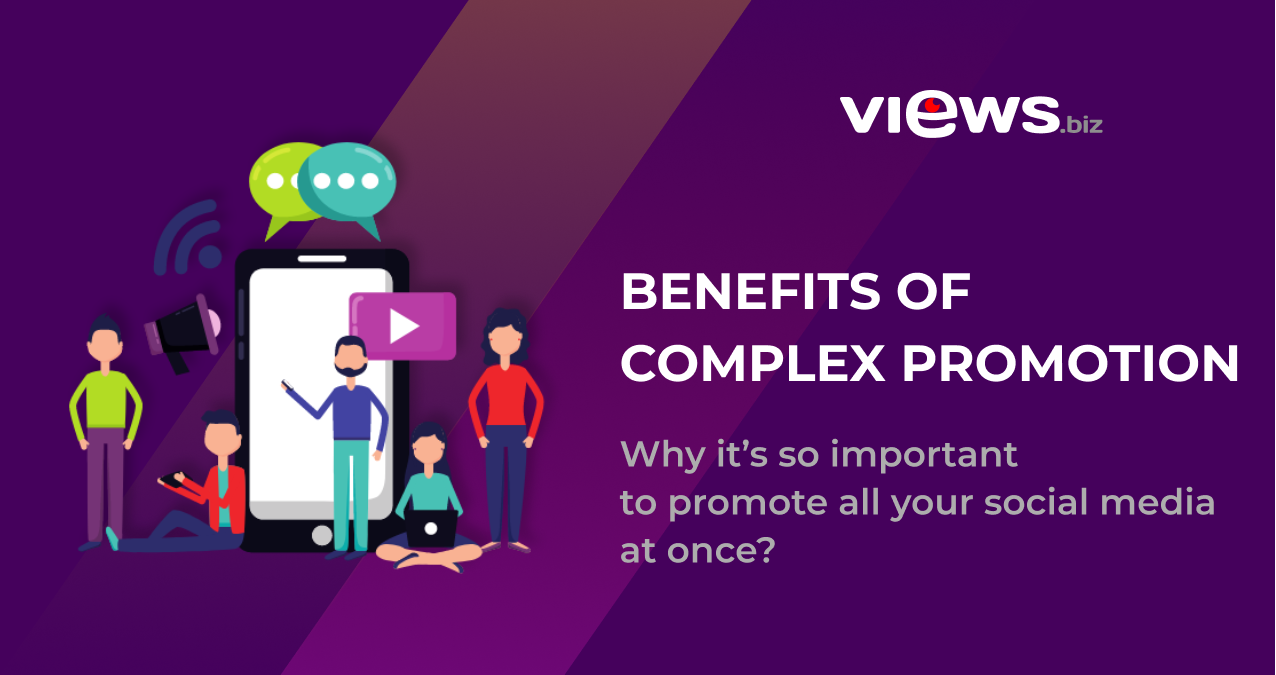 6 Advantages Of SMM For Your Business
Imagine spending as little as 6 hours a week in order to increase your business's recognition, traffic, and sales with little to no cost. Social networks are now a substantial part of every marketing strategy, and the benefits of using social media are so great that anyone not implementing this cost-effective resource is missing out on a phenomenal marketing opportunity. With our help, we will diminish the confusion by thoroughly explaining the advantages of using social media to market your business.
Why you need social media for your business?
Today we'll tell why it's so important to use complex promotion for your social media!
1. Increased Brand Awareness
Social media is one of the most cost-efficient digital marketing methods used to syndicate content and increase your business' visibility. Implementing a social media strategy will greatly increase your brand recognition since you will be engaging with a broad audience of consumers.Remember, that the more followers you have the more people trust you! And with views.biz it's so easy to get followers and subscribers!
2. Improved Search Engine Rankings
Search engine optimization is very important for achieving higher page rankings and obtaining traffic to your business website. To give yourself the best chance of ranking better through social media, create high quality content that integrates your targeted keywords. Content such as blogs, infographics, case studies, business information, and employee photos will make your business's social media profile intriguing and credible. Once you begin posting quality content, you'll begin to build a social media community where followers will "like" and "share" your content. Most importantly, it gives you more opportunities to get in front of industry influencers who will write about your business and provide links back - which will help to directly increase your awareness.
3. You Can Grow An Audience With A Small Budget
Social media advertising has to be one of the least expensive ways of marketing your business digitally. With so many different advertising tools available on our website, you can make use of this opportunity and cost-effectively market your product. The best thing about our services is that it's really low-cost and anyone can afford it!
4. Improved Brand Loyalty
One of the main goals of almost all businesses is developing a loyal customer base. Considering that customer satisfaction and brand loyalty typically go hand in hand, it is important to regularly engage with consumers and begin developing a bond with them. Social media is not just limited to introducing your brand's products and promotional campaigns. Customers see these platforms as a service channel where they can communicate directly with the business. The millennial generation is known for being the most brand loyal customers of all.
5. Thought Leadership
Posting insightful and well-written content on your social media is a great way to become an expert and leader in your field. There is no one way to become a thought leader - it requires work that can be supported by online networking tools. To establish yourself as an expert, be sure to utilize social media platforms and build your presence. Be communicative, connect with your audience, share content, and promote your authority. When your social media campaign is aligned with other marketing efforts, your skills will be highlighted and followers will look up to you. Being able to directly connect with your customers creates a relationship that they will value, allowing you to become a notable influencer in your field.
6. Gain Marketplace Insights
One of the most valuable advantages of social media is marketplace insight. What better way to know the thoughts and needs of your consumers than by directly talking to them? By monitoring the activity on your profiles, you can see customers' interests and opinions that you might not otherwise be aware of if your business didn't have a social media presence. Using social media as a complementary research tool can help gain information that will aid you in understanding your industry. Once you gain a large following, you can use additional tools to analyze the demographics of your consumers. Another insightful aspect of social media marketing is the ability to segment your content syndication lists based on topic, and identify which types of content generate the most impressions.
The most exciting part of complex promotion is that you can get it just by a couple of clicks on views.biz!
We're offering:
YouTube Promotion - prices are from $2.96
TikTok Promotion - prices are from $0.80
Instagram Promotion - prices are from $0.36
Twitch Promotion - prices are from $10.00
...and so much more!
Make your promotion easier with just one click!
Stay tuned!
Subscribe to our newsletter and never miss a post
You've successfully subscribed
Thank you for your interest!
Don't forget to check your mailbox