Elon Musk Is Taking Twitter Over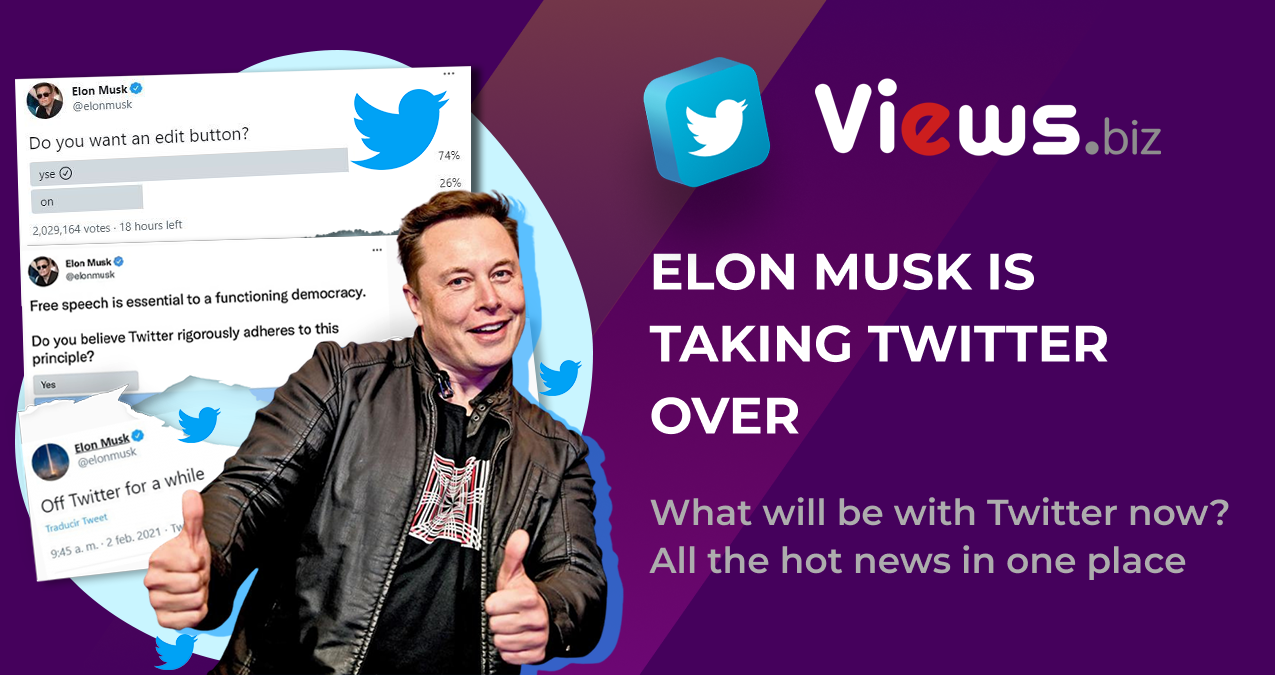 Elon Musk and the $44 billion Twitter takeover
On 25th of April Jack Dorsey, who was a CEO of Twitter, welcomed Elon Musk's takeover of Twitter and for that Musk has paid $44 billion.
Twitter authorities, after conducting a thorough analysis of the possible outcomes in the future for Twitter, believe that this is the best path for Twitter in the Future. Indeed, Elon Musk claimed that in his opinion Twitter hasn't fulfilled its potential. He meant freedom of expression on the platform, however, the vast majority of users on Twitter think that it will change the way the platform was functioning and, also, the way people expressed themselves freely. It can be seen under the tweet of Bret Taylor who is the chair of the board at Twitter.
Twitter authorities assure that this deal is one of the best outcomes for Twitter in the future and that Elon Musk will take Twitter to the whole new level.
Tesla CEO Elon Musk's Tweet about Twitter's Future
Musk assures that he wanted to make Twitter a better place, even to add new features. Interestingly, this deal wasn't the first one, Musk tried to takeover the company before but the authorities of Twitter didn't seem to be content with that at that time, nevertheless now they accepted the offer and now former CEO Jack Dorsey resigned.
Well, not all employees of Twitter are sure that this deal is one of the best paths that Twitter could take now. According to the Wall Street Journal even though they are unsure about that they hope that Musk will make it better.
We should also understand that that was not a complete takeover. This takeover should go through first and then, according to authorities, the platform will become of private ownership. So there would be no shareholders afterwards now that the company is owned by Musk.
As a Twitter user Elon has around 85.1M followers on the platform. But who has the most followers on Twitter? The most followed person on the platform with the number of 131.7M followers is the former president Barack Obama and for now he is not commenting on the situation as the last time he updated his feed on 23d of April.
What about suspended accounts on the platform? For example, Donald Trump, media personality Katie Hopkins, radio host Alex Jones and David Icke. And no one knows what will happen with their accounts once Musk will be in control of Twitter. These figures were sharing hateful and misleading information and it is uncertain whether Musk's wish to give freedom of expression on the platform will change it.
Musk also planned to authenticate all users meaning that bots on the platform will be eliminated and so the anonymity of some users will be revealed. Here, also, pay attention to the fact that the entrepreneur stated that he will reveal how Twitter algorithms work, his aim is to make it transparent and public. In other words, people will see how Twitter distributes the content on the platform. However, not everyone is that sure that it is the right move to opt for.
Another idea that Musk wants to implement is removing ads from Twitter and introducing subscriptions on the platform for revenue purposes.
For now things are uncertain, some journalists, politicians, other media people and ordinary users still ponder upon this deal and whether it will have a positive outcome in the future for its users.
Despite the fact that Twitter might be taken over by Musk, Twitter promotion still remains active and you still can make your account more recognizable on the platform. Decide which kind of promotion services you'd like to receive for your Twitter account and proceed with the payment and receive the fast processing services.
How to get Twitter followers with our services? You can easily improve this indicator here in "Services and Pricing" and you'll receive an activity of real people. Bots are never used in our services so you won't get suspended from the platform. You can buy Twitter followers pretty easily as well as to buy Twitter likes on Views.Biz.
Even though the situation with Elon Musk Twitter is, indeed, uncertain, we'll see how it will work out in the future, for now the deal should still go through. Actually, it is not a surprise that different social media platforms have a lot of data about its users that they collect, store and then distribute and people can't be sure that with the change of Twitter CEO things will be different.
Promote your twitter with our best services:
Twitter Likes - prices are from $16.83 per 1000
Twitter Followers - price $34.00 per 1000
Twitter Retweets - price $24.31 per 1000
Stay tuned!
Subscribe to our newsletter and never miss a post
You've successfully subscribed
Thank you for your interest!
Don't forget to check your mailbox