▶️ 5 Tips to Grow YouTube Subscribers & Get More Views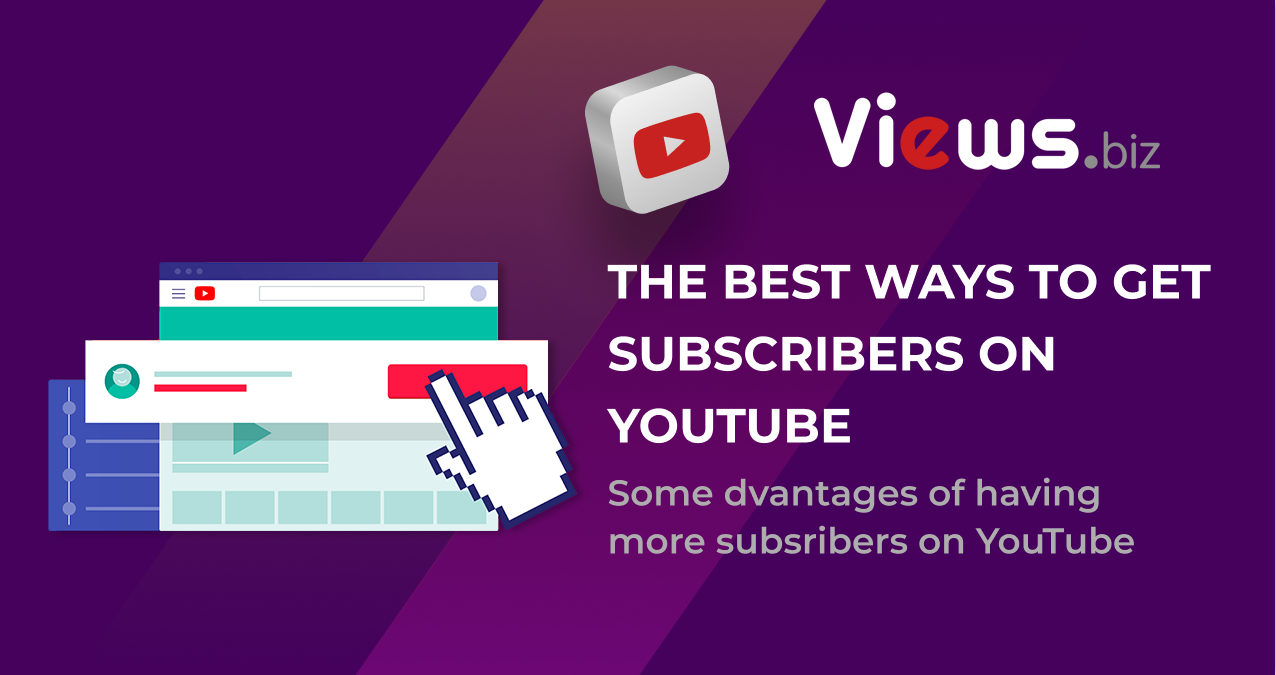 Get YouTube Subscribers
If you ever tried to attract users to subscribe to your YouTube channel you know how hard it can be. Why seek more people to follow you on YouTube in the first place?
-The number of unique users on YouTube reaches 1.7 billion people per month
-People stream more than 640.000 hours on YouTube
-More than 80% of all users have used and still use YouTube
-Users spend up to 24h on YouTube weekly
-Channels that have YouTube Ads within their videos reached more than 2.55 billion people
YouTube is a truly unique platform that allows you to be creative and show what you can do best and profit from it, making it your job. Before you start posting content on the platform you should know what you expect from your YouTube channel. In most cases, it is to gain recognition as a person and even sell your product or service to more people.
Now you know what you want to get from your channel. From now on you should start thinking about which metrics you want to improve. Likes or comments, maybe getting YouTube views and subscribers. All metrics are important to get for thorough analysis in the future to examine the performance of a channel.
All YouTubers come to the same conclusion that the most important thing to pay attention to is how to get more subscribers on YouTube and become visible. Especially, when you're a beginner.
Getting more subs to follow you only positively affect your channel. Here are 6 advantages of having more people subscribe to your channel:
-Your content becomes more credible, and people trust you more
-You improve the activity of your channel and so get higher in ranking
-The bigger the number of your subscribers the faster your content goes viral
-You get even more activity: get more youtube likes, comments, and views on your videos
-You get a chance to build a strong and loyal community
-Make even more profit from your videos (you get more viewers to watch your content)
-As more people interact with your video your content is noticed by YouTube algorithms and the platform promotes it automatically
Subscribers will indeed take your YouTube channel to the next level. It will enhance your popularity and will attract even more subscribers to watch your content. The number of subscribers you have says a lot about your content. How?
Imagine, you're an ordinary user who looks for particular content. There you find several videos, for some, the number of subscribers on the channel barely hit 2000 or at least 4000, for others the number is higher than 900K.
Which profiles will you be more likely to choose to watch a video you need? You will likely choose one from the channels that have more than 900K subs. All because just by looking at numbers this account gained your trust as it looks credible.
Having a lot of people following you for more updates is crucial. It works as social proof and attracts attention to your channel. When more people start to follow you to see more content you gain an audience that will make your profile more noticeable.
There are several ways to gain subscribers and make them stay on your channel. To help you gain YouTube subscribers we came up with 5 major tips:
1.Use other platforms for the promotion
To gain more subscribers on YouTube, focus on your accounts on other social networks. According to statistics, 99% of YouTube users are active on other platforms as well. Use this opportunity and post your content highlights on other platforms.
Use Instagram Stories to help you, Twitter posts, TikTok, and other platforms depending on your content. By doing this you let your other subscribers know more about your YouTube content and you're not only getting more views but also you get more subscribers.
2.Post your content consistently
Being consistent nowadays is important in any sphere. We have less free time to do things and we try to manage our time as much as we can, as well as prioritize what we need more. You can show your subscribers how much you value their time as well just by having your "posting days".
Tell them that, for example, you will post your content every Monday and Friday and you will see how the number of views and so subscribers will grow. It is a very nice technique to attract more people to follow your page. Being consistent is essential in gaining more subscribers.
3.Engage with your audience and get to know it
One of the most effective ways to get more subscribers on YouTube is to engage with your audience. Knowing what your audience expects and what kind of an impression they got from your channel is vital. Analyze what their interests are, their age and gender, their social status, and what their priorities are to customize your channel more.
Don't hesitate and interact with your audience. If they leave comments under your video don't ignore them, instead, reply and tell them how much their opinion is valued on your channel. You will see that these people will be far more likely to go back for more content knowing that their views are valid and they can share.
4.Customize your channel
One of the ways to get more subscribers is to come up with your own unique channel design. YouTube channel design is a package that users pay attention to. You can compare it to the service or a product that is advertised, for example, on TV. You pay attention to the package first and only when you like it do you start to learn more about something. But the first thing you do is to check out the visual part of a channel.
Channel's visuals include headers, banners, profile pictures, customized video thumbnails, and many more. To help you come up with a bright and memorable design for your channel, turn to the design programs like Figma or Canva. In their free versions, you'll be fine in choosing the design you like. If you plan to edit your content using these programs consider buying a subscription and have access to even more designs.
Sometimes editing your material can be hard and puzzling when you're new to the process. To help you out with that we offer you our help in designing your channel. You'll get the best banner, header, cover images, and even more with the services of Views.Biz. Our designers will analyze your content first to choose the proper editing technique with YouTube Channel Art.
5.Getting subscribers from an SMM panel
Get more subscribers and views on YouTube by getting promotion services from trustworthy sources. Users try to save more of their time on marketing and promotion and focus more on their channel image and video editing. That is why a lot of them turn to get help from reliable SMM panels. You can get legit YouTube subscribers from Views.Biz very fast.
When you get subscribers from Views.Biz you get the maximum exposure on the platform. You can gain as many subscribers as you wish. Don't worry, the people that will follow you for more updates are real people. Our services comply with the terms and conditions of YouTube. The more subscribers you'll get the more reputable your account will become.
Getting real subscribers from Views.Biz is the fastest way to gain subscribers on YouTube. With this SMM panel, you receive quick and guaranteed results, secure payment methods, and, most importantly, you won't be suspended or blocked from YouTube as the services don't violate YouTube policies.
Start becoming one of the top bloggers on YouTube and start profiting from your profile now!
Stay tuned!
Subscribe to our newsletter and never miss a post
You've successfully subscribed
Thank you for your interest!
Don't forget to check your mailbox