Short Guide for TikTok Promotion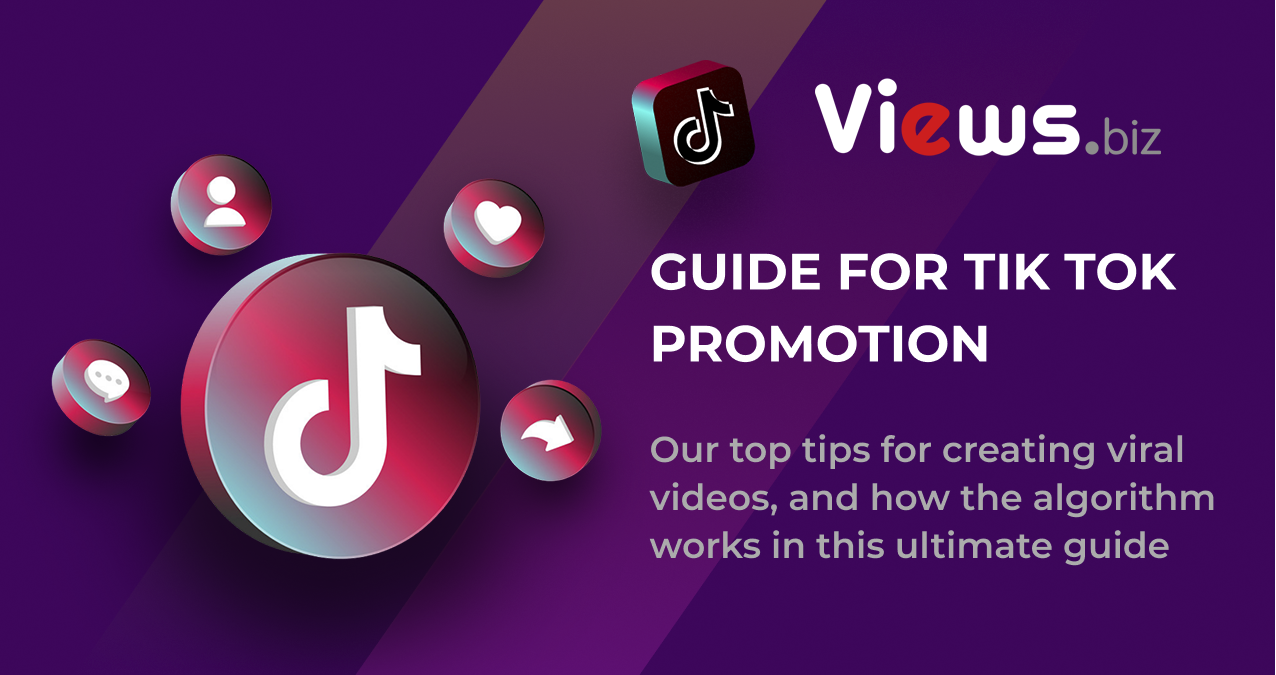 Best 5 TikTok Promotion Ideas and Examples
TikTok has grown from a small startup in China into a major project in a short time. It has about 800 million active users worldwide. That's more than Twitter, LinkedIn and Snapchat. So if you thought TikTok was a weird video platform for kids, you might want to reconsider. By comparison, Instagram has a billion active users. And if you consider how rapidly TikTok is growing, maybe the platform will reach that number soon.
In order to beat the trends in TikTok, you need to understand the algorithm of its work.
Here are some tips to help you!
#1 Music
The social network has a music library from which you can grab any track. If the songs come up, you can successfully select them and get to the top of them. Some people manage to trend so well that the account becomes popular after a couple or three videos. It's important to be guided by the tastes and ages of the audience you're targeting. Not all music will be welcomed by your audience.
Here's an easy way to find fancy audio:
-Tap Discover at the bottom of the screen.
-You'll see a scrolling feed of all the trending hashtags and sounds throughout the app.
-Scroll through the ribbon until you see a note icon inside a circle on the left. On the right side, you'll see a number that shows how many videos on TikTok use that sound.
-You can also take the sound directly from a video you like. To take a snippet of sound from a video, click on the spinning circular icon in the lower right corner of the screen.
-Learn about popular tracks from authors who often dance in their videos. Charlie Grace D'Amelio, with 139.6 million subscribers, leads the race for first place on TikTok. Sweet Charly often dances to viral tracks and participates in dance challenges. Checking out her page, you can anticipate the music that will spread.
#2 Do it better than everyone else
When using certain trends in your niche, you don't always have to be the first to come up with a feature - be inspired by others and do something that you do better than others.
Noteworthy is the editing maestro, Zack King. As of early 2022, Zack is the 6th most popular TikToker user with over 68 million subscribers. Like thousands of other authors he plays with editing videos, but he does it like no one else does!
Zak's specialties are high quality montages, unexpected splices and visual effects. In one interview, Zach said that his videos usually take up to 24 hours to create (including 3-4 hours of filming). This is a great example of how to make standout content in short form.
#3 Hashtags
Hashtags play an important role on Tik Tok as well as other social networks. Here's a site to help you find a hashtag that's relevant to your niche: https://tiktokhashtags.com .
You can only add 33 hashtags to a TikTok post, but trust me, it's more than enough! It's better to use a couple of trending hashtags along with a few that relate directly to and characterize your video.
Alternatively, come up with your own hashtags and put them on each video from the same topic. This will help users who like your video find similar videos on your page! Participate in Challenges and put the hashtags of those Challenges!
Here are some trending hashtags in 2022:
#tiktokdances #fyp #tiktokfamous #tiktoktrend #tiktokers #tiktokindo #tiktokmemes #tiktokchallenge #tiktokvideo
One of the most popular TikTokers is a life hacks breaker, Khabane lame, with over 136 million followers. He adds his personal hashtag #learnfromkhaby in his videos and mixes it with trending #learnontiktok. Khabene Iame has found his niche and keeps going. His videos are a really good source of inspiration.
#4 User engagement
The more engagement and views a video gets on TikTok, the more likely it is to be shown to a larger audience. Positive indicators include:
-Shares
-Completions and repeat views
Directly ask your viewers to comment on your videos. Come up with resonant themes for your videos that are sure to elicit a reaction.
Don't forget that it's also important for user engagement that the content is shown to your target audience. Therefore, include a relevant description in the caption that may interest your potential viewer. Let everything from the effects you apply to the hashtags be relevant to your target audience. Then engagement will go up.
#5 Catch your audience within three seconds
Since watching the whole video is a strong indicator of interest, TikTok typically favors videos that are easy to digest, have a smooth loop, and are designed for users with short attention spans. So it's important to hook your audience within the first three seconds.
When a video has an intriguing hook at the beginning of your video, viewers are more likely to watch it all the way through or even on repeat.
-Do subtitles where you'll use phrases like "Watch to the end," "You'd be surprised what came out of this," "I never would have believed it worked that way," and so on.
-Make up a little story for the video, then you'll want to watch it all the way through.
-Ask intriguing questions.
-Make a compelling visual at the beginning of the video.
Almost all top bloggers use these secrets!
Strategies to increase your Views.biz followers
Never forget to optimize your content to TikTok algorithms! We hope that tips mentioned above will help you to go viral. But if you want a quick start, we can offer you a promotion through our platform. We have a large list of safe services to raise the popularity of your account:
ID 6390 TikTok Likes with 30 day guarantee refill - $3.45 / 1000
ID 12313 Tik-tok Views - $0.80/ 1000
ID 6580 TikTok Followers - $6.00 / 1000
Stay tuned!
Subscribe to our newsletter and never miss a post
You've successfully subscribed
Thank you for your interest!
Don't forget to check your mailbox