Telegram Tips and Hacks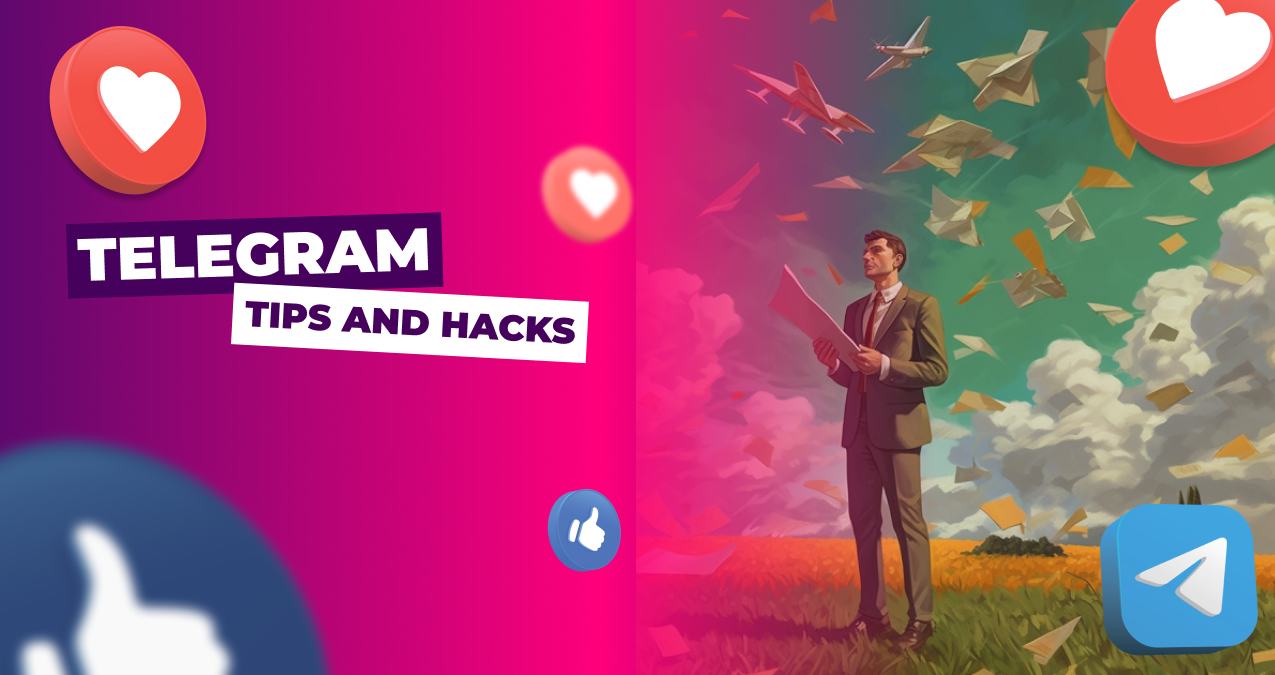 What is Telegram app used for?
Telegram is a highly popular social media platform that enables its users to send messages, make voice and video calls, and share files with one another. The platform was introduced in 2013 by the Durov brothers who are also the founders of the Russian social network VK.
One of the key features of Telegram that sets it apart from other messaging apps is its strong emphasis on security and privacy. The app utilizes end-to-end encryption for its secret chats, ensuring that only the sender and receiver have access to the messages. Moreover, Telegram does not share user data with third-party advertisers or companies, making it an excellent option for individuals concerned about their online privacy.
Telegram has a user-friendly interface, which is simple to navigate and allows users to customize their chat backgrounds, utilize stickers, GIFs, and emojis. Telegram is an ideal platform for professionals who need to share large documents or media files as it enables the sharing of large files of up to 2 GB in size. Additionally, cloud storage is available on Telegram, enabling users to access their messages and files from any device.
Aside from its messaging capabilities, Telegram also features a range of bots and channels that can be used for personal and professional purposes. Bots can be programmed to perform tasks such as customer service or lead generation, while channels provide news updates, games, and other content. In this article we'll briefly focus on the Telegram app review, we will answer the question 'Is Telegram app safe?', and in general, we'll make it clear why do people use Telegram.
Why Choose Telegram for Building Brand Awareness?
Your Telegram account can be an effective tool to build brand awareness for several reasons. What is Telegram used for the brands?
Firstly, Telegram is a popular messaging app that has a large user base. This means that there is a significant audience that can be reached through Telegram.
Secondly, Telegram offers a range of features that can be used to promote a brand. For example, businesses can create channels to share news, updates, and promotional content with their followers. Telegram also allows for the use of bots that can be programmed to perform tasks such as customer service or lead generation.
Thirdly, Telegram's emphasis on privacy and security can be beneficial for businesses. Customers are becoming increasingly concerned about data privacy, and using a platform that prioritizes security can help to build trust with customers.
Finally, Telegram's open-source platform can be a valuable tool for businesses that want to customize their messaging experience. With access to the source code, businesses can create their own bots and customize the app to meet their specific needs.
In general, Telegram can be an effective platform for building brand awareness due to its large user base, range of promotional features, emphasis on privacy and security, and open-source platform.
What are the Telegram Tips and Hacks?
Here are some hacks that you can use to improve your Telegram channel performance:
Use the "Saved Messages"

feature to bookmark important messages: You can use the "Saved Messages" feature to save and organize important messages, links, and media files that you want to refer to later. Simply tap and hold on a message, then select "Save" to add it to your Saved Messages folder.

Use "Starred Messages"

to prioritize messages: You can mark important messages with a star to prioritize them. Simply tap and hold on a message, then select "Star" to add it to your Starred Messages folder.

Use secret chats for sensitive conversations

: Telegram's secret chats use end-to-end encryption to keep your conversations private. To start a secret chat, go to the person's profile, tap on the three dots in the top right corner, and select "Start Secret Chat".

Use the built-in photo editor

: Telegram has a built-in photo editor that allows you to crop, rotate, add text, and apply filters to your photos before sending them.

Use Telegram as a note-taking app

: You can use Telegram as a simple note-taking app by creating a "Notes" channel or group. This way, you can easily access and organize your notes from any device.

Use bots to automate tasks

: Telegram has a wide range of bots that can help you automate tasks such as scheduling reminders, sending weather updates, or even playing games.

Use the "Unsend" feature

to delete messages: If you accidentally sent a message or want to delete a message you regret sending, you can use the "Unsend" feature to delete the message for both you and the recipient. Simply tap and hold on the message, then select "Delete for everyone".

Use Telegram as a file-sharing service

: Telegram allows you to share large files with your contacts and groups. You can send files up to 2 GB in size, and they will be stored on Telegram's servers for easy access.

Customize your chat background

: You can customize your chat background by going to "Settings" > "Chat Background" and choosing from one of the built-in backgrounds or selecting your own image.

Use hashtags to search for content

: You can use hashtags in Telegram to search for content related to a specific topic. Simply type the hashtag symbol (#) followed by the keyword you want to search for in the search bar.
To sum up, Telegram is a powerful platform that can help in creating brand recognition and enhancing brand awareness. Its extensive user base, diverse range of promotional features, prioritization of privacy and security, and open-source nature make it an ideal choice for businesses looking to reach out to a wider audience.
If you're looking to boost your social media visibility on the most popular platforms, then getting promotion services from reliable sources can be the key to success. As a user, you may want to save time on marketing and promotion efforts, and instead focus on improving your profile image and social media presence. That's where SMM panels that focus on social media management services like Views.Biz come in handy.
At Views.Biz, we offer a reliable source that offers high quality marketing promotion that can give your content the recognition it deserves and help you gain maximum exposure on various social media platforms. Unlike other services that use bots to generate activity, we ensure that all the activity you receive is from real people. We understand the importance of organic promotion and are committed to helping you grow your social media presence in a natural way.
Moreover, our services comply with the terms and conditions of Telegram and other platforms, so you can rest assured that your account is in good hands. As you gain more subscribers and engagement through our services, your account will become more reputable and trustworthy in the eyes of your audience.
In short, Views.Biz offers reliable and effective promotion services that can help you boost your social media presence on popular platforms. Download Telegram for brand promotion and don't wait any longer to get the recognition you deserve - try our social media marketing services today:
Stay tuned!
Subscribe to our newsletter and never miss a post
You've successfully subscribed
Thank you for your interest!
Don't forget to check your mailbox