Complete Task and Get Free Services on Views.biz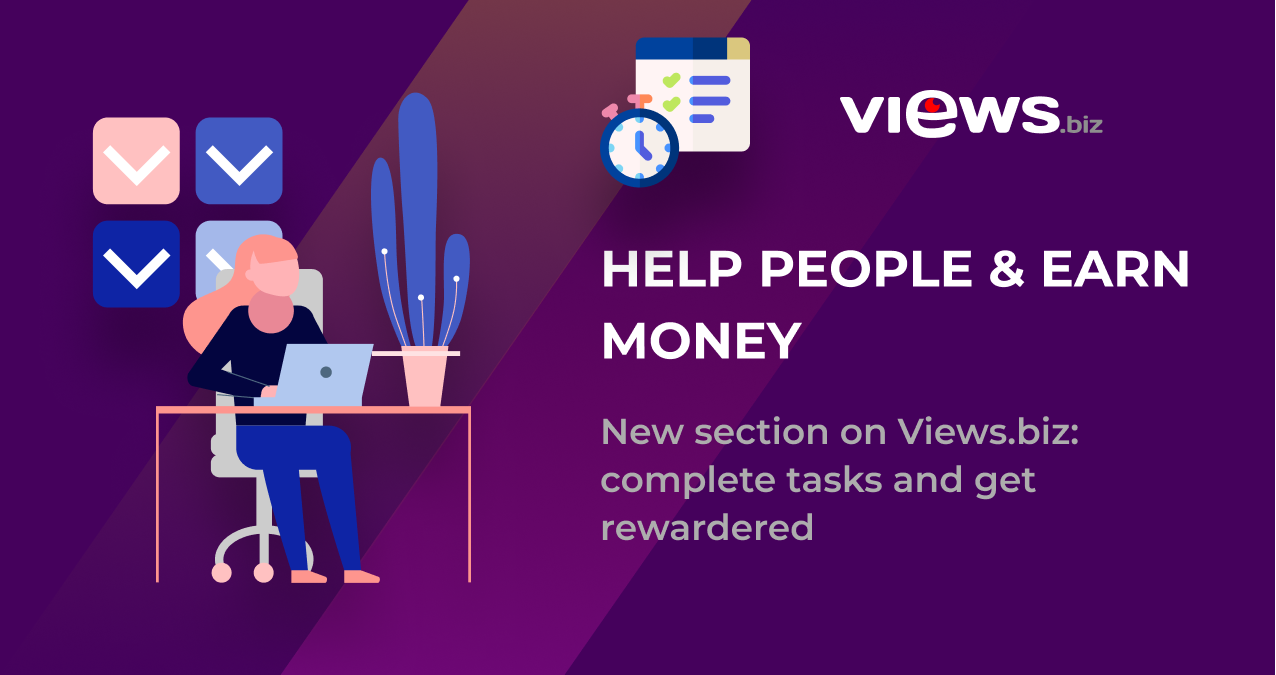 Get Free Services by completing simple Tasks!
How to make money while helping others
How do you find the idea to help people and earn money at the same time? Intriguing? If you are interested in it, read below.
It is obvious that everyone who starts blogging wants their content to become popular as soon as possible. Of course, not everyone can achieve such large numbers of views, subscribers and likes on their own.
Here we can take into account many factors:
— YouTube algorithms that make popular bloggers more popular but don't let "freshmen" become visible ;
— topics;
— relevance of content and compliance with new trends;
— too much competition due to which your video or post is quickly lost in the vastness of the social network without even the chance of going into trends.
Our SMM panel was just created to help people break this inequitable system. Views.biz promotes your content helping gain popularity and subsequently monetize your efforts.
But our services cost money. There are people who cannot afford to buy our services or do not want to spend their own funds. For such clients we have found a solution.
We would like to show you our new function "Help people & earn"! From this moment our clients can really participate in the life and development of our company.
What does it mean? You can kill two birds with one stone. On the one hand you will help people, on the other hand you will earn money with it.
You need to complete simple tasks and get rewarded
The tasks include:
Likes ( you need to like video)


Comments ( you need to comment video )


Views ( you need to watch video)





Channel subscriptions so you'll face no difficulties ( you need to follow the video owner)
What will you get?
After you complete tasks you earn money on your balance and then exchange them for anything you want.
The rewards are added to your account balance so you can spend them on our services later. You can buy youtube views, comments, likes or any other available service for any type of promotion. All what you need. This function is completely free.
This is the best way for free promotion. Don't lose your chance to become popular. You can earn money by helping people. Sounds great! Follow the link, try to complete the task and check the result right now!
Stay tuned!
Subscribe to our newsletter and never miss a post
You've successfully subscribed
Thank you for your interest!
Don't forget to check your mailbox