How to Become a Successful YouTuber?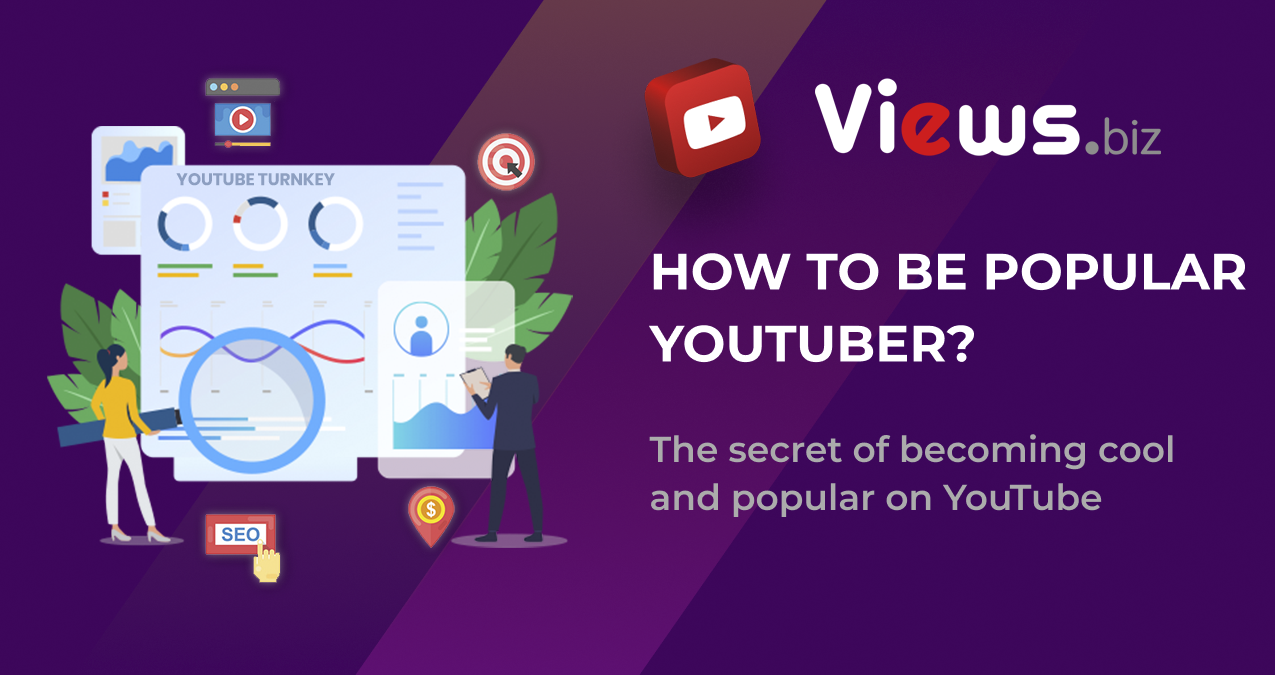 Promotion on YouTube: content and basic mistakes
All content creators want to grow their channel quickly. But it is often difficult to understand how to start. In this article, we will tell you how to start maintaining your own YouTube channel, what programs can be useful for this, as well as what typical mistakes there are in this matter. At the end of the article we will reveal the secret of how to get a cool and popular YouTube channel with little effort.
So, the first part will be about creating a video.
Step 1. Goals
First of all, we need to determine the goals for which you are creating your channel. Whether you want to promote your product with YouTube, make educational videos or entertainment content - you need to clearly understand your main idea. It is important to understand what unique features the channel will have. When choosing a topic for the channel, you need to consider that some are more promising in terms of development and income generation than others. But remember, it is better and easier to talk about the topic that you yourself are interested in.
Step 2: Content Plan
As with any content, videos need a lot of work, inventing, and reinventing. You can follow a content plan to systematize your work. It can be simply a calendar of future publications. Follow the rules to create a content plan:
- Analyze keywords and topic queries, such as with Wordstat, content analysis and text mining software. Serpstat can be used to find questions and keywords.
- Explore different query options.
- Leave time in your plan for video production and promotion.
- Post video content on a regular basis.
Step 3: Create videos
Video production is not necessarily studio equipment and a lot of money. Production can be cheap but effective.
- Animatron is a tool for creating marketing videos;
- Animoto, a program to create rich promotional videos;
- If you have a Mac, try iMovie: a free video creation program you can master in a week;
- Blue Jeans - great for video interviews with niche influencers;
- ClickMeeting - good for presentations. Host a webinar, then work with the saved recording.
- If you're not already a beginner and know how to handle the basic tools of the editor, you can try programs like Adobe Premiere Pro (it allows you to create movies in quality up to 8K and work on projects of any complexity) or Sony Vegas Pro.
-A little easier editor for beginners - Movavi Video Editor comes with a set of effects and footage, allows you to change the background and add music. You can also add transitions, text, and stickers. Movavi works with all video formats, and has presets for optimizing for mobile devices and exporting to YouTube.
Step 4. Video optimization
Include relevant phrases in the file name:
- Main keyword.
- Product and brand name.
- Name of the speaker, if it's an interview or lecture.
- Hashtag, name of the event.
- City, country.
Use VidIQ software. It's a SaaS product designed to help YouTube creators find topics and keywords for their videos. The tool also has a robust YouTube SEO feature set that assists with creating SEO-friendly titles, descriptions and tags.
Also, create playlists in YouTube by separating videos into different topics for convenience and increased viewability.
Step 5. Watch the dynamics
It's not enough just to post a video on YouTube, it's also good to understand how viewers react to it. There are different tools for this. Topvisor is a tracker that monitors Youtube rankings. You create a new project for each video and you can monitor several keywords related to your videos at once. Youtube Analytics shows you how your video and channel as a whole looks. You can check:
- Traffic sources - places where people get to your videos: recommended videos, Youtube search, links from external sites;
- The number of times the video has been added to users' playlists, favorite lists, etc;
- Average time spent watching your videos;
- The number of interactions with your videos - likes, comments.
The second part of the article is devoted to the main mistakes in your YouTube channel
Mistake 1. Not working out the design
How to do it correctly: think of an original and clear name for the channel, put a portrait or a quality illustration on the avatar, tell about yourself in the description, specify your contacts. Don't forget to provide links to other platforms. Visiting the channel, people should immediately understand what it's about. Be sure to reflect in the description and the title of the video and its subject matter, so that users are not deceived in their expectations.
Mistake 2. Not understanding your target audience
How to do it correctly: content strategy should primarily satisfy the preferences of your audience, if it does not, there will be no sales, popularity, loyalty and everything you want to achieve by investing in the development of the brand channel.
Mistake 3. Lack of a systematic and strategic approach
Videos recorded without preparation, script, plan and with low technical equipment are of little interest to anyone. How to do it correctly: Write a script for the video and stick to it. If you want improvisation - include it, but it should be an exceptional case, rather than the usual practice.
Mistake 4. Not optimizing content for YouTube and not considering current trends
How to do it correctly: explore popular formats and pitches from other bloggers with similar themes. But don't copy them: your audience will notice that and start unsubscribing.SEO tools for effective promotion on YouTube: YouTube Studio - channel management tool, TubeBuddy, Agorapulse - keyword search.
Mistake 5. Promotion without a specific plan
How to do it: Views.biz has several promotion packages, both for beginners and YouTube experts. In order to have good indicators and grow your monetization, choose one of the youtube promotion packages for yourself. Thanks to which you can raise all the important indicators of your channel in a short time!
The article describes many tasks that we will help you with! All you have to do is decide what kind of indicators you need, choose a package and we'll do the rest for you.
Stay tuned!
Subscribe to our newsletter and never miss a post
You've successfully subscribed
Thank you for your interest!
Don't forget to check your mailbox