How To Boost Your Socials On Halloween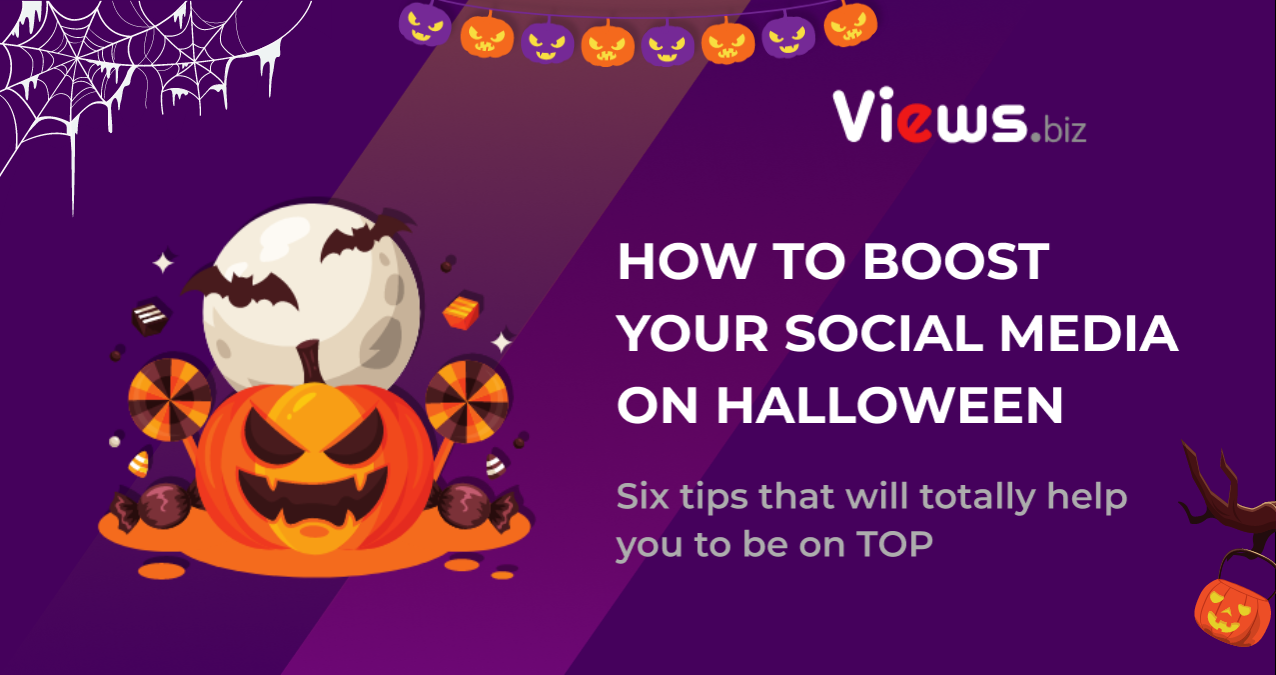 Easy Halloween Social Media Marketing Ideas
Halloween is just one of many key dates which you should celebrate on social media to boost your engagement! The best Halloween marketing campaigns often feature clever storytelling with a heavy focus on video. So, here are just a few tricks (as well as treats) you can put in your bag to spook up your Halloween promotions and create a great social media campaign for your brand.
1.Get creative with "spooketastic" images
Visual content like images, GIFs and videos grab the attention of social media audiences much better than plain text and link previews. Special occasions like Halloween allow businesses of all sectors and sizes to loosen up a little bit and have some fun.
So it's obvious we should take advantage of this opportunity, right? Creating visual content isn't too difficult when you have the right tools and some time to spend. Get inspired and get right down to it!
2.Offer a great seasonal discount
It's Halloween and your customers (existing and potential) may expect special offers. These can be an all-out sale, a small discount on the next order or a holiday-themed freebie with every purchase over a certain amount. As with any holiday campaign, you can attract more engagement for your offers by using social media. Try doing a Halloween-themed giveaway on Facebook or polls on Twitter. Ask questions about autumn or the holiday and reward all participants with content along the way. Once you establish the winners, make sure that you send them their unique promotional codes and gifts.
3.Halloween is a "DIY" time of year
Consumers love getting ready for Halloween almost as much fun as the day itself, and that means they're stocking up on makeup, accessories, and other goods in advance of the big day.
People regularly search for and share posts related to DIY costumes, makeup tutorials, decorating, cooking and making treats, and pumpkin carving, so find ways to incorporate those themes into your social media.
Here are a few ideas to get you started:
#1 Be the spooky inspo you want to see.
Showcase how your products or services make Halloween easier, safer, and more fun so your customers can get excited about buying from you.
#2 Share your favorite DIY tutorials.
Inspire your audience by showing them the tutorials, ideas, and products YOU love for Halloween. Bonus points if you can tie in a comparison or reference to your own products or services!
#3 Run a Halloween-themed influencer marketing campaign.
Reach out to influencers in your niche and ask them to showcase how they're using your products to make costumes, decorate, and more.
#4 Dress up your pets.
Most of us are still in a hybrid or full-time remote position, so encourage team members to share photos of their fur babies (or real babies!) to add a human, non-salesy element to your online presence.
4.Add the spook factor to your customer's experience
Want to take it one step further than decorating your social media profiles and offering a discount? How about making your product or service spooky? This technique can work for virtually any B2C business but is best suited to those that provide services and experiences. For example, if you host outdoor activities, you can turn the night of Halloween (or the weekend closest to it) into a special event. Depending on the theme you choose, you can invite people to dress up and then share it all on social media. If your target audience isn't Halloween friendly, you could still host an event with an autumnal twist like seasonal treats and drinks instead.
5.Host a photo contest
It might be cliché, but it never gets tiresome. Halloween gives everyone the chance to wear silly costumes. Embrace it and host a photo contest on social media - it's a fun way to engage with your followers.In addition to costumes, you can also opt for food creations, decorated rooms or spooky things and places. Remember, every social media campaign must link back to your brand, mission or product - so the type of the contest must be relevant.Set a campaign specific hashtag and offer fun rewards throughout the competition with the main prize being announced on the morning after Halloween.
6.Be helpful and give advice
Now, if you aren't big on discounts or dressing up and you aren't planning on scaring your clients, then you can creep it real and provide them with some relevant advice instead. For example, you can give actionable tips or talk about safety and health in relation to Halloween and/or autumn. If you're a digital agency, you can give tips on the area of your expertise in relation to the holiday. If you sell security systems, talk about the dark autumn evenings and the need to take good care of your home and possessions.
To make your Halloween more pleasant we decided to give you some gifts on our website! Go to views.biz, spin a spooky wheel and win a discount up to 50%!
Also, don't forget that until the end of October you can boost your Live Stream with a 15% sale!
Hurry up and Happy Halloween!👻🎃🦇
Stay tuned!
Subscribe to our newsletter and never miss a post
You've successfully subscribed
Thank you for your interest!
Don't forget to check your mailbox