How to Change Instagram Password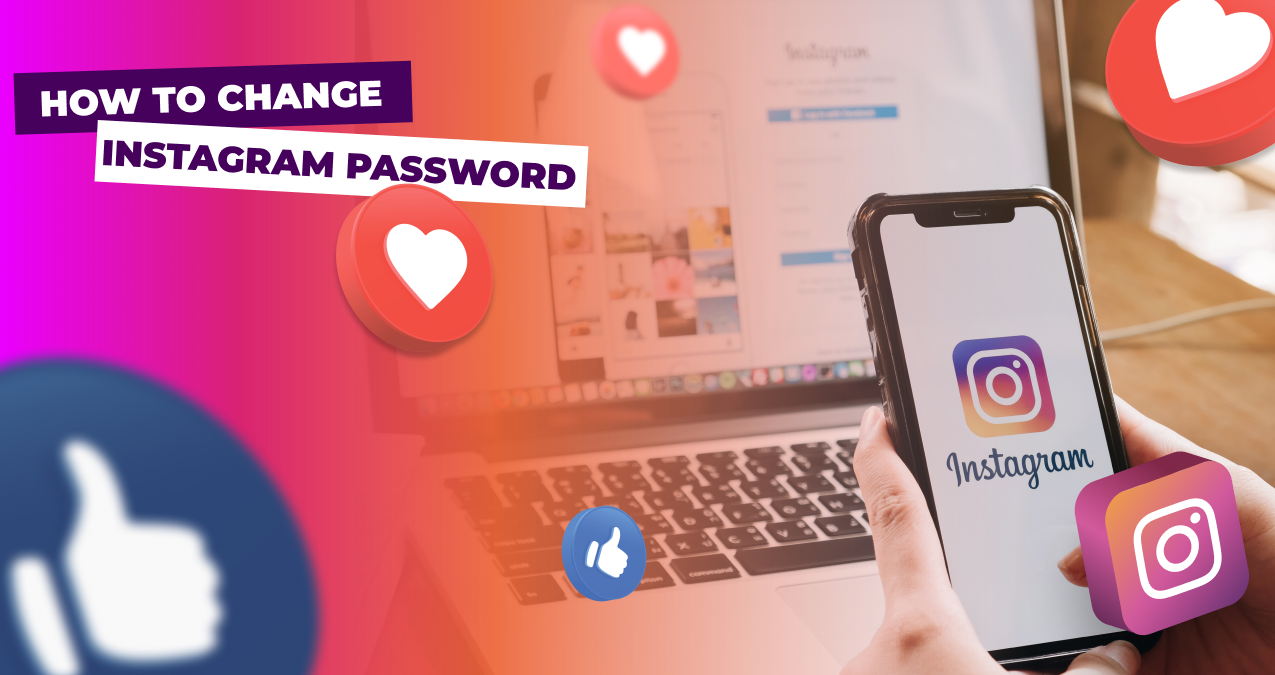 Securing your Instagram account is paramount in an age where digital security threats are pervasive. One effective way to bolster your security is by regularly updating your Instagram password. Here are some tips on how to change the Instagram password for your account
Table of Contents
Many of us access Instagram primarily through the mobile app. If you're seeking to bolster your online security or merely update your credentials, changing your password from time to time would be a wise thing to do to secure your data and progress, especially, when you're building your online presence and brand. So here is how you can do it from your phone:
Go to the app on your phone and log in.

Find your profile icon at the bottom right corner of the screen.

Then tap the "hamburger" icon in the top right corner. From the side menu, select the "Settings" option and head to Password Settings.

Tap on "Security" and you'll see the "Password" option. Tap on it again and update your password. You'll need to input your current password first, and then, type in your new password twice.

Tap the "Save" or "Change Password" button to finalize.
Instagram, originally tailored for mobile devices, has evolved to accommodate desktop users. The desktop version provides a more expansive view and a distinct user experience. If you're one of those who prefer browsing Instagram on a desktop and need to change your password, this guide is tailored for you.
Go to the Instagram website and log in.

On the top right corner of the webpage, click on your profile picture.

From there, go to Account Settings, and next to your profile name find the "Edit Profile" button. Click on it and then select "Change Password" from the dropdown.

To change your password, provide your new password in the designated fields.

Once done, click on the "Change Password" button.
If you've forgotten your Instagram password, don't fret. The platform has a robust system to help you reset it and regain access to your account, so you can do it in no time.
Go to the Instagram Login Page and click on the "Forgot password?" link.

Enter Your Email, Username, or Phone Number. After entering the required information, click "Next" or a similar prompt.

Choose the Reset Method: via email or SMS. Instagram will send a reset link to your registered email address or a reset code via SMS.

Follow the instructions from email or SMS and log in with the new password.

After successfully resetting your password, return to the Instagram login page. If everything's done correctly, you should now have access to your account.
Regardless of which platform you're using, ensure your new password is robust, combining letters (both uppercase and lowercase), numbers, and symbols. Regularly changing your password and using unique passwords for different platforms can greatly enhance your digital security. It's also advisable to activate two-factor authentication on Instagram for an added layer of protection. Stay vigilant and proactive in safeguarding your online presence!
What should I do if I can't reset my password with email?
If you can't reset your Instagram password using your email, then check your spam or junk folder since sometimes, password reset emails from Instagram might be filtered into your spam or junk email folder. If you didn't receive the email, go back to the Instagram login page and request a password reset again. It might have. Contact Instagram Support if none of the above methods work.
Why does Instagram recommend changing the password from time to time?
Instagram recommends users change their passwords as it enhances security, and prevents data breaches, and unusual or suspicious activity on an account, such as multiple login attempts from different geographical locations. Sometimes, platforms prompt for password changes to ensure that users still have access to their associated email accounts and that the account details are up-to-date.
What are the tips to build a strong password?
Crafting a secure password for your Instagram account (or any online account) is crucial for ensuring your digital safety. Use a password that's at least 12 characters long. Combine uppercase and lowercase letters, numbers, and special symbols and never use easily accessible details, such as your name, birthday, or username. Even though a password might be strong, it's a good practice to change it every now and then.
What if none of the above pieces of advice work?
We recommend contacting Instagram Support if nothing has worked for you.
Stay tuned!
Subscribe to our newsletter and never miss a post
You've successfully subscribed
Thank you for your interest!
Don't forget to check your mailbox