How to clear Instagram Cache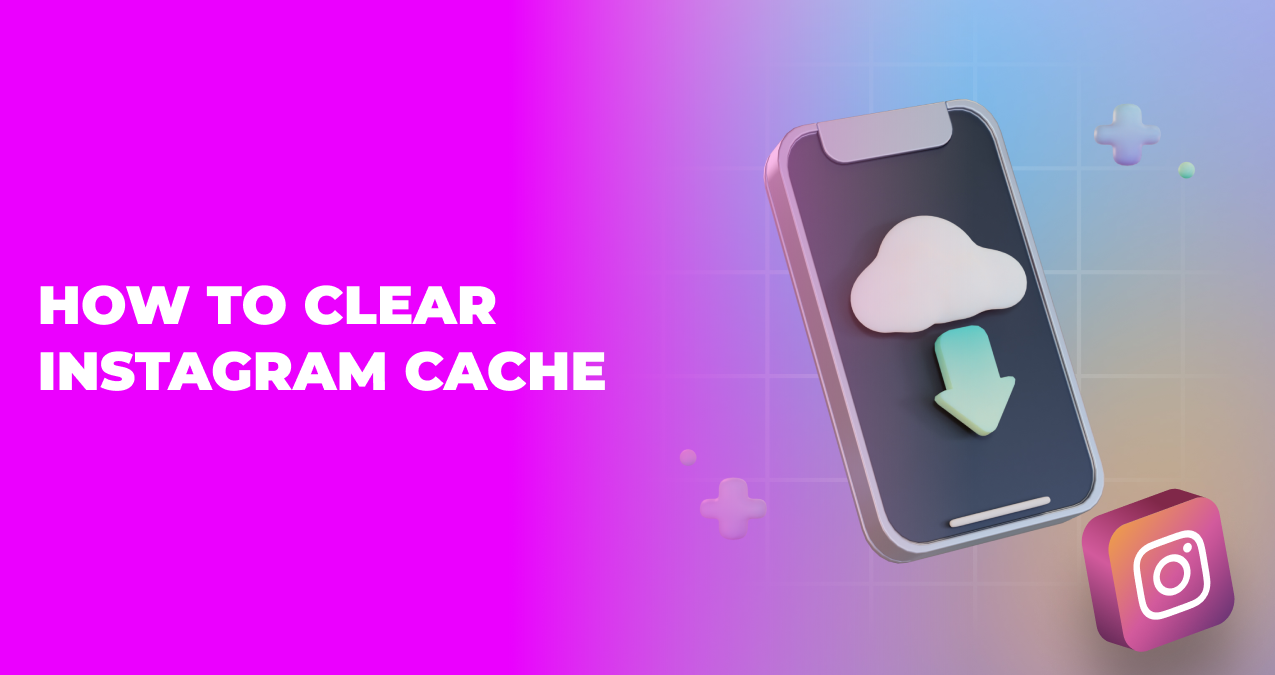 In our age of constant digital interaction, the speed and efficiency of apps matter. To enhance user experience, apps like Instagram use a mechanism known as caching. But 'what is it?', 'why is it essential?', and 'When and how should you clear it?' here are all about how to clear Instagram cache.
Table of contents
Cache refers to the temporary storage of data, specifically for apps or websites, to allow them to load more swiftly during subsequent uses. When you open an app or site, the data loaded (like images or videos) gets stored in a "cache." The next time you access the same content, it loads faster because it's retrieved from this cache rather than being downloaded again.
Instagram's cache improves the app's speed and responsiveness. When you scroll through your Instagram feed, photos and videos load quickly because they're often being pulled from the cached data, especially if it's content you've viewed before. This provides a smoother and more efficient browsing experience.
While the exact steps can vary slightly depending on the device, the general process is as follows.
For Android:
Go to your device's Settings and find the 'Apps' or 'Apps & Notifications' section.

Scroll down and tap on 'Instagram' and tap on 'Storage' and then select 'Clear Cache'.
iOS does not allow users to clear the cache for specific apps directly. However, an indirect method is to delete and reinstall the Instagram app. This action clears the cache. So you go to Settings > General > iPhone Storage > Instagram, then tap "Offload App." This removes the app but retains your data and settings. After offloading, reinstall Instagram from the App Store.
Clearing your Instagram cache can be beneficial in various situations. Over time, the cache can consume a significant amount of storage on your device. If your phone's storage is running low, clearing the cache can free up some space. Or in cases, when Instagram is behaving erratically or crashing, clearing the cache might resolve these issues. Occasionally, you might also want to ensure you're seeing the most updated content, especially if cached data appears outdated or corrupt.
Deleting the Instagram cache is perfectly okay and will not harm the app or your device. The cache consists of temporary files that help the app run more smoothly. When you clear the cache, you're simply removing these temporary files, which the app can regenerate when needed. However, there are a few things to note.
After clearing the cache, the app may run a bit slower the next time you use it. This is because it needs to regenerate the cache by downloading images, videos, and other data again. But this slowdown is temporary, and the app should return to its usual speed after some use.

One of the primary reasons people clear the cache is to free up storage space. Over time, the Instagram cache can grow and occupy a significant amount of storage on your device.

Clearing the cache does not delete your personal data, like photos, posts, comments, or your account information. It only removes temporary files.
While caching is an efficient mechanism that optimizes your Instagram browsing experience, it's essential to be aware of when and how to clear it to maintain your device's performance and ensure a seamless app experience. And it's perfectly fine to delete the Instagram cache. It can help free up storage space, and any performance dip you might experience will be temporary.
What happens when you clear your cache on Instagram?
When you clear the cache on Instagram, you're deleting temporary files that the app has stored to speed up your experience. After clearing the cache, you might notice that photos, stories, or videos take a slightly longer time to load.
How often should I clear my cache?
The frequency with which you should clear your cache depends on your device's storage capacity and how you use your apps. For most users, clearing the cache every few months should be sufficient, but if you're an intensive app user or have limited storage, you might want to do it more frequently.
Does clearing cache on Instagram delete DMs?
No, clearing the cache on Instagram does not delete direct messages (DMs). Your DMs are stored on Instagram's servers, so they won't be deleted unless you intentionally delete the conversation or individual messages within the app.
Can I clear the cache without losing data?
Yes, you can. Clearing the cache only removes temporary files and does not delete any of your personal data or settings. Remember, the cache is meant for storing non-essential, reusable data to speed up app performance, so removing it won't cause data loss.
Stay tuned!
Subscribe to our newsletter and never miss a post
You've successfully subscribed
Thank you for your interest!
Don't forget to check your mailbox