7 Simple Ways to Increase Subscribers on YouTube Channel ✅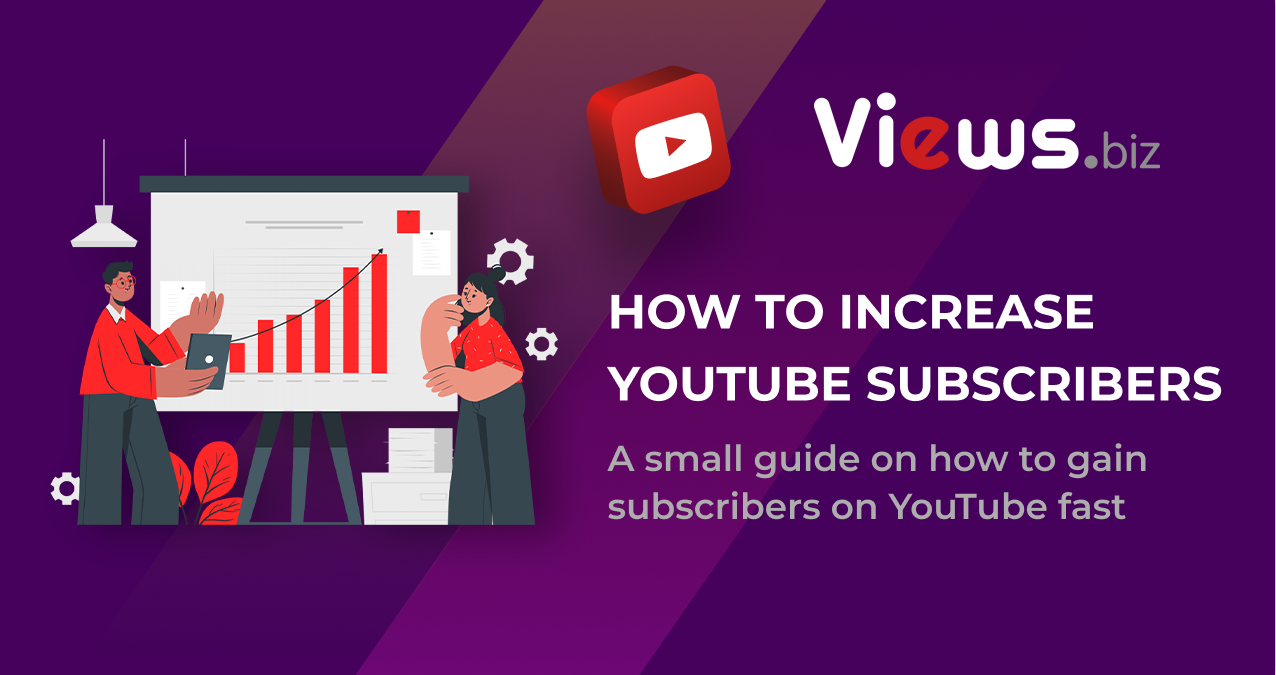 Increase YouTube subscribers
The number of subscribers one has was never so important before. Did you know that according to YouTube Press the number of channels that have more than 1 million subscribers grew by more than 65% year on year?
Have you ever wondered how many YouTubers gain millions of subscribers?
What is their secret?
Nowadays a lot of users who just joined social media, especially YouTube, for business purposes, to spread their brand awareness and profit from their popularity very often face a lot of obstacles. They can hardly gain 1000 youtube subscribers.
-A lot of competition within the niche
-Poor video, sound, or image quality
-No clear posting schedule
-Not engaging with your potential subscribers
-Video titles don't make a user click on them to watch
-Poorly edited cover image
The biggest mistake made by new users on YouTube is to not pay attention to the quality of the video and just post as much content as you can. However, it doesn't work and still viewers seek to find quality content first and they don't want to waste their time on poorly edited content.
YouTube offers a lot of opportunities for creators, but you have to stand out from your competitors to be more visible. Very often people go to YouTube to see something unusual, something they didn't know in a video format. This is what makes the platform differ from the rest. Indeed, there can be a lot of competition on YouTube and you have to really show what differentiates your content from the rest of the videos on your topic.
YouTube is all about visual representation. We shouldn't forget that 90% of information daily absorbed by people is a visual representation of something. As more than 2.1 billion people use YouTube, gaining popularity on the platform will help you release your potential.
Advertising your product on YouTube may be challenging but you will definitely get the maximum out of your campaigns. According to statistics, around 40% of users said that they bought products they saw on YouTube. What is more, the platform is considered to be the best place to build brand awareness and gain recognition.
Therefore, it is not a surprise that more and more people choose YouTube as a platform where they can gain the recognition they deserve (both brands and ordinary users). The platform became the arena where shoppers and sellers meet. Imagine how many people might have already seen your videos and your product (if you have one) if around 30M people log into the platform on a daily basis.
YouTube is all about the visual representation of a product as well as showing brand credibility. Users have come to the conclusion that subscribers are the social proof we all seek when we want to make sure we don't waste our time on particular content. Clearly, the number of subscribers says a lot about the content of a channel.
It shows:
User's trust and loyalty
How much your audience trusts your content and that they want to go back for more information that you will share with them? The more proven information and interesting content you share the more authority you gain.
How interesting and useful the content is
If your content appeals to your target audience you'll be rewarded by your YouTube channel subscriber increase. After some time when they see that you provide up-to-date and unique information, they will form a loyal community.
The quality of the content
The quality of your content is one of the first things a user pays attention to. The more people are subscribing to your channel the clearer it gets that your content is worth watching. Also, it shows that you have good editing skills and that it is enjoyable to watch your videos.
When you get subscribers you start building your community. You caught their attention and they are ready to see what else your channel has to offer. Once people start following for more updates from your channel it is vital to make them stay as long as you can and gain their trust.
1. Posting Schedule
Very often content gets lost on the platform because subscribers don't know it was posted. To avoid that in your video, tell your subscribers about the next upload or add this information to your channel's detail. Making a schedule for your content will positively affect your visibility on the platform. Especially if you upload your video regularly. It will show that you care about your subscribers and their interests and you make it easy for them to navigate through your content.
Imagine you being a subscriber and knowing that the channel about cooking you love uploads a video every Thursday at 7 p.m. You will either plan your evening in a way that you will be one of the first people to see the video or you will simply know that a video was posted and you won't miss it and watch it later.
2. Create Playlists
It is highly advisable to group videos that have the same topic on your channel into playlists. It is a very nice tool to organize your content and for your subscribers to see all of your uploads. Very often users have no time for looking for more content from you on a particular topic and they just stop watching videos.
What you do with a playlist is that you make your subscribers and potential viewers see more of your videos and even gain more views. As a result, you increase subscribers following you for more content. For example, look how PewDiePie did it: he grouped his videos according to the name of the game he was playing. It makes it much easier to navigate through his content.
3. Provide your subscribers with proven information
Having factual information in your video is important. It makes your videos and so channels become more credible in the eyes of potential subscribers. The more proverb information you share the more rust you gain. It is a key in the world of clickbait and information overload.
YouTube channel subscribers increase when your content is specific. It is very likely that your video will gain more authority among your competitors if you focus on the quality of your information. Moreover, when users get to know something new from you and they can check whether this information was true they are far more likely to get back to your channel in the future for more. This way you gained the trust and a loyal subscriber.
4.Work on your video quality
Earlier in the article, we stated that one of the possible reasons for people not subscribing to your channel is the quality of the video. Here we include the quality of an image, audio, lighting, sound, and editing quality. By watching the videos for even 10 seconds users get the idea of whether the video is worth watching.
If they can't hear you properly, the image is poor and all they see is pixels they will not continue watching a video to figure things out. In this case, your major goal is to make a viewer watch as long as they can. Improving your video image and overall equipment quality will help you with that.
In this situation what you should do:
- choose the best size of your video when you save it
- preview your video and check whether the sound was recorded correctly
- make sure you record your video in daylight (or set the lighting in a way it won't affect the overall quality)
- look at the image in a video (exposure, contrast, temperature), make it aesthetically pleasing
5.Collaborate
To boost YouTube subscribers consider collaborating. When you collaborate you positively affect your brand exposure. All you have to do in this case is to look for another collaborator whose content is connected to yours and make videos together. You get bigger exposure and more people get to know your content and so share it.
Most importantly, when creators collaborate they get original content unlike any other on the platform. That brings attention from more viewers and makes both channels stand out from the rest and it makes them be watched by more people. You can collaborate with more than just 1 blogger, but make sure that their topic is related to your niche not to confuse your audience.
6. SEO
You probably heard about it a lot. Nevertheless, no one can deny the importance of optimizing your videos. SEO helps your video to become more noticeable on the platform and so gain fast subscribers. SEO is all about correct keywords, hashtags, descriptions, and proper titles for your videos. With SEO you can easily improve your rankings. All you have to do is to understand your target audience's requests.
Choosing the correct keywords, tags and titles makes it possible for your channel to gain organic traffic and even to appear in the recommendations section. Optimizing your video makes it possible for your content to appear more often in search engines which has a great impact on your personal image online.
7.Get promotion services from trustworthy sources
Not a lot of users choose to get promotion services from online sources. However, some YouTubers already tried it and it became popular on the platform. The most important thing here is to find a trustworthy website to increase YouTube subscribers. When you get promotion services from online sources you should know which ones are the most reliable. One of such trustworthy sources is considered to be Views.Biz.
From Views.Biz you can increase subscribers in just a couple of clicks. We don't use a bot or any kind of software activity in our promotion services that were proven to be effective by our IT and marketing teams. All the subscribers that you'll get from Views.Biz will be real people so you attract organic traffic. It is a truly effective YouTube subscriber booster.
With Views.Biz you have an opportunity to save your time on marketing and spend it on optimizing your video content and editing. Remember that the more subscribers you get the more activity you attract (you'll also receive likes, comments, and youtube views).
Try doing this:
-Use other social media to let your audience know more about your YouTube content (use Instagram, TikTok, Twitter, etc.)
-Try to catch your viewers' attention within the first 10-15 seconds of your intro
-Get rid of old, poor-quality videos from your YouTube channel
-Analyze your competitors and optimize your video (SEO) for better channel exposure to wider audiences
-Make memorable cover images
-Use Google and YouTube Ads to advertise your content
-Use catchy phrases in your video and don't forget to use the relevant effect to make your videos more interesting to watch
-Focus on your audience's interests
-Collaborating with other bloggers is key
To save time and get fast and guaranteed services choose to get promotion from trustworthy sources like Views.Biz. All the services available on the page are 100% legitimate and comply with the platform's Terms and Conditions. You might also consider getting other services like comments on YouTube, views, likes, watch hours, etc.
You get promotion services at the best prices on our page. What is more, very often we have discounts for our customers so you may get promotion services even cheaper! Don't hesitate and get as many subscribers as you need from Views.Biz!
Stay tuned!
Subscribe to our newsletter and never miss a post
You've successfully subscribed
Thank you for your interest!
Don't forget to check your mailbox