How to Increase YouTube Views on your Videos Fast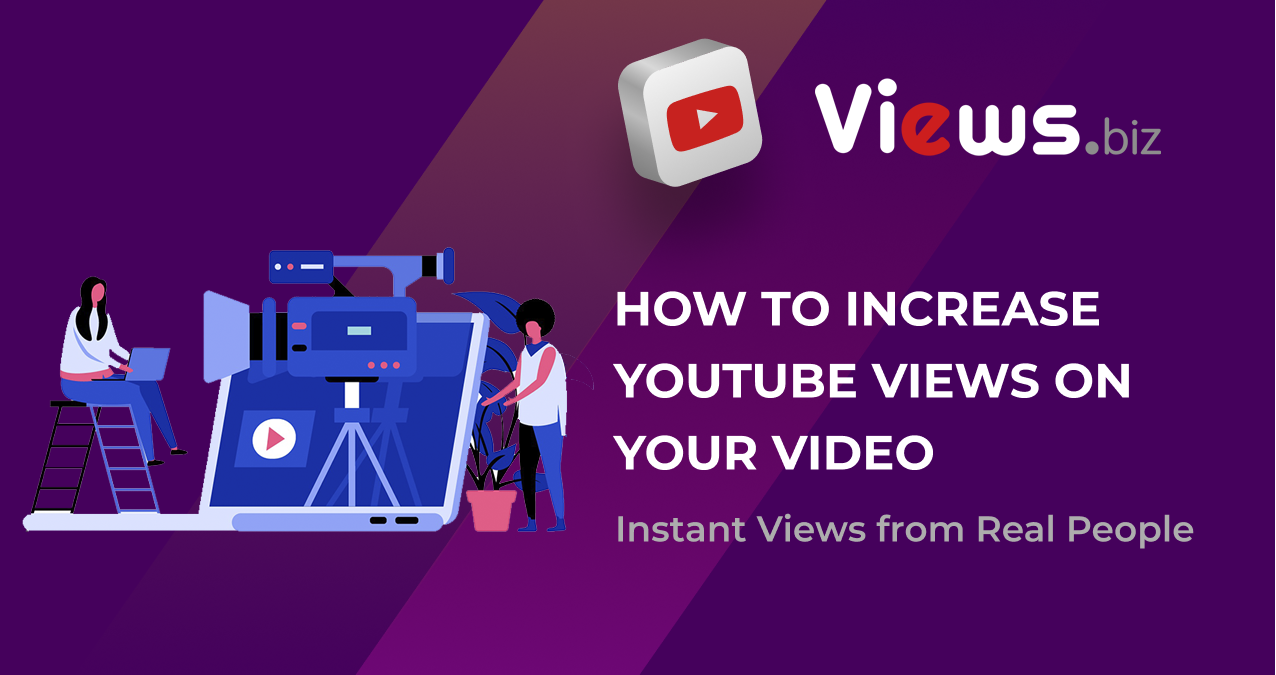 How to Increase YouTube Views
What is the most important metric YouTubers pay their attention to? Likes? The number of comments you get? Maybe subscribers?
For some YouTubers it is the number of likes they get, for others it is the number of subscribers. YouTube is all about watching videos. So, a lot of YouTube elaborate on that but still they all come to the same conclusion that the metric that you should improve once you created your channel is YouTube views.
Views affect a lot of things:
Your channel's credibility

Your social presence

They indicate whether your content is enjoyable to watch

It is important for the analysis of your channel in the future

You improve your content based on the number of views you get
Other metrics should be improved too but when you just started your own channel you should understand why views are so valued on the platform.
1.Increase number of views on YouTube to get MORE views
The number of views is one of the first things a user notices when coming across your page and videos. The more views you have the higher the chance that a user will click on your video and watch it to see why it gained so many views. In a nutshell, it sparks interest.
2.Your channel gets more exposure
As more people get to see your content you appear in recommendations and more users watch your content. They find your content appealing and share it with their friends which makes your content go viral.
3.You get higher in ranking
It is a fact that YouTube pays a lot of attention to the channel's activity: the number of likes a video got, how many comments were left and how many people started subscribing to the channel. Once it notices that your content gets more activity (gets more views) YouTube will be far more likely to promote your content and make it appear in recommendations.
4.You improve your monetization
The more views you get the more money YouTube is ready to pay you. However, make sure that you maintain the number of views you get growing it and that these views are organic.
New users who just created their channel should pay attention not to a lot of details if they want to make their content go viral.
Now it is clear what the views are all about and how they affect your popularity. You can think about improving your views' rate on your channel. Your YouTube video views increase as you follow these 7 simple tips:
1.Cover images
Thumbnail is a must thing to be concerned about. The best way to gain views on YouTube is to come up with a catchy cover image. A lot of YouTube advise to do that as by searching for the relevant content users look through the thumbnails.
This way they are able to find the most appealing video just by looking at the picture. So make it clear what your video contains on that image and make it intriguing.
2.Title of a Video
What else should be intriguing along with your thumbnail? The title. In our daily life you would have noticed that we mostly see titles and not the whole text or an image (in some cases). This way we get the basic idea of a product, video or any content. What you should do is to come up with a short yet memorable title so users actually notice it and click on it to watch.
3.Topic and niche
Did you choose the right topic for your channel? Have you done a small research on different types of niche on YouTube? We highly advise you to consider these questions before you dive into the YouTube world. Make sure you understand what your niche is about and make a content plan not to mess up with the topics. Make you content appealing to your target audience.
4.Tags
We all know what tags are all about. But are they that important or users put them just for fun? Some of us do, but others use them quite actively in their videos, mostly in video description. By putting proper tags you gain more views on YouTube and get more recognition. When you put them in your video for the user it gets much easier to find the relevant content that they need.
5.Use other social media
More exposure? It is possible to do this if you have multiple accounts in various social media platforms. For example, you post a YouTube video and share the link for your audience on Instagram in Stories, on facebook, TikTok or any other social network. This way ,more people get to see your content and your target audience will grow.
6.Manage your content
Group your video by topic or title in YouTube playlists. It will be clear for your audience what kind of content you post and what are the main topics. Moreover, it will surely help them to navigate through your content better: if they missed a video they can easily find it in your playlists. It will definitely make their user experience much better than looking through chaotically posted content.
7.Interact with your audience
Make them feel understood and value their opinion. Very often your potential subscribers know how to make your content better. When you engage with your audience you also improve your channel's activity.
Moreover, new viewers see that you get in touch with people, interact with them, answer their questions and they will understand that you care about your audience and make your content more appealing and will watch you more.
The vast majority of YouTubers are sure that when you follow these 7 tips you'll see the number of your Yt views increase. However, there are cases when users follow all the advice but still struggle to get more viewers to watch their content. It can be like that for various reasons:
1.Very broad niche
It all depends on the topic and the sphere that you choose. Nevertheless, we can't deny the fact that there is a lot of content out there already. Unfortunately, very often good content gets lost in a number of clickbait videos, and those of popular users. It may get harder to find your videos on the platform if you don't narrow the topic and choose a very abstract or very popular niche.
2.Wrong keywords and tags
As it was stated earlier, choosing the correct keywords and tags is crucial for gaining popularity online. It is one of the best ways to spread awareness about your content. Users should be able to find your videos just by introducing the most relevant keywords. If you choose the ones that have nothing to do with your topic but are popular you'll see that this kind of video won't gain more views.
3.Posting schedule
Being consistent with your schedule and video posting is key. When users have no idea when you post your content it will get lost in a number of other videos. Very often beginners don't pay that much of their attention to this fact. However, if you just started your channel that should be one of the first things to be concerned about.
In this situation a lot of users turn to get help from SMM panels. Surprisingly, not many users really know that YouTubers get likes, comments, views and subscribers to make their content become popular.
An SMM panel is a true views increaser for YouTube channels especially when you're a beginner. One of the most important things here is to know which SMM panel to trust. There are a huge number of such panels for YouTube views increase but they can be unreliable.
However, that is not the case with Views.Biz. On our panel we check what's new on the market and add the most relevant services for effective promotion checking them beforehand. A lot of users have already chosen Views.Biz for their promotion. On the panel you can choose between hundreds of different services for various social media platforms.
Quick and timely delivery is guaranteed
We know that it is key to receive services quickly and on time. On Views.Biz you get a guarantee to receive the necessary services on time when you need them. While on other platforms you receive services within 72 hours on Views.Biz you get to receive them within several minutes. We value your time and that's why we make it easy for you to get a promotion as soon as possible.
Real People Activity
When getting promotion serviced from Views.Biz you receive only real people activity. For the Views.Biz team it is crucial to provide our customers with effective and legitimate services. Thus, no bots or any kind of software is not involved in the promotion process. That's why you won't ever get suspended or blocked from the platform as you use real users' activity.
No Password Required
To make your customer experience better you get an opportunity to receive needed services without introducing a password. To get an option that you pick will be received right away.
100% Confidentiality
In our modern world, keeping your personal information safe can be hard. Our team makes sure that your personal data remains secure and in 100% confidentiality. When you introduce the data that is required by the page this information won't go anywhere outside the panel. Making an order with Views.Biz is safe.
24/7 Support
Making orders can be puzzling and we understand that. To help you with that we have a 24/7 customer support team. You can ask them any kind of question concerning the promotion process or any other thing. Don't hesitate to get in touch with us using Telegram, Skype or just send an email and we'll be glad to help you out.
Refill Guarantee
Views.Biz is a truly unique panel. Here we offer you a refill guarantee. Basically, it means that if you receive a service and don't get the number of views (likes, comments or any other metric) we will do a refill for you. This guarantee lasts for 30 days since the day when you made an order.
Secure payment methods
On Views.Biz you will find the payment methods that are well known and are used by a lot of people. You will find only safe and secure payment methods. It is very easy to pay for the chosen services with these payment methods. They include:
Apple Pay

Bitcoin

Credit Card

Capitalist

Perfect Money

Alipay

Payeer

Giropay

Eps

WeChat Pay

Przelewy24
You will definitely make your YouTube videos popular when you focus on views and correct promotion services that are suitable for your content. You can follow our tips or you can save your time and choose to get views from our SMM panel and receive instant results. In any case don't hesitate and profit from being popular.
Check out our best offers and start profiting from your popularity today!
YouTube Views - prices are from $2.96 per 1000
YouTube SEO Views - prices are from $20.00 per 1000
YouTube Likes - prices are from $4.00 per 1000
YouTube Subscribers - prices are from $50.00 per 1000
YouTube Live Stream Viewers - prices are from $50.00 per 1000
YouTube Views AdWords - prices are from $9.00 per 1000
YouTube Watch Time - prices are from $50.00 per 1000
YouTube Channel Art - prices are from $20.00
Stay tuned!
Subscribe to our newsletter and never miss a post
You've successfully subscribed
Thank you for your interest!
Don't forget to check your mailbox