How to Make a GIF from a YouTube Video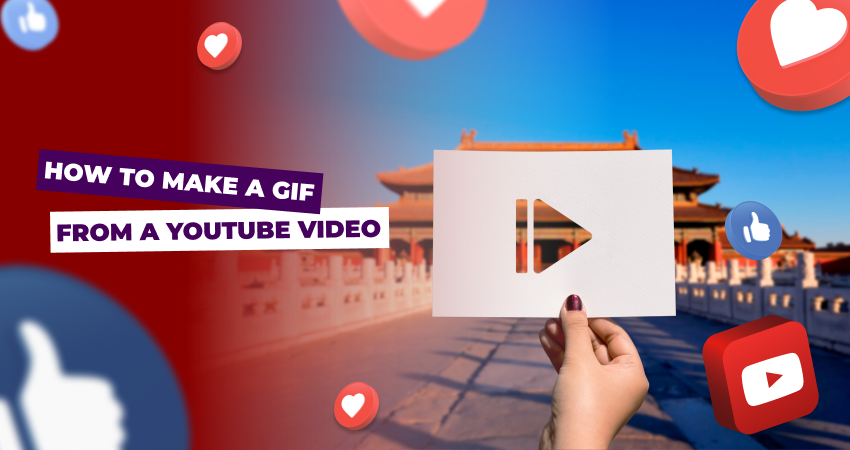 In today's digital age, GIFs are more than just moving images: they're an expression, a quick way to convey a message, and often, a form of entertainment. From movie snippets to meme-worthy moments, GIFs are everywhere. But if you don't know how you can easily turn a scene from your favorite YouTube video into a GIF, here's a step-by-step guide on how to make a GIF from a YouTube video.
Table of Contents
The first task is to decide which YouTube video you wish to convert into a GIF. Perhaps there's a particular scene or moment that stands out? Once you've identified the segment, note the start and end times to make the process smoother.
There are several online platforms available that specialize in converting YouTube videos to GIFs. Some of the popular platforms include Giphy, MakeAGif, and GIFs.com. Here's a general process using these tools. First of all, open your browser and head to your preferred online GIF-making tool. On the main page, there will typically be a space or box where you can paste the URL of the YouTube video you wish to convert.
Using the video timeline provided, choose the start and end time of the segment you want in your GIF. Some platforms also allow you to add captions, stickers, or effects to your GIF. Once satisfied, click on the option to create or generate the GIF. The tool will process your request.
After the GIF is created, you'll usually have the option to download it to your device or share it directly to various social media platforms.
For those who want more control over their GIF creation, software like Adobe Photoshop or GIMP can be used. This process involves downloading the YouTube video, importing it into the software, and then using the software's tools to create and edit the GIF. This method might be more time-consuming but it offers a broader range of editing capabilities.
While creating GIFs is fun, it's essential to be mindful of copyright laws. Always ensure that you're not infringing on the rights of the content creator. If you're using the GIF for anything other than personal use, it's a good idea to seek permission or use videos that are in the public domain or come with a Creative Commons license.
Turning a YouTube video into a GIF is a straightforward process, thanks to the plethora of online tools available. Whether you want to capture a memorable scene, a hilarious moment, or an informative snippet, creating a GIF lets you immortalize and share that segment with the world. Happy GIF-making!
Can I use mobile to create GIFs from a YouTube video?
Yes, you can use a mobile device to create GIFs from a YouTube video. There are several mobile applications and browser-based tools compatible with smartphones that allow you to convert YouTube videos into GIFs.
What programs can I use to create GIFs?
There are various programs and online tools to create GIFs. Websites like Giphy, MakeAGif, and GIFs.com offer easy-to-use interfaces to convert videos to GIFs. Adobe Photoshop is a popular choice for those who want more control over their GIF creation process. GIMP, a free alternative, also offers the capability to create GIFs. Apps like GIF Maker, GIF Studio, and GIF Me!Camera are available in app stores and are designed to help users create GIFs directly from their smartphones.
Can I convert a YouTube video to GIF for free?
Yes, many online tools and applications allow you to convert YouTube videos to GIFs for free. Websites like Giphy and GIFs.com provide free services for converting videos into GIFs. However, some tools might have limitations, like watermarks on the final GIF or duration restrictions, unless you opt for a premium version.
How can I use these GIFs later?
Once you've created your GIF, there are numerous ways to use them. GIFs can be shared on most social media platforms, including Twitter, Facebook, and Instagram. They're excellent for grabbing attention and adding a dynamic element to posts.GIFs can be sent in messaging apps like WhatsApp, Telegram, or Messenger to convey emotions, and reactions, or simply for entertainment. If you have a website or a blog, GIFs can be used to illustrate points, make tutorials more engaging, or entertain your visitors. GIFs can be embedded in presentations as well to emphasize points or break up content-heavy slides. Some marketers use GIFs in email campaigns to make them stand out and engage recipients.
Stay tuned!
Subscribe to our newsletter and never miss a post
You've successfully subscribed
Thank you for your interest!
Don't forget to check your mailbox