How to Make a Playlist on YouTube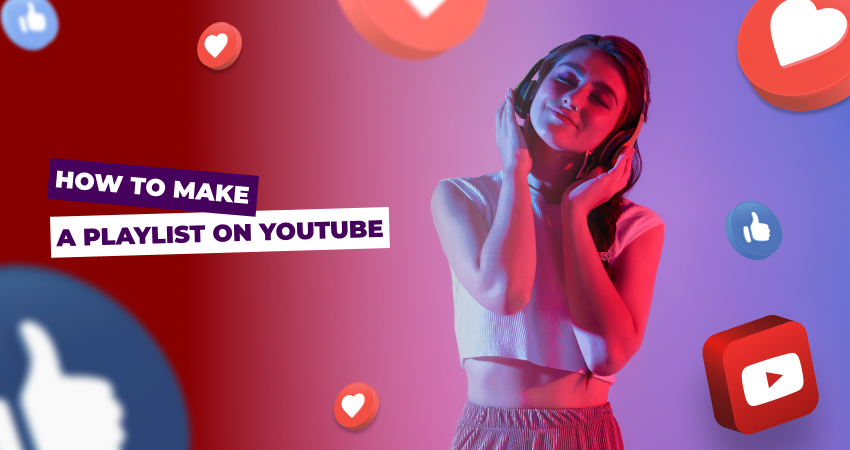 YouTube, the world's most popular video-sharing platform, boasts over 2 billion logged-in monthly users. While viewers primarily use YouTube to watch videos, many aren't aware of the efficiency and convenience that playlists offer. Whether you're a content creator aiming to group your content thematically or a user seeking to organize your favorite music videos, creating a playlist can elevate your YouTube experience, we'll walk you through the process of how to make a playlist on YouTube.
Table of Contents
A YouTube playlist functions similarly to a music album. It is a curated collection of videos that play in sequence. For creators, it's an effective tool to group content, leading viewers from one video to another, thus increasing watch time. For viewers, it's a means to organize and revisit their favorite content.
So, to create a playlist on YouTube, here are some easy steps to follow.
Before you start, ensure you're logged into your account.

Then find the video you wish to add.

Under the video, you'll see an option labeled 'Save'. Click on it. A dropdown will appear, showing your existing playlists. If you wish to create a new one, click on 'Create a new playlist'.

After selecting to create a new playlist, you'll be prompted to name it. Additionally, choose its privacy setting, whether you want it to be public, unlisted, or private.

Click 'Create', and your playlist will appear with the video you selected.
Creating a YouTube playlist offers a range of benefits for both content creators and viewers. Here are some compelling reasons why one might consider making a playlist on YouTube. Playlists allow users to categorize and group videos based on themes, topics, interests, or any other criteria. This structure makes it easier for viewers to navigate and find related content. For viewers, a playlist offers a seamless and continuous viewing experience. Once one video ends, the next in the sequence automatically starts, making it convenient for those who want to binge-watch or enjoy related videos without interruptions. For content creators, the sequential nature of playlists can lead to increased watch time. The more videos viewers watch in a sequence, the more it signals to YouTube that the content is engaging, potentially boosting the channel's algorithmic ranking.
Viewers can create playlists as personal collections of their favorite videos. This could be for entertainment, educational purposes, tutorials, or even just a mix of favorite music videos. Instead of sharing individual videos, you can share an entire playlist. This is especially useful for educators, trainers, or influencers who want to guide their audience through a curated set of videos.
For creators, regularly updated playlists can appear in search results and recommendations, giving their content more avenues to be discovered. When one video in a playlist gets traction, it can indirectly drive traffic to the other videos in the playlist. Playlists allow channels to present their content in a more organized and branded manner. For example, a fitness channel can have separate playlists for "Beginner Workouts", "Advanced Routines", and "Nutrition Tips", guiding their audience through the content journey they've designed.
Both creators and viewers can create playlists based on trending topics or popular events. This can be a fun way to engage with current happenings or simply keep track of trending videos.
Playlists are an underutilized feature of YouTube that provides immense value. They allow for content curation, organized viewing, and even potential algorithmic advantages for creators. By understanding how to efficiently create and manage playlists, you can enhance your YouTube experience, whether you're a casual viewer or a dedicated content producer.
Can I shuffle my playlist on YouTube?
Yes, you can shuffle your playlist on YouTube. When you start playing a playlist, there's a shuffle button (which looks like two intersecting arrows) that you can click to shuffle the order in which videos are played.
How many playlists can I create on YouTube?
There isn't a specified limit on the number of playlists you can create on YouTube. However, there might be practical limitations depending on usage, and policies can change, so it's always a good idea to check YouTube's official documentation or help center.
Can you make playlists on free YouTube Music?
Yes, users of the free version of YouTube Music can create and listen to playlists.
How to create a playlist within a playlist?
As of September 2021, YouTube does not support the creation of sub-playlists or playlists within playlists directly. Each playlist is a separate entity.
Stay tuned!
Subscribe to our newsletter and never miss a post
You've successfully subscribed
Thank you for your interest!
Don't forget to check your mailbox