How to Make Instagram Reels Like a Pro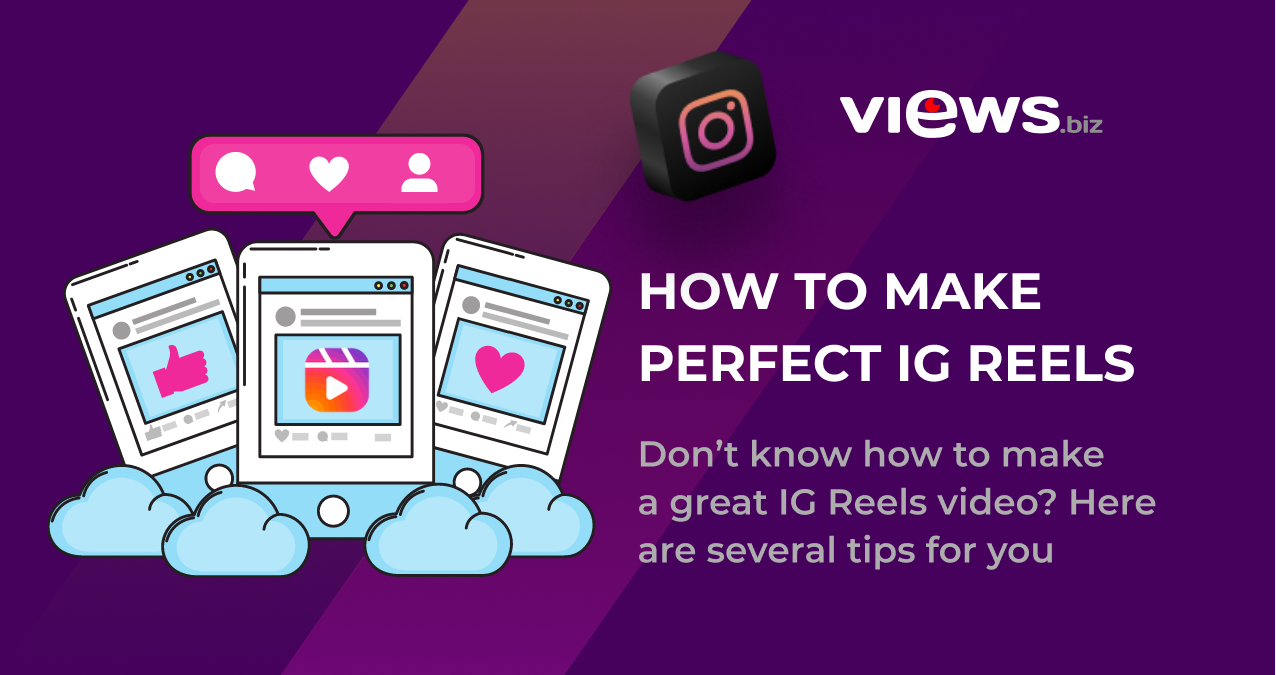 Instagram Reels Guide: 8 Tips You Should Know
From useful tips to our top editing tricks, views.biz team sharing favorite Instagram Reels hacks that are guaranteed to make your videos stand out from the crowd.
Teach a New Skill
The Reels are a perfect place for providing educational content for your instagram followers. The reels give you enough time to explain how to do something from start to finish. Using the reels as a tutorial or a video with short instructions helps to increase the number of posts per week, providing your subscribers with more variety of content. And if you have any problems developing training ideas, go to your Instagram stories and gather your audience.
Use the same filters as for your Stories
To keep everything on brand in your publications, choose the same filters you already use on your Stories. You can also standardize your Instagram by using the same text color in your different posts. Your profile will certainly appear more organized and beautiful.
Keep Your Captions Short and Sweet
When you share an Instagram Reel, the first line can be up to 55 characters. When you go over that amount, your caption is followed by "… more" for viewers to tap and read the rest. And when they click on the "…more" button, the Reel won't pause. Instead it opens up the caption, darkens the video, and makes it more difficult for your audience to read the text or see what's happening in your Reel.
Add some good music
If the music you're adding is more trendlet -and even if it's a song with lots of chord variations-, it might be a good idea to start with it. Thus, you will know exactly how to put your voice over the music, preventing your message from getting lost. The Instagram song library is huge. You can choose the one that best suits your video.
Record them within the app
The reels that work best are those that you record directly within the Instagram app, and not those ones you have previously recorded with the video app to be later uploaded. This happens because, by doing it within the app, you can take better care of the ideal sound and image settings. Always shoot them vertically.
Share Your Reels to Your Feed
In case you didn't know, sharing Reels to your Instagram feed is one of the best ways to boost their views and increase their chances of going viral. So with this in mind, make sure you opt to share your Reels directly to your Instagram feed.
Find Your Niche and Post Consistently
One of the best ways to gain virality on Instagram Reel views is by finding your niche and posting consistently. There are so many Instagram users with a wide range of interests and hobbies. No matter what your brand or business does, there's a niche for you!
Use any possible ways to promote your content
Do you know that views.biz is the best way to promote your Instagram Reels views for a very affordable price? Just make an order today and wake up popular tomorrow!
ID 6575 Instagram Reel Likes with 30 day guarantee - $1.99 / 1000
Stay tuned!
Subscribe to our newsletter and never miss a post
You've successfully subscribed
Thank you for your interest!
Don't forget to check your mailbox