How To Make Your Live Stream Popular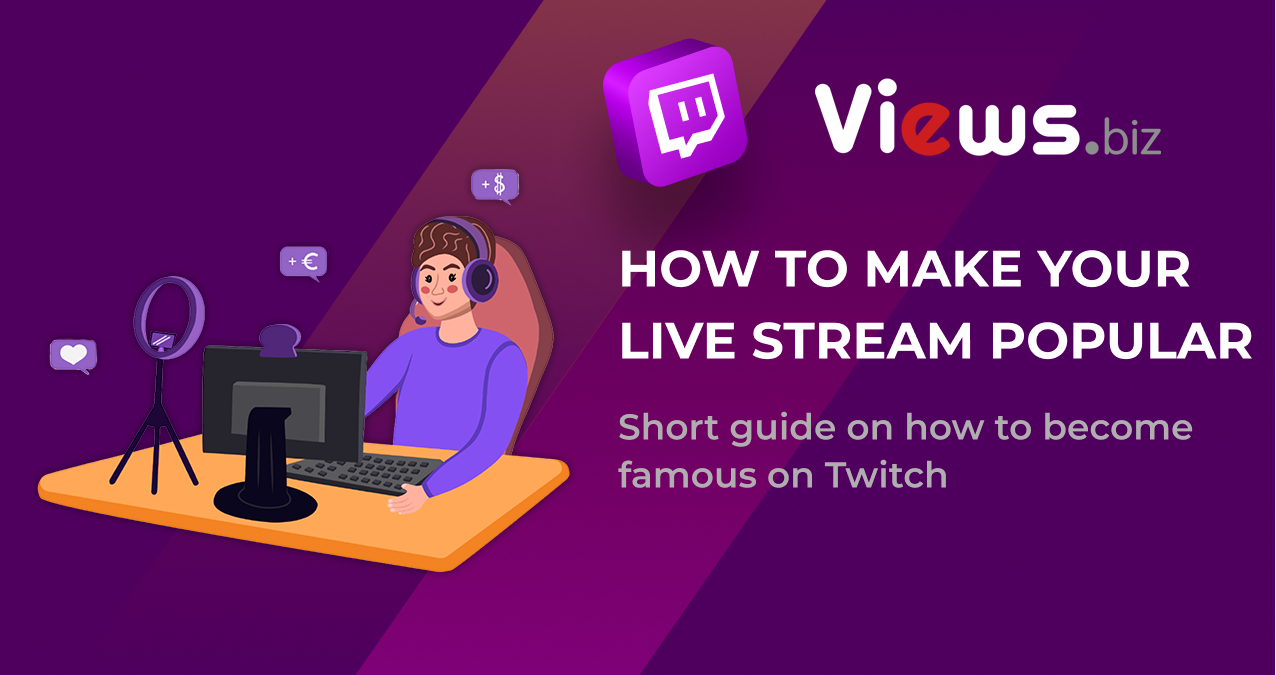 Easy Way to Promote Your Live Stream on Twitch
The streaming process itself is absorbing, a lot of people try broadcasting their content and profit from it. Streaming is fun, people post creative content, and it is interesting to watch and in some cases even inspirational.
Some major platforms where people like to stream include: Vimeo, Instagram Live and, of course, Twitch. By 2021 alone, the number of Twitch streamers has reached 9 million. Thus, it is clear that the platform attracts more and more people to join and start broadcasting their own content.
However, some users may find it hard to become more popular on the platform. Usually their content gets lost in the number of other streams of channels that are more popular, even though they edit their streams professionally and pay a lot of attention to the details. To help you understand the nature of Twitch and how to make your streams more noticeable, in this article you'll find some tips on how to make streams go viral.
It is highly advisable to plan your schedule and come up with a content plan. It is crucial to manage your time and post (or go live) at a specific time, so your audience wouldn't miss your new content. What is more, it will make you more credible.
Why Twitch is so popular and how to get started
Don't forget about the quality of your video. It is clear that when the quality of the stream is poor viewers won't even continue watching it, it will be hard to follow and energy wasting, so make sure you have the right settings.
When you go live on Twitch, don't forget that real people will be watching your stream. Viewers ask questions, share in the comment section during broadcasting. Thus, don't forget that you should interact with your audience, answer their questions while streaming, be patient, explain something to them if they ask you. In addition, value their opinion, very often it helps to make your content better.
Also, for beginners it is recommended to find a niche (or you can say a game) that is not streamed by a vast majority of users on Twitch and here's why. When you're a beginner, your channel doesn't have a specific number of people following you yet, so you should find your niche and go live posting unique content. It won't make your video get lost in a number of other streams of more popular channels.
Does this process of getting popular take a lot of time? A lot of users know that it is possible to get promotion services, get more people to watch you and attract new followers to your page. Indeed, it saves a lot of time, and you can use it on coming up with streaming ideas and editing.
In this case, think about SMM panels that help to promote accounts on any social media, especially on Views.Biz. We offer the most effective service for Twitch, they were tested and already helped a lot of users to grow their popularity on the streaming platform. You'll get the activity only from real people, we know how important it is for users to gain a loyal community, and we check the news on the marketing and come up with the most relevant offers.
Twitch Live Stream Viewers 15 min - $15.00 / 1000
Twitch Live Stream Viewers 30 min - $25.00 / 1000
Twitch Live Stream Viewers 1 hour - $50.00 / 1000
Twitch Live Stream Viewers 3 hours - $150.00 / 1000
Stay tuned!
Subscribe to our newsletter and never miss a post
You've successfully subscribed
Thank you for your interest!
Don't forget to check your mailbox