How to promote content in 2023 on any social media?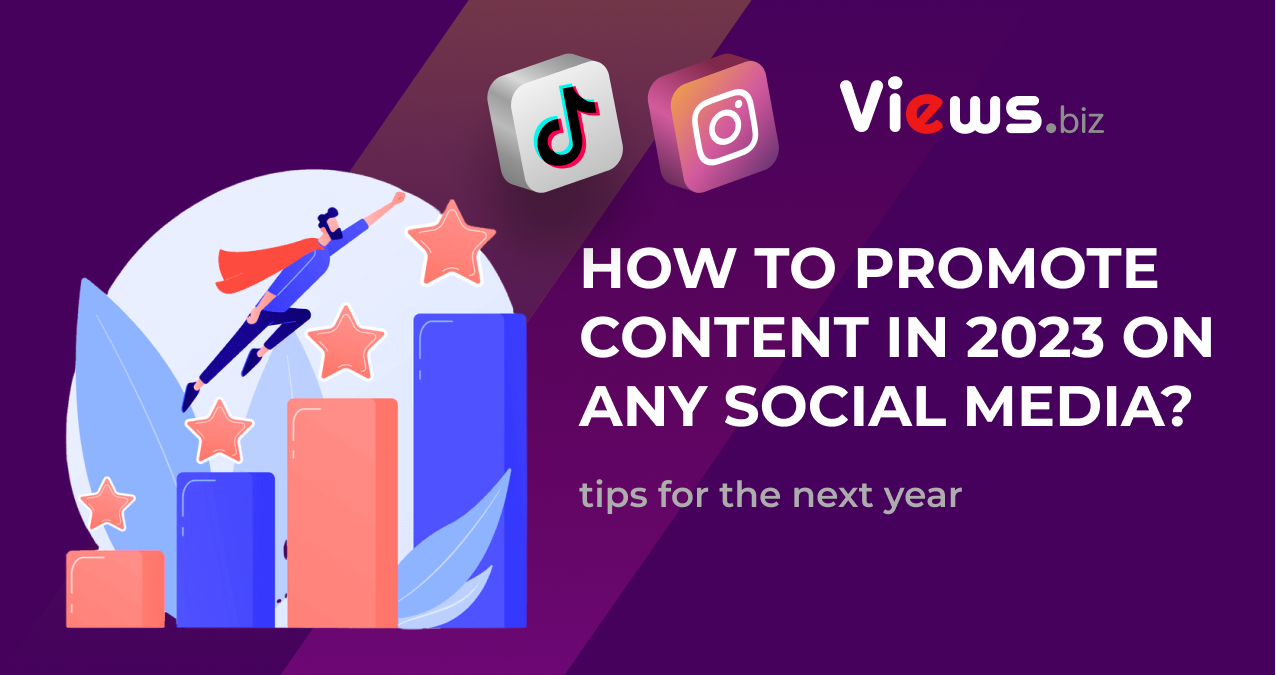 Now is the best time to consider coming up with a content plan for the first quarter of the next year. However, the vast majority of users struggle with making a plan for their content. Some of them want to focus on several things at once, while others just began their journey and don't know where to start.
What users should focus on in any case is a marketing strategy. But the big question remains: what to do if you don't know how social media marketing works? In this article, we share top advice on what you can improve in your marketing strategy and what will help you take your content to a whole new level of promotion.
FOCUS ON IDEAS
Ask yourself whether you can make unique content focusing on the niche that you have already chosen. Look at your content from the other angle, maybe there is still something that you haven't shared with your target audience, something you can show that they haven't seen. This will draw massive attention to your content and attract even more users to check your social media profiles.
Remember that to gain more followers and establish a loyal community it is key to do things differently yet stay true to your topic and niche you're working on. Look at the best way of representing your ideas: infographics, new pictures, animation, etc. Try to mix these formats and you will see how many people will be interested in staying updated with your content.
MAKE A RESEARCH
Research is important in any sphere, especially, when it comes to sharing information with people online. Information that you decide to put out on the internet should be relevant and should not be confusing for your audience. Otherwise, all the users that started following you in 2022 and the past year will show less respect for your content and unfollow it looking for more trustworthy content online.
At the beginning of 2023, it will be important to retain the attention of your audience. What can you do? Look for the popular topics right from the start and try to share them in your unique way, focus on current topics and the most popular ones, and share. Look for new online applications and programs and use them as online tools that will make your content more appealing and professionally edited.
CREATION PROCESS
In the upcoming month of the new year try to focus more on the process rather than on getting your content done when you need more time to manage it. Use quality tools and content such as images, links, graphs, and statistics. Provide your audience with quality content, edit it the way you see it, and explain how something works, why it is useful, and what can be done with it. Be as friendly with your reader as you can. The more information you share during the process, the more positive feedback you will get (as well as organic traffic).
UNDERSTAND WHERE TO POST
The market is changing and it is your responsibility to keep yourself updated on this matter. Look for the relevant placement web pages, and post your content only on quality providers and trustworthy web pages for effective promotion. Analyze your audience, their gender, age, social status, etc. to understand what application they use more frequently and try to upload your content there. Make sure that your content doesn't get lost online but rather will find its reader and attract more people to visit your social media accounts.
RIGHT PROMOTION
One of the essential things that remain from the previous year of posting content online - correct promotion. A lot of users struggle with choosing the most proper promotion technique. Having quality edited content is not enough now, what users focus on is how the product is being advertised, and how to let more people know more about it.
Do not ignore your content when you publish it, once you do try to use different relevant hashtags, collaborate with other creators, and use as much advertising as you need (but do not overuse it, as it will jeopardize your audience's trust), and provide only quality links. However, very often users who'd like to promote their product online face various obstacles:
the content gets lost in the number of other posts;
a lot of competition;
The content gets less recognition and 0 activity, etc.
In this case, users turn to get promotional services from online sources that offer marketing services.
You save a lot of your time once you get promotion services from reliable SMM sources like Views.Biz. Moreover, you start to have more free time to look for new editing tools and conduct thorough research to better understand what to post. With our SMM panel, you'll be able to improve your social media metrics and start to gain more recognition online.
When you buy promotions from Views.Biz you will never get suspended or even deleted from social media platforms. Views.Biz offers only high-quality services that have been tested and comply with the terms and conditions of online platforms.
Moreover, on Views.Biz we have new features! These features include money withdrawal and the tab with 'Bonuses'. We also created services in which we offer package promotion. This all comes in handy when users want to get a complex promotion and receive quality services without drops. The new services will come in packages for more effective promotion. If you want to promote your social media profiles do not hesitate and order our best packages for social networks:
With our services, you can finally make it to the recommendations and increase the exposure of your content. Try Views.Biz's services and attract more organic traffic to your social media profiles with us!
Stay tuned!
Subscribe to our newsletter and never miss a post
You've successfully subscribed
Thank you for your interest!
Don't forget to check your mailbox