How To Record Videos For YouTube Like A PRO?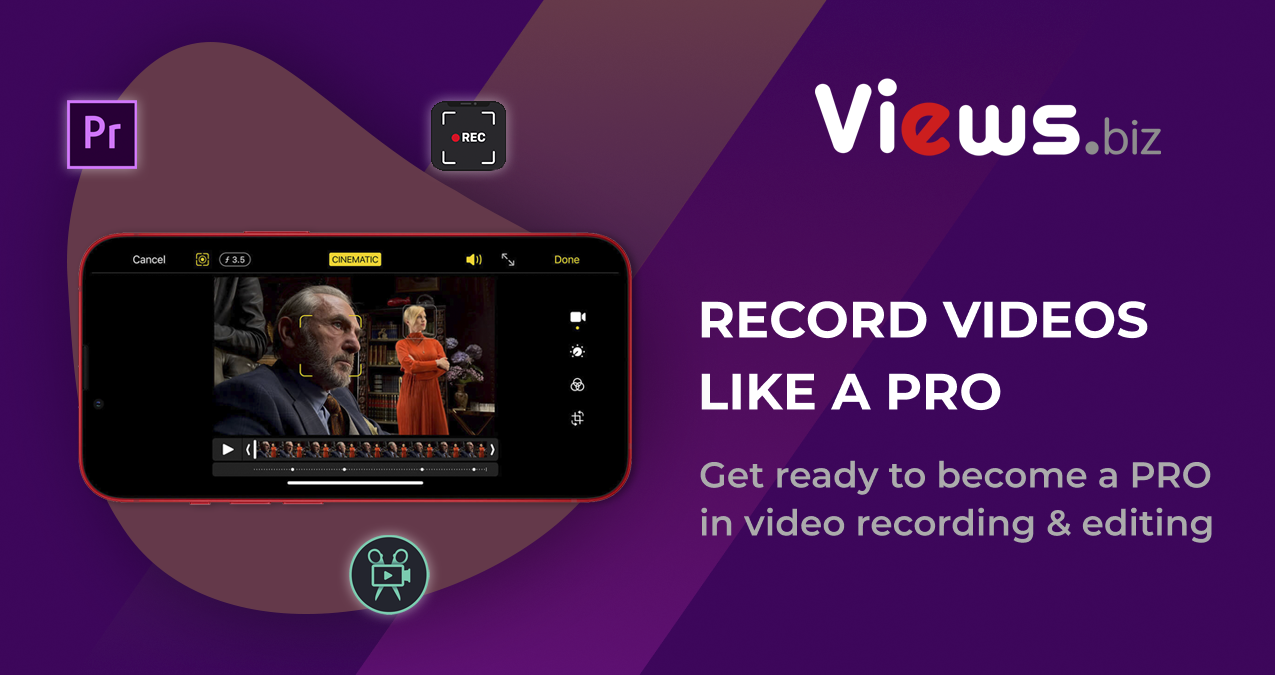 Best Tips and Tricks for YouTube Video Shooting
Want to create a polished, professional video that impresses your audience? It's easier than you might think. Achieving a professional look is more about your technique than your tools, so you don't need to drop a fortune on expensive equipment – chances are good that you can make great videos with whatever you've got right now, just by paying attention to a few key details.
First of all, you need to choose a genre!
Here you have a great choice: reviews, unboxing or unpacking, letsplays, vlogs, how-to videos, beauty videos, life hacks, house tours, social experiments and this is just a tiny part! To choose, ask yourself the question - which videos are interesting to me, and what can I do myself? Maybe you have some hobby that you can talk about or you're interested in movies and you will do some kind of reviews.
Whatever you choose, remember that if you want your videos to be watched, you need to design your channel's page! How to prepare your channel?
Step one - you need to issue a profile header and a user profile. The cover, the avatar of your channel is the first thing that YouTube users see when they visit your page. Therefore, the header should show what the channel is about and what content can be found here.
Step two - make a description, which will be located in the "About the channel" section. This text can help the channel appear more often in search results on YouTube and Google, and also you can specify contacts for advertisers in it.
Remember that links won't be clickable — it's better to leave them under the videos and the maximum length of the description shouldn't exceed 1,000 characters.
The third step is to set up navigation. The easier it is to navigate among the videos on the channel, the more likely it is that a casual viewer will find something interesting and will continue to follow your creativity. Even if you have 10-15 videos so far, start grouping them by topic or another criterion, for example, using playlists. Additional views will be a bonus, due to the fact that the videos are automatically played in turn.
You can also use the main page for navigation. By default, three sections are shown there: the latest uploaded videos, all playlists, and open subscriptions to other channels. For example, this way you can select each playlist into a separate section. Then viewers will see not only the playlist itself, but also the names of the videos in it.
The fourth step is the time codes for the videos. Add them so that people immediately go to interesting moments in the videos, and do not leave the channel. Use hints and end screensavers - offer to subscribe and briefly tell us about the content that awaits the viewer in the following videos.
If you want to save your time and get a quality promotion for your videos, you can just order our newest service - YouTube Turnkey! This service includes a complex promotion for your channel no matter if you're a professional youtuber or just at the beginning of your career! Our team (SEO-specialists, designers, traffic-managers, content-makers and personal managers) will do everything that helps you to become a famous youtuber.
Next, add a welcome video on the main page of the channel - the trailer. Everyone who hasn't signed up yet will see it. In the trailer, you can: make a cut of the most interesting moments from previous videos; tell the viewers what you are shooting and why you should subscribe or just attach your most successful video.
For any blogger, no matter if you're a beginner or advanced, it's important to write the script of your videos. First, write the theme of the video and outline the ideas, then turn these ideas into a plan and write down the comments, your speech, which will be accompanied by the video.
This will help you when creating a video. Write down all the details that you will need to pay attention to during the shooting, so as not to forget them. Also make a content plan, write a sequence of several videos that you plan to shoot in order to know in which order it would be more logical to shoot these videos.
Now let's figure out how to shoot!
Cameras require a large number of lenses, microphones and other equipment, so we advise you to start shooting on your phone. For these purposes, the iPhone is perfect, starting with 8. Sony Xperia 5 II. Samsung Galaxy Note 20 Ultra. Huawei P40 Pro. Vivo X50. Xiaomi Poco F2 Pro. Google Pixel 4.
If you still want to take a camera, then try the OM-D E-M5 Mark 3.. On the one hand, it provides the widest possibilities in photo and video shooting with extremely compact dimensions, on the other hand, it's not overloaded with professional functions. Its main advantage is its compact size and lightweight. The E-M5 Mark III weighs only 414 g without a lens. The interchangeable optics in the Micro 4/3 system match the cameras: compact and lightweight. By the way, we recommend buying this model with the lens in the E‑M5 Mark III 14-150 Kit.
If you plan to experiment a lot, then we advise you to take a closer look at action cameras. Here are a couple of worthy candidates with aqua boxes included - AC-Robin ZED1 and SJCAM SJ5000.
Sound is one of the most important aspects of high-quality video, and you need to pay special attention to it. If you plan to shoot at home, then ordinary lapel or wireless microphones are suitable for these purposes. Such microphones are available for both cameras and phones.
An indispensable accessory for any camera that allows you to capture a frame and record beautiful static plans on video is a tripod. There are many options - from cheap aluminum to expensive professional ones at the price of a set of rubber for the car. Among all this variety, it is better to choose an affordable desktop version or a flexible tripod with balls instead of legs — it can be fixed on any ledges, from a horizontal bar to tree branches. For example, such as RECAM ECOPOD E134 or Joby GorillaPod SLR Zoom.
What about lighting? You shouldn't invent something particularly complicated, and the main requirement for light should be its efficiency. You have to make yourself the center of attention of the audience, while avoiding unsightly shadows on your face. To do this, you can use both a large studio light and compact LED illuminators, such as a ring lamp.
Editing
And finally, sometimes a little editing is required in order to make your footage go from "meh" to "wow". And nowadays you can do some intense editing on your smartphone as well, meaning you won't need to invest in fancy desktop software.
Everything from basic trimming to adding transitions, titles, and effects is simple on both iOS and Android mobile devices. Whether your next video is a montage or a school project, mobile apps can streamline the video-editing process.
Apple's own iMovie for iPhone and iPad, for instance, includes titles and transitions and even supports making theatrical trailers on the go. Other features include picture-in-picture, split screen, and slow motion effects. It's very similar to iMovie on the Mac, in fact. For iPad Pro, you might want to give LumaFusion a go, although that's quite pricey.
Pinnacle Studio is another good example, as well as Videon and Magisto. But that's not all: Adobe's Premiere Rush app is a powerful video editing tool with many of the features of Premiere Pro, though it's stripped down and can be used by anybody.
Now, when you've filmed your videos on YouTube, it's time to boost your channel with our best services!
YouTube Views [Non Drop, High Retention] - $3.19 / 1000
YouTube Likes [Real people] - $4.50 / 1000
Stay tuned!
Subscribe to our newsletter and never miss a post
You've successfully subscribed
Thank you for your interest!
Don't forget to check your mailbox