How to Sign Out of YouTube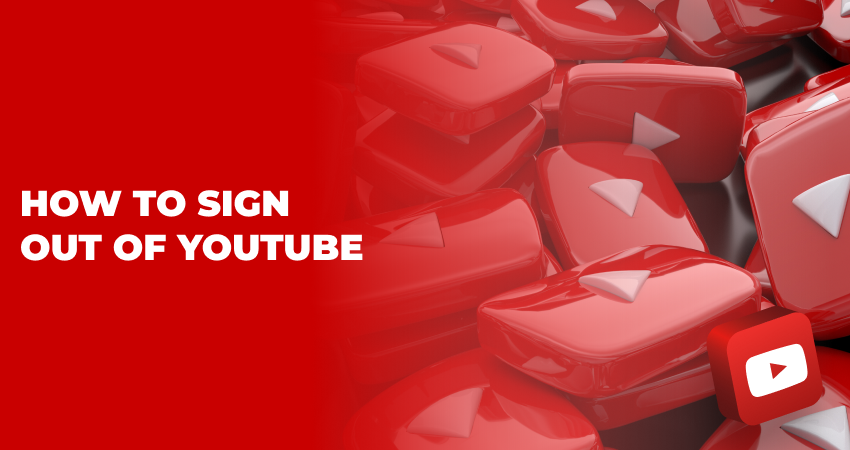 YouTube is a go-to platform for video content, be it creators or just platform users. For the platform to be even more beneficial to us, we usually opt to create a private account where we can manage our channels, watch histories, etc. So if you have an account, you should also know how to sign out of YouTube, so that your private information stays private no matter how many devices you use.
Table of Contents
If you're using YouTube on a desktop computer, start by opening your preferred web browser and navigating to the YouTube website. Once you've arrived at the homepage, locate the circular icon representing your profile picture at the top right corner of the screen. Click on this icon to reveal a dropdown menu where you'll find various options related to your YouTube account. Look for the option that says "Sign out," and simply click on it. This will log you out of your YouTube account and redirect you to the homepage where you'll now see a generic profile icon.
Now, if you're accessing YouTube from a mobile device, the process will be slightly different but equally straightforward. Open the YouTube app on your smartphone or tablet, and tap on the profile icon usually found at the top right-hand corner of the screen. This will take you to a new page where several account-related options are displayed. Scroll down until you find the "Sign out" option and tap on it. You'll be logged out immediately and returned to the app's home screen where you can browse videos as a guest or log in with another account.
In some instances, you may also be logged into YouTube on devices such as Smart TVs or gaming consoles. The exact process to log out may vary depending on the device, but generally, you will need to go to the settings or account section, locate the sign-out option, and follow the prompts. On some devices, you might have to use a remote control to navigate the menus or use voice commands if that feature is supported.
It's worth mentioning that signing out of YouTube will also sign you out of other Google services on the same device. If you wish to remain signed into services like Gmail or Google Drive, you'll need to log back in separately after signing out of YouTube.
Remember, signing out of your account is a good security measure, especially if you're using a shared or public computer. It prevents unauthorized access to your account and safeguards your personal information and activity. Once you're familiar with these steps, signing out becomes a quick and easy routine.
Signing out of YouTube serves as a vital step in securing your personal information and maintaining your online privacy. Especially when using a public or shared device, logging out ensures that you are the only one who can access your account, subscriptions, and history. Even on personal devices, regularly signing out can act as a checkpoint for your security, helping you confirm that your login credentials are up-to-date and reminding you to update passwords if necessary. In addition, signing out can also be useful for households with multiple users, making it easier for others to log in and access their own personalized YouTube content. Overall, signing out is a simple yet effective way to safeguard your YouTube account and your online presence.
If I sign out of YouTube, does it mean I sign out of my Google account?
Yes, signing out of YouTube generally means that you'll also be signed out of other Google services like Gmail, Google Drive, and Google Calendar on the same device. Google accounts are integrated to provide a seamless experience across various Google services, so logging out of one typically logs you out of others on that particular device.
Can I access YouTube without signing in?
Absolutely, you can browse, search for videos, and watch them on YouTube without signing in. However, you won't be able to access features like subscriptions, history, or personalized recommendations unless you are signed into your account. You also won't be able to like, comment, or upload videos.
How to sign out on the YouTube Kids channel?
Signing out of YouTube Kids varies depending on the device you're using, but generally, you'll go to the settings menu, represented as a gear icon in most interfaces. Once there, you should see an option for signing out. Tap or click it to sign out of the YouTube Kids channel. Please note that the exact steps might differ based on the device and its operating system.
Can I be signed in on YouTube from multiple devices?
Yes, you can be signed into your YouTube account on multiple devices simultaneously. This means you could be logged into YouTube on your computer, smartphone, tablet, and smart TV all at the same time if you wish. However, it's good practice to sign out of devices you're not actively using, especially if they are shared or public devices, to maintain account security.
Stay tuned!
Subscribe to our newsletter and never miss a post
You've successfully subscribed
Thank you for your interest!
Don't forget to check your mailbox