How to Start a YouTube Channel for Kids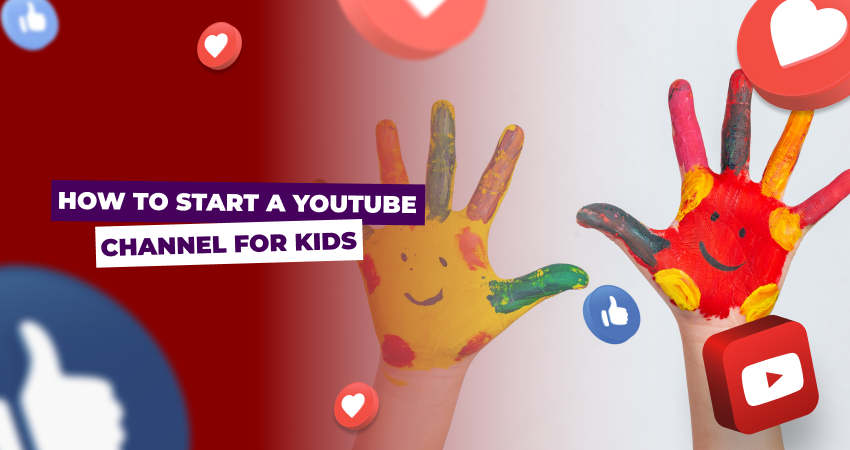 Starting a YouTube channel for kids is both an exciting and demanding venture. With the increasing popularity of child-centric content on the platform, many are drawn to the idea of launching a channel that caters to this vibrant demographic. However, one must proceed with a blend of creativity, responsibility, and diligence, and here we've got some of the most useful things to remember on how to start a YouTube channel for kids.
Table of Contents
When thinking about a YouTube channel for kids, you must first grasp the nature of your audience. Children are curious, and imaginative, and have shorter attention spans than adults. This means your content must be engaging, colorful, and concise. Tailoring content to specific age groups can also be advantageous. For example, a channel targeting toddlers would be vastly different in tone and content from one aimed at pre-teens.
There's a plethora of content ideas suitable for a kids' channel. Animated stories, DIY crafts, educational videos, song sessions, and storytelling are all popular genres. You could explore animated adventures of original characters or even start a series teaching kids about science or history in a fun, engaging manner.
Safety and privacy should be of paramount importance. If featuring children in videos, especially if they are your own, always consider the implications. Ensure that the content does not expose them to harm or unwanted attention. Also, familiarize yourself with YouTube's policies regarding child content. With the introduction of the Children's Online Privacy Protection Act (COPPA), there are strict guidelines about content aimed at children.
Kids love to engage. Encourage them to comment on their favorite part of the video or suggest topics. However, given the nature of the internet, it's crucial to monitor and moderate these comments to shield young viewers from potentially harmful content.
Consistency can be a key driver for the success of your kids' channel. Regular uploads can ensure your young audience knows when to expect new content and can eagerly look forward to it. Whether it's once a week or bi-weekly, pick a schedule that's feasible and stick to it.
Given the specific audience, monetization for children's content can be a little tricky. Since targeted ads are not allowed on kids' content due to COPPA regulations, you might need to think of alternative revenue streams. This could include channel memberships, merchandise, or even partnerships with kid-friendly brands.
Lastly, it's essential to be flexible and adapt. Children's preferences change rapidly, and what's trendy today might not be in vogue tomorrow. Regularly review the performance of your videos, gather feedback, and be ready to innovate.
In conclusion, while starting a YouTube channel for kids can be a delightful endeavor, it requires dedication, creativity, and an unwavering commitment to safety and ethics. With the right approach, your channel can not only entertain but also educate and inspire its young audience.
How to keep a child safe while still posting on YouTube?
Keeping a child safe on YouTube involves several measures. Avoid personal information and never disclose specifics like home addresses, schools, or any other identifiable details. Also, turn on comment moderation to filter out inappropriate remarks or disable them entirely on videos featuring children. Consider using animations, voice-overs, or puppets as proxies for the child's presence. If the child appears, make sure their exposure is limited and non-revealing. And don't forget to utilize YouTube's privacy settings. You can make videos unlisted, meaning only those with a link can view them. If the child is old enough, educate them about online safety, the importance of not sharing personal information, and how to handle negative comments or cyberbullying. Be familiar with and adhere to YouTube's policies regarding child content, especially in light of the Children's Online Privacy Protection Act (COPPA).
How old should my child be to start a YouTube channel?
YouTube's terms of service state that to create your own account, you need to be 13 years old in most countries. However, younger children can appear in videos with the consent and oversight of their parents or guardians. If a child under 13 wants to start a channel, it should be created and managed by an adult.
Should a kid start a YouTube channel?
This is subjective and varies from family to family. A YouTube channel can offer children a platform to express themselves, be creative, and learn digital skills. However, it also comes with challenges like privacy concerns, the potential for negative comments, and the responsibility of managing a channel. Parents should weigh the pros and cons, assess their child's maturity and preparedness, and provide guidance and oversight if they decide to proceed.
Can kid's channels make money?
Yes, kids' channels can make money. In fact, some children's channels are among the highest earners on YouTube due to their vast viewership. However, monetization methods differ for kids' content. Due to COPPA, targeted ads are not allowed on children's content. While these avenues exist, it's vital to prioritize the child's well-being and safety over monetization efforts.
Stay tuned!
Subscribe to our newsletter and never miss a post
You've successfully subscribed
Thank you for your interest!
Don't forget to check your mailbox