How to Turn Off Autoplay on YouTube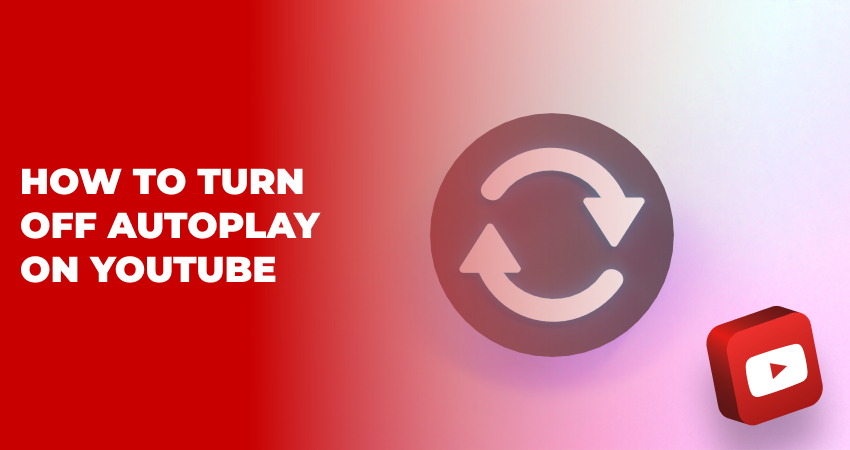 YouTube, the digital haven for video content, is designed to keep viewers engaged with its seamless playback. One of the features contributing to this experience is "autoplay," where the platform automatically starts playing another video after the one you're watching ends. In this article, we'll explore what autoplay is, why you might want to turn it off and provide some tips on how to turn off autoplay on YouTube.
Table of Contents
Autoplay is a feature that automatically starts playing a suggested video after the video you're currently watching ends. This feature aims to keep you engaged by presenting content similar to your interests or viewing history without requiring you to manually click on the next video. It is certainly convenient to not click every single time on the video you would like to watch. But sometimes it can be not that pleasant to have the platform switch to another video immediately, not letting you have the chance to watch that video again or just stop watching anything at all.
While autoplay is handy for uninterrupted content consumption, there are reasons you might want to turn it off. Autoplay can take away the opportunity to choose the next video you want to watch. Disabling it gives you more control over your viewing experience. Without autoplay, you can consciously decide what to watch next, helping you avoid mindless scrolling through unrelated content. On top of all that, autoplay consumes data, which might be a concern if you're on a limited data plan.
But if you are in the mood for the platform to entertain you non-stop, then you can turn off the autoplay in these few steps.
First of all, log in to your YouTube account and go to "Settings."

Click on "Autoplay" and adjust its settings. You'll find an option titled "Autoplay on Home." Toggle the switch next to it to turn off autoplay on the home page.

If you are content with the results, save your changes and you are good to go.
Taking control of your YouTube experience involves tailoring the platform to your preferences. Autoplay, while convenient, might not always align with your viewing habits and goals. By turning off autoplay, you regain the power to choose what you watch next, enhancing your mindfulness, reducing distractions, and potentially saving data. The steps outlined in this guide are simple and quick, allowing you to customize your YouTube journey in a way that best suits your interests and preferences. Remember, YouTube's settings can change over time, so it's wise to refer to the platform's official resources for the most up-to-date information.
Can I see all the videos playing in autoplay?
YouTube's autoplay feature automatically plays suggested videos one after another. However, you don't have direct visibility into the entire queue of videos that will be played next. The next video in the autoplay sequence is usually determined based on your viewing history, preferences, and the content of the video you're currently watching.
What to do if I can't turn off autoplay?
If you're having trouble turning off autoplay on YouTube, you might want to try the following steps:
Ensure you're logged into your YouTube account.

Clear your browser's cache and cookies and then try again.

Try using a different browser to see if the issue persists.

Check if there are any browser extensions or plugins that could be affecting YouTube's settings.
For how long can I turn off the autoplay?
Once you turn off autoplay in your YouTube settings, it will remain turned off until you choose to toggle it back on. The setting will persist across your browsing sessions unless you clear your browser's cookies or change your settings.
If I turn off autoplay from the app, does it still work in the web app?
Yes, if you turn off autoplay from the YouTube app, the setting will also apply when you access YouTube through the web app or browser. The autoplay setting is tied to your YouTube account, so changes made on one platform will reflect on others as well.
Stay tuned!
Subscribe to our newsletter and never miss a post
You've successfully subscribed
Thank you for your interest!
Don't forget to check your mailbox