How to use SEO for YT promotion?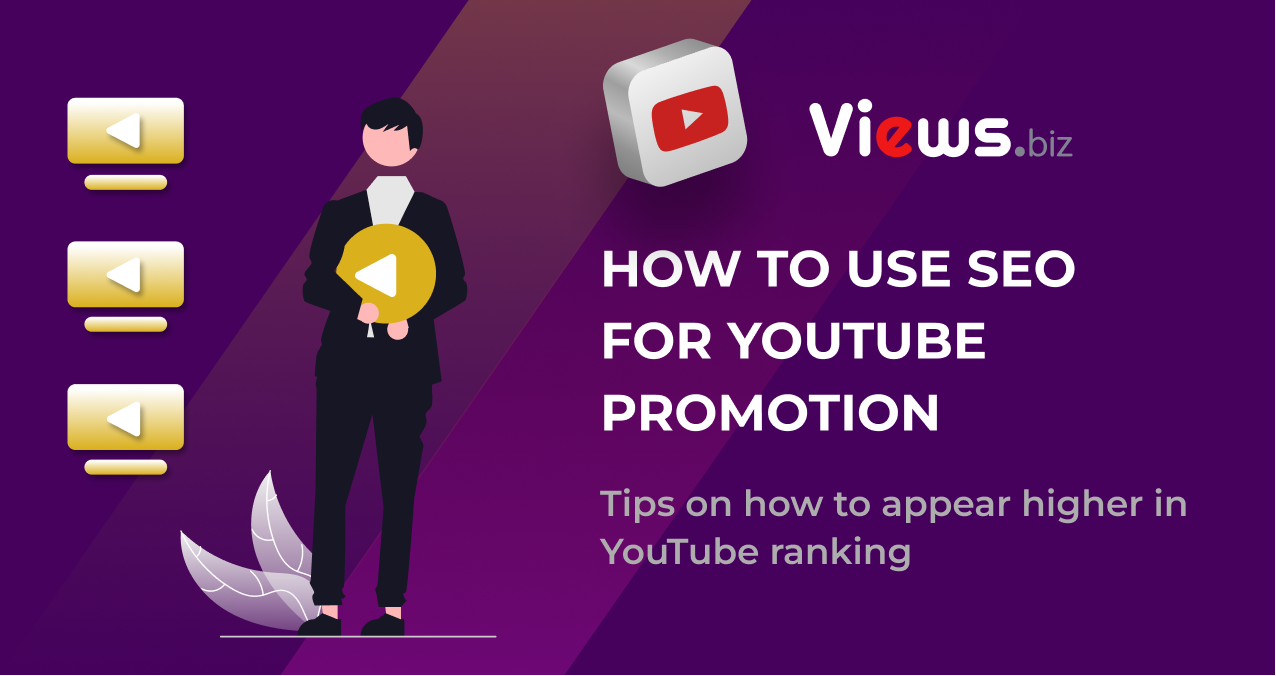 Have you ever googled something and then noticed that videos from YouTube are showing? YouTube is the leading video hosting platform that is used for more than 2.5 billion active users. It is not a surprise that more and more businesses and individual entrepreneurs join the platform for promoting their product and services.
SEO is very important when it comes to promoting your content on YouTube. Besides, it is essential to use if you want to beat the YouTube algorithm and appear in the recommendation section. It all will make your content go viral and so attract more activity and improve your engagement rate.
What is YouTube SEO after all?
In short, YouTube SEO is the process of optimizing YouTube videos to improve their ranking on YouTube and help it appear in recommendations faster. Notably, it works not only for YouTube, it can be done for Google websites, Instagram profiles and other social media platforms.
YouTube SEO is actually a key tool from which the quality promotion starts. Everyone has an opportunity to attract potential followers and improve their rankings on the platform. After reading this article you will have a clearer idea of what is necessary to pay your attention to in YouTube promotion.
How to use SEO to promote your channel?
There are several tips on how you can promote your YouTube channel using SEO as a marketing tool.
1.Keywords
The first thing that you should do in this case is to analyze the most relevant keywords for your videos. If you don't focus on looking for correct keywords, you will not have search traffic attracted to your channel. However, there are not many applications to help you with that online (for example, people use Google Keywords Planner and Ahrefs).
If you don't want to use an application and think it takes a lot of time, consider looking for keywords in a search bar on YouTube. All you have to do is to start entering the first words of your request and you will see the most relevant keywords and phrases that can be considered as 'most searched for'.
2.Optimize your retention
Retention is fundamental when it comes to optimizing your content. Basically, it means for how long viewers watch your content and whether they watch it till the end. For proper SEO optimization you should come up with how you will make your viewers watch your video till the end.
You have the first 10 seconds to spark the interest of your viewers, tell them what is going to be in the video and what they will have if they watch it till the end (how useful it is or run a contest for them). You can start with:
Statistics;

Rhetorical question;

Real life example connected with the topic of the video.
3.Focus on improving your CTR
CTR is crucial in SEO: it is connected with your videos' titles, description, tagging and thumbnail. When you improve all of them you will see your click-through-rate (CTR) and impressions will increase. The more clicks you get the more people watch your content and you get exposure on the platform.
Use keywords on your title and don't make it too long - maximum 70 symbols. The thing that you should do is to spark interest with your title and over image, make it catchy and so you will make your potential users click on it. Beside, it is highly advisable to use keywords in video description as well. If you wish you can look for how it is done by your competitors, it also helps to better understand which video design and keywords to use. The same thing is with tagging.
4.Get promotion services from SMM panels
Very often, almost in 90% of cases, bloggers who begin their journey on YouTube find it very hard to get their first youtube subscribers (not even 1000 subscribers). There are a lot of reasons for that, the main reasons are: there is a lot of competition and incorrectly optimized video (SEO). In addition, when you're a beginner, promotion is confusing. That is why more and more users start to get services from trustworthy online sources like Views.Biz.
We make the promotion of your YouTube channel fast and effective. You won't spend a lot of time on promoting your channel as you get professional marketers' help during the process. Promotions with Views.Biz do not violate YouTube's policies and you attract organic traffic on your channel after you get the service.
The services that will help you in SEO optimization of your videos are:
This service will make your content more reputable and recognizable on the platform and improve your ranking on YouTube. SEO professionals from our panel analyze your videos and promote their titles, tags that you have already put and descriptions. So you have a chance to appear in the recommendation section on YouTube and beat its algorithm.
Another service that our customers get to appear higher in ranking is Keyword Ranking. You will beat your competitors and users will come across your content more frequently. With this service you promote your video with keywords and increase your ranking. Users also increase the number of youtube likes and subscribers as you receive organic traffic after they get the service.
SEO might seem hard and confusing. It affects the traffic that you receive as well as your CTR. There are a lot of reasons why SEO can make a difference, what it includes and what elements influence it. Try to follow our tips on how to implore SEO and you will reach the whole new level of popularity.
Stay tuned!
Subscribe to our newsletter and never miss a post
You've successfully subscribed
Thank you for your interest!
Don't forget to check your mailbox