How to Watch Deleted YouTube Videos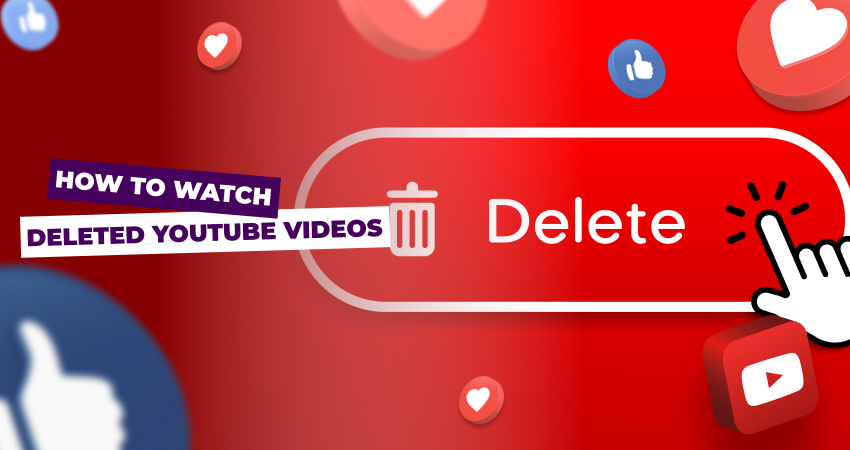 YouTube is a treasure trove of videos, but occasionally, content may be removed or deleted for various reasons. However, the internet is a vast place, and there are a few methods you can explore to watch deleted YouTube videos. Here are some ways of how to watch deleted YouTube videos and while these methods may not always be foolproof, they offer a chance to access content that's no longer available on the platform.
Table of Contents
Sometimes, deleted YouTube videos might still be accessible through Google's cache. You can search for the video's URL on Google and click the "Cached" link to see if a video snapshot is available.
The Wayback Machine is a digital archive of the internet. It captures snapshots of websites over time, including videos. Enter the YouTube video's URL into the Wayback Machine's search bar to see if an archived version is available.
There are websites that index and host YouTube videos independently. While using these sites might be a hit-or-miss, they sometimes have copies of deleted videos that were reuploaded.
If you have the URL of the deleted video, you can use video downloading software to download it before it's taken down. Be cautious and make sure you have the necessary rights to download the content.
If you're seeking a specific deleted video, you might try reaching out to the creator. They might have saved copies of their content and could potentially share it with you.
Check social media platforms and online forums related to the content. Sometimes, users might share mirrors or copies of deleted videos they've found or downloaded.
Deleted YouTube videos occasionally get reuploaded by other users. You can search for the video's title on YouTube to see if someone else has posted it.
While these methods might help you find deleted videos, it's important to consider legal and ethical aspects. Respect copyright laws and the creator's intentions. If a video was deleted for a specific reason, think twice before attempting to watch it again.
In conclusion, while watching deleted YouTube videos isn't always guaranteed, these methods provide a glimmer of hope to access content that has vanished from the platform. However, always approach this endeavor with respect for the original creator's rights and the reasons behind the deletion.
How can I find a link to a deleted video?
If you're looking for a link to a deleted video that you previously had access to, you might find it in your browser's history if you watched the video recently. Alternatively, if the video was shared on social media or forums, you could search for the post containing the link.
Does Google Chrome have an extension to find deleted videos?
Google Chrome doesn't have an official extension specifically designed to find deleted YouTube videos. However, there might be third-party extensions or tools available that claim to help with this, but be cautious and ensure they're reputable before using them.
How to prevent videos from being deleted on YouTube?
To prevent your own videos from being deleted on YouTube, follow these tips. Adhere to YouTube's community guidelines and copyright policies and avoid using copyrighted content without proper permission or fair use justification. We would also recommend providing accurate and non-misleading titles, descriptions, and tags. Interacting positively with your audience and discouraging spam or harmful comments can also help prevent videos from being deleted. Regularly review your video analytics and feedback to improve your content and engagement.
How do I recover deleted videos permanently?
If you've permanently deleted videos from your YouTube channel, it might not be possible to recover them. YouTube's recovery options depend on whether the videos were moved to the "Trash" section or were deleted completely. If they were moved to "Trash," you can restore them within 30 days. If they were permanently deleted, you might not be able to recover them. It's a good practice to back up your videos offline to prevent accidental permanent deletion.
Stay tuned!
Subscribe to our newsletter and never miss a post
You've successfully subscribed
Thank you for your interest!
Don't forget to check your mailbox