Is Instagram Still Alive?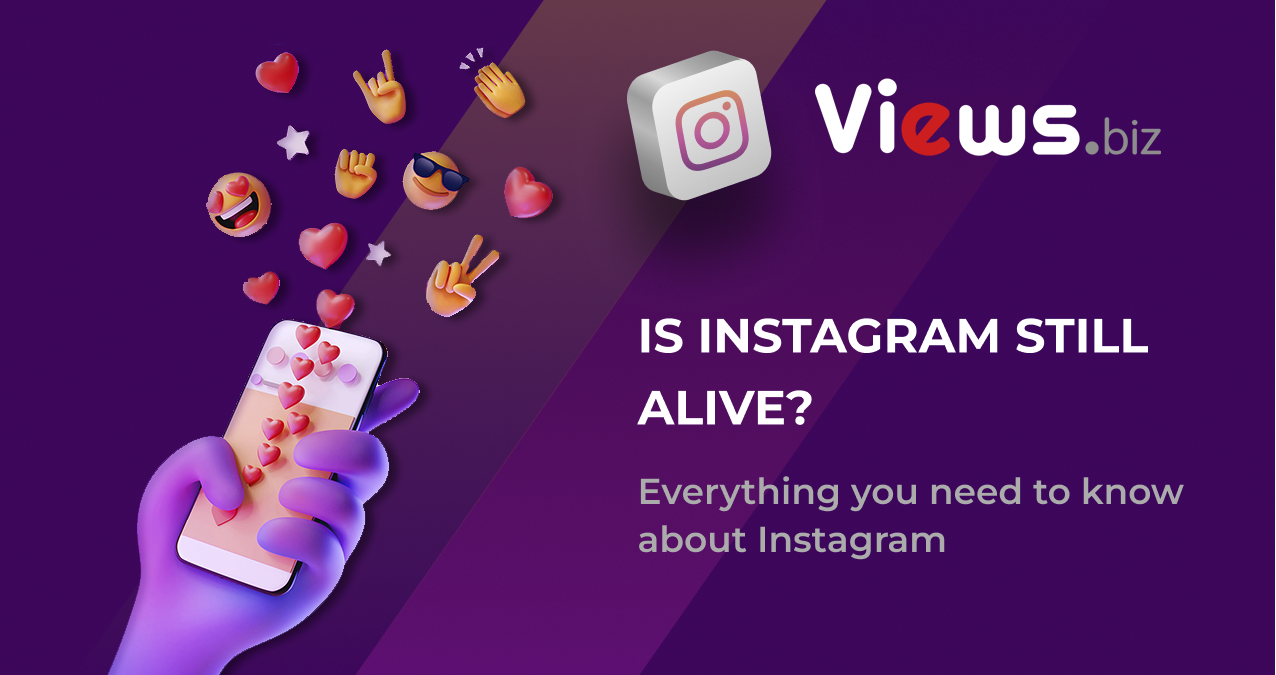 With new TikTok updates it seems like Instagram will receive less attention and users will use TikTok more. Indeed, TikTok now has some of the features of BeReal, new Photo Mode and other updates that makes users rethink using other platforms and join TikTok.
Why so? Well, with new features the platform becomes one place that combines several social media platforms in one, which makes interaction much easier for a lot of people.
Moreover, we should consider the fact that Instagram didn't come up with updates these past months and new TikTok features sparked their interest to try them and so stay on the platform.
Which platform is used instead of Instagram now?
As we stated above with new features of TikTok the platform becomes Instagram's #1 rival. These updates include:
-Photo Mode - users have a chance to add photos in a carousel, even add music;
-Video description that now can have up to 2.200 characters - it is possible to add as many details as you wish, necessary keywords for better SEO on the platform and share more information with your viewers;
These updates were only introduced in October. For people who have been already using the platform these updates wonky did good and they are far more likely to stay on TikTok rather than promote their account on Instagram.
What was up with Instagram this whole time?
Adam Moseri, Instagram CEO, stated that the team was planning on focusing on making Instagram more fun and engaging. However, some of their updates failed to meet user's expectations. New Instagram features include:
-Full Screen Size Content (like on TikTok: 9*16 size)
-Reel Update (now they last for 90 seconds)
-Feed Control and Chronological Feed, etc.
You'd expect that these features would make a big difference in the way Instagram is used and people would make them work the best way possible. Unfortunately, a lot of people were complaining, the new full screen size felt unlike Instagram and didn't quite fit into its style. Also, a lot of users claimed that the number of ads gets bigger every day and Instagram is nothing like the platform they downloaded a long time ago.
For now the Instagram team is working on all that and thoroughly plans new updates and examines how these features will be received by its users. We can't blame them for trying, all in all Instagram still remains one of the kind on social media.
Will Instagram go out of style in the near future?
We all agree that TikTok as well as other social media platforms has its own audience, different age groups. On the other hand, Instagram has its own fan base, people who can't imagine their daily life without using the platform. In addition, TikTok or any other social network will never be the 'new Instagram'. For now TikTok has other aims to achieve and in any case their new features don't fully copy Instagram ones.
You see how TikTok gains more popularity and is, indeed, a good rival for Instagram. What we are sure of is that Instagram should pay attention to its competitors and focus on not losing its audience and they manage to keep and even expand their audience on Instagram.
How to become a blogger today?
Here are our top advices on that:
1.Post your content consistently
Show your followers how much you value their time and come up with your own schedule. For example, tell your followers you will post your content every Tuesday and Friday. You will see how your engagement rate will grow. It is a very nice technique to attract more people to follow your profile for more.
2.Engage with your audience and get to know it
One of the most effective ways to get more followers on social media is to engage with your followers and target audience. What you should do is to thoroughly analyze:
-interests
-age and gender
-social status
-what their priorities are to customize your content more
Don't be shy and interact with your audience. When they leave comments under your posts don't ignore them and reply. Show them how you value their opinion and that your posts are the place to share. You will see that these people will be far more likely to share more, attracting new activity to your profile.
3.Get services from an SMM panel
Get more followers, likes and views by getting promotion services from trustworthy sources. Save your time on promotion and receive professional help from markets and focus more on editing your content. That is why a lot of them turn to get help from Views.Biz. You can get legit and fast services for Instagram, TikTok and other social networks from Views.Biz very fast.
With Views.Biz you get safe and secure payment methods, your personal information is protected by our IT specialists and you get fast services. We get the promotion process easy and your content finally gets the exposure it deserves! You don't have to follow and give likes to anyone and receive nothing as a feedback. In a couple of clicks you can get to the recommendations section and attract more people to your profile.
Try our services to check it out for yourself:
Instagram Likes - the price is from $1.12 per 1000
Instagram Followers - the price is from $12.75 per 1000
Instagram Reels Views - the price is from $1.00 per 1000
Instagram Story Views -the price is from $0.36 per 1000
Stay tuned!
Subscribe to our newsletter and never miss a post
You've successfully subscribed
Thank you for your interest!
Don't forget to check your mailbox