Leveraging TikTok's advertising options to promote your content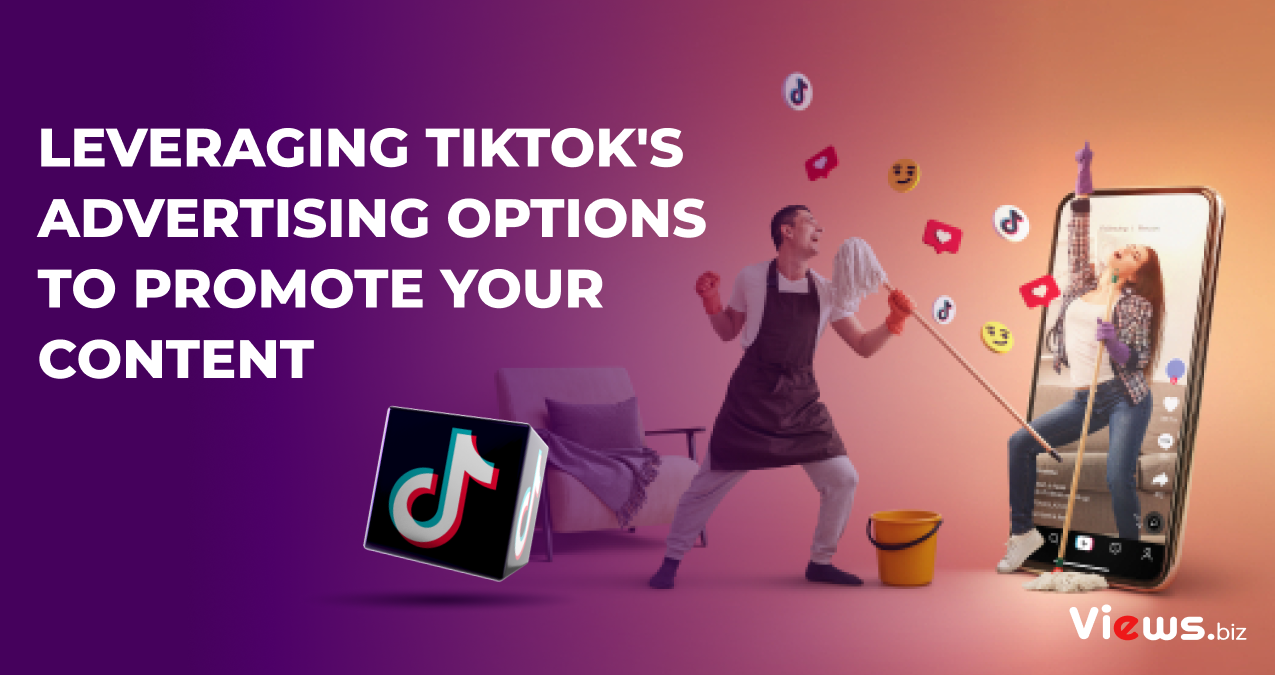 Nowadays, the important part of a brand and content promotion in general is correct marketing strategies. Advertising as a tool went to a whole new level as social media platforms are interested in upgrading the way their webpages look and how many users find it useful. With TikTok's ongoing popularity it has become a number one social network for businesses and influencers to advertise their products and services.
TikTok is an ideal platform for businesses to reach a wider audience. It has over 1 billion active users making it possible to really make a statement online and attract organic traffic to your page. Tik Tok is a great tool for social media marketing and after reading this article you will get a clear understanding of what 3 top advertising options are offered by TikTok and how you can leverage them to promote your content.
What are TikTok's advertising options?
TikTok Ads Manager
TikTok Ads Manager is a self-service platform that allows businesses to create and manage their ad campaigns. With Ads Manager you can choose from a variety of ad formats such as:
in-feed videos;

brand takeovers;

sponsored hashtags.
Ads Manager offers advanced targeting options including:
demographics;

interests;

behaviors;

device types to help you reach your ideal audience.
To get started with Ads Manager, you will need to create an account and set up your campaign. Once your campaign is settled you can monitor its performance in real-time and make adjustments to optimize it and get better results.
In-Feed Videos
In-feed videos are one of the most popular ad formats on TikTok. These are short-form videos that appear in users' feedfeeds when scrolling through the app. In-feed videos can be up to 60 seconds long and can include: call-to-action button (so users can engage with your ad).
To create an effective in-feed video you'd need to generate the audience's interest within the first few seconds of a video and make them stay until the end of the ad and actually interact with it. To achieve that goal use:
eye-catching visuals;

music and relevant sound effects;

different captions;

make sure your CTA (call-to-action) is clear to encourage users to take action.
Brand Takeover Ads
Full-screen ads that appear when a user opens the TikTok app. Those ads can include:
Besides, they can link to an in-app landing page or an external website. In fact, brand takeover ads are effective when it comes to dragging users' attention and building brand awareness within the app.
How to create a brand takeover ad? All you need to do is to work with TikTok's advertising team, as these ads are not available in Ads Manager. Keep in mind that brand takeovers are more expensive than other ad formats. In this case we highly advise you to come up with a proper strategy and stick to it and a goal you want to achieve with this kind of ads.
Sponsored Hashtags
This kind of advertising tool on TikTok is a great way to increase your brand's visibility. You can create a branded hashtag and encourage users to participate in a challenge or trend related to your brand. You can even promote your sponsored hashtag by collaborating with other influencers or by using in-feed videos or brand takeovers. With sponsored hashtags you will increase engagement and make your content more credible on the platform.
All in all, TikTok offers a wide range of advertising options that can help you promote your content and reach a broader audience. It is key to understand your target audience and their preferences in order to create effective TikTok ads. Don't hesitate and try different ad formats and see how appealing they are for your target audience and what can be improved in the future.
How else can you promote your content?
You can always promote your content much faster with online sources - SMM panels. Make your TikTok profile more visible by getting promotion services from trustworthy sources. Users try to save more time on marketing and promotion and focus more on their profile image and social media presence. In fact, the vast majority of creators turn to get help from reliable SMM panels like Views.Biz.
With Views.Biz you get maximum exposure on TikTok and gain recognition your content deserves. Remember that the activity you get from our page will be from real people, our services comply with the terms and conditions of TikTok. We understand the importance of organic promotion so we don't use bots activity.
Start your journey to your popularity on TikTok with our best services:
Buy TikTok Views - the prices are from $1.00 per 1000
Buy TikTok Likes - the prices are from $1.21 per 1000
Buy TikTok Followers - the prices are from $32.00 per 1000
Buy TikTok Live Views - the prices are from $12.32 per 1000
Buy TikTok Package - the prices are from $25.00 per package
Stay tuned!
Subscribe to our newsletter and never miss a post
You've successfully subscribed
Thank you for your interest!
Don't forget to check your mailbox