Major Updates of Social Media 2022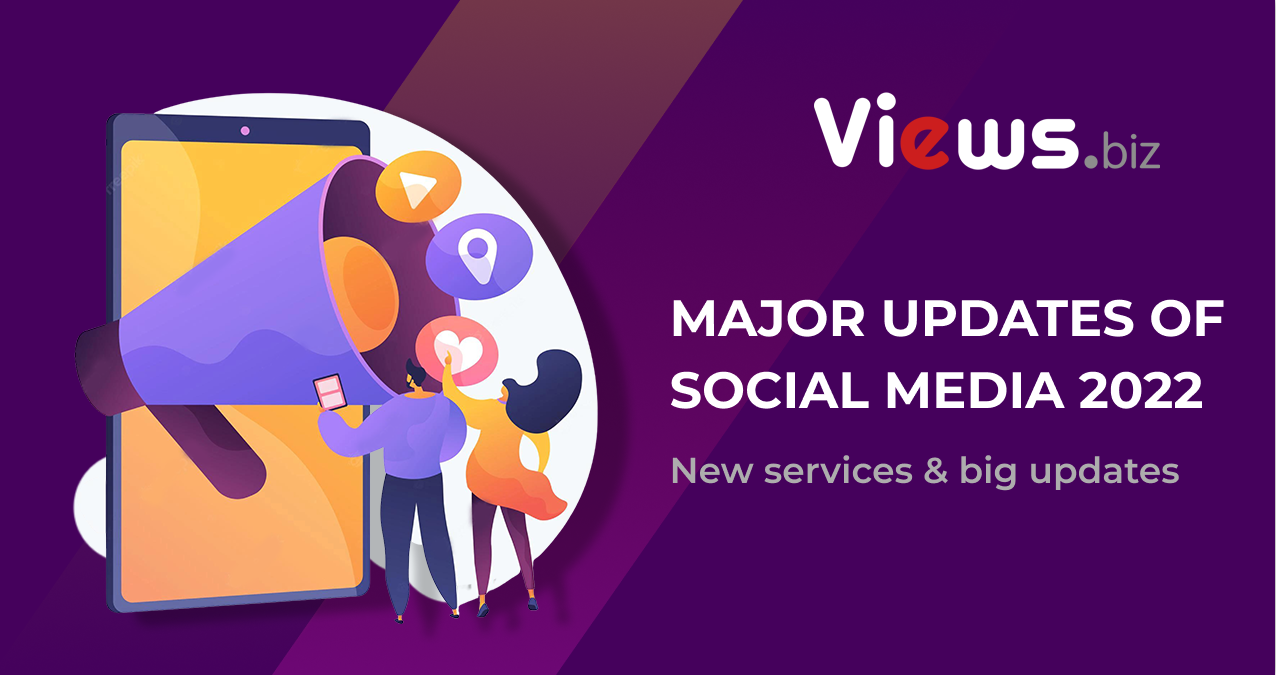 What's going on with social media today? Let's see what were the major updates on social media so far.
Instagram Updates:
1.Feed Control and Chronological Feed
From the announcement of Adam Moseri (the head of Instagram) this year on the platform users could finally manage their feed and see the posts THEY want. Now you can control your feed by grouping profiles in 'Following' (all accounts followed) or adding them to 'Favorites' if you want to see more content from your close people. You can choose your favorites by tapping on 'Instagram' above Stories Feed, and select the profiles you want to see first in your feed.
2.Full Screen Size Content
In 2022 Instagram has really been focusing on making a user experience unique and so they've been testing full screen posts (9*16 size). As on TikTok the text will be over the photo or video content. You will still see like button, comment, share and scroll for more on such posts. For now users can only see that on Reels but Instagram team is working on that still.
3.Enhanced tagging
This update is all about spreading more brand awareness online and making a statement as a creator. Before, there was no other way to see creators' contribution in product development right away, the vast majority of people wouldn't spend their time visiting the profile. So Instagram helped creators by creating "Enhance Tags". Now creators can credit their collaborators easier. Just click on the post to see the creator's contribution (i.e. dancers, photographers, or anyone who took part in the process).
4.Reels update
The Instagram team now focuses more on video content and tries to make a platform a video hosting service. As a result they prolonged Reels and now you can watch videos up to 90 seconds. To make it easier for your viewers to come across your Reels, buy Instagram Reel views and attract more people to visit your profile and follow you for more with Views.Biz's services!
5.Introducing Subscriptions
The next update that Instagram is testing is Paid Subscription (now available in the US). Creators will have an opportunity to monetize their content and profit from posting exclusive content by sharing it with most active subscribers.
6
.
Introducing Digital Collectibles
Now on Instagram you can purchase: art, images, videos, music as NFT, as well as share these collectibles and receive tokens. Most importantly, on such posts, the creator and collector will be tagged. It will be possible to choose the needed NFT from the digital wallet and then share it.
TikTok Updates:
1.TikTok Stories
The format of stories has been already tested on various social media platforms like, for example, Instagram or Facebook. As on Instagram such short content disappears after 24 hours. On TikTok the account that posted a story will have a blue circle around the profile picture.
2. Photo Feature on TikTok
Thought that TikTok is all about video content? Now the team decided to expand their audience by introducing photo mode (similar to Instagram carousel). Now you can post pictures within one post as on Instagram only on TikTok users can add music for this kind of post.
3. TikTok BeReal feature
Now on the platform users can post real-time pictures with frontal and back cameras as they could do that on BeReal. However, unlike BeReal on TikTok users get 3 minutes to take pictures and share. Besides, on TikTok you can not only share photos but also videos that last 10 seconds maximum.
4. TikTok Video Description
Want to improve your TikTok video SEO? With this update it will be very easy to do. Now you can add up to 2.200 characters as a video description for your TikTok video. THis update is beneficial in many ways: you can add keywords, relevant details and share more information about your video.
5. Feed Updates
There are several updates connecting with Feed on TikTok. From now on you can explore 'Nearby' content. The content in this section will be from creators that are located close to you. Users add locations and tags to appear in the section. Besides, on TikTok a new tab was created - 'Friends Tab'. With this feature users can easily find their friends' content rather than going through all suggested videos before watching their friends' videos.
6. Changes in The Way content looks
The videos on the platform were prolonged and now they can last for 10 minutes! Moreover, TikTok team introduced the dislike button (downvotes) for comments, something similar to Twitter's. However, on Twitter downvotes are not public and on TikTok all users will see that as on YouTube.
Twitter Updates:
Twitter's takeover by Elon Musk is not the only one major update.
1. Edit Button
Twitter announced "Edit Button". On the platform users didn't have an opportunity to edit their tweets, and if a mistake was made one could not edit it, only delete.
2. Dislike Button
With this feature users will be able to give a dislike and none of the users will see who gave this reaction. To avoid the downfall of your Twitter account performance you can purchase likes and comments using our services on Views.Biz.
3. Twitter Blue
Twitter Subscription was introduced that users know as 'Twitter Blue'. Users who bought this subscription are able to use exclusive features, new themes, app customization and 'Undo' button with which users get a chance to cancel tweet sending within 30 seconds after the post.
4. Podcasts Update
The Twitter team came up with another brand new feature - Podcasts into Twitters 'Spaces'. Spaces were created for live audio conversations and now Twitter introduces Podcasts into Spaces with different genres (sports, music, etc.) that users can listen to.
Did you know that according to 'Business Insider' there is a person who earns around $200 000 by writing tweets. Actually, it is reasonable as Twitter's audience consists mainly from business people, IT professionals, startups, different investors, etc., who are ready to pay good money to have unique content on the platform.
However, Twitter's influence on the world is still underestimated, if you want to make good profit from the platform try our services and become one of the most prominent figures on the platform!
Facebook Updates:
1.Subscriptions for creators
With this feature you receive earnings from your audience a month this way Facebook supports your creative content. You're more free to come up with different benefits for your subscribers: exclusive Live videos, discounts, subscriber only content, etc. Creators will get more metrics to analyze to understand their profile performance and audience's interests better.
2. Consumers' Ad Control
The reason for that is that Facebook users very often come across ads they won't be interested in. The Facebook team changed details about targeting options and from now on they are working to manage ads on the platform. Users will be able to choose what kind of ads they'd like to see.
3. Facebook Ad cost and use
This is an important update to consider if you have a business and run different ads on the platform. Basically, you will get leads within Facebook not getting them on your web page. Everything will be done within the platform. Besides, Facebook Ad costs should get stable soon according to the Facebook team.
YouTube Updates:
The YouTube team, however, only introduced one major feature which is 'Subtitle Editor'. From now on users get a unique chance to take part in the creative process and edit subtitles or add them on creator's videos. Users will be able to modify the way subtitles are making the video understandable for different kinds of audiences.
Social Media will always move forward, introducing new features and trying to attract bigger audiences. Becoming a prominent figure on social networks is beneficial for both sides: a platform is exposed to a wider audience and you are able to become popular and profit from monetization.
To boost your popularity online it is not enough to post high quality content but also choose the best promotion technique and get higher in rankings. With Views.Biz you'll have a chance to reach popularity within several minutes. You can get:
Improve your Twitter activity and buy Twitter likes, and other services that will help you to do viral on social networks
Views.Biz offers only high quality services and ALL of them have been tested and they comply with terms and conditions of all the platforms. We have already provided thousands of services for our users already and still more people are joining us to gain more activity online.
YouTube Views - the prices are from $2.55 per 1000
YouTube Subscribers - the prices are from $50 per 1000
Instagram Followers - the prices are from $12.75 per 1000
Instagram Likes - the prices are from $1.12 per 1000
TikTok Views - the prices are from $0.80 per 1000
Facebook Photo/Post Likes - the prices are from $2.44 per 1000
Stay tuned!
Subscribe to our newsletter and never miss a post
You've successfully subscribed
Thank you for your interest!
Don't forget to check your mailbox