Paid Partnerships on Twitter: What's that update all about?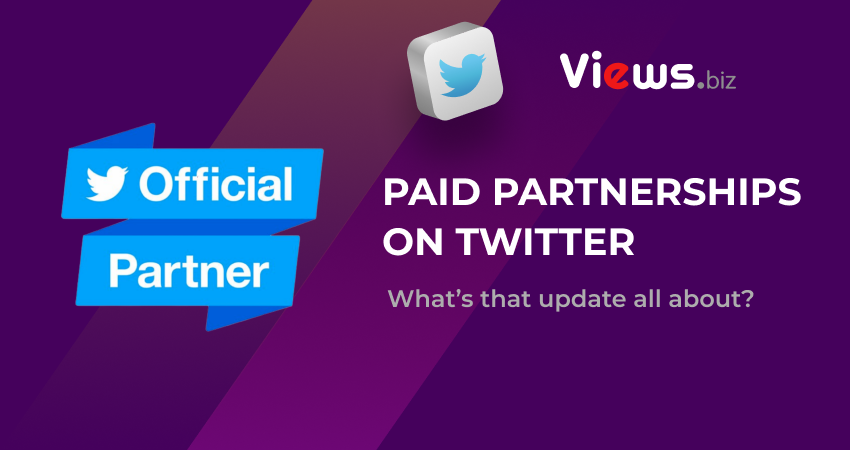 Twitter can be surely considered to be one of the continuously changing online platforms. Different updates, and controversial questions to how the company is run after Elon Musk buying Twitter made quite a hype around one of the Meta platforms. However, now Twitter has something interesting to offer.
What is the new policy all about?
The new update on Twitter is related to Paid Partnerships. According to social media consultant Matt Navarra this update is about using advertisements in sponsored tweets by influencers, brands of all scales, and creators.
Now, this new policy makes content more transparent in terms of paid promotions to its users and creators. Now all types of paid partnerships on Twitter must have a 'clear disclosure' on the platform. Information about the paid sponsors should be shown in an Ad in a clear way. The platform's authorities also introduced this policy in order to meet 'regulatory standards'.
Now creators who are in Paid Partnerships have a responsibility to comply with new policies and regulations. If these regulations are disobeyed by brands, creators, and influencers - Twitter's authorities are to take action.
Will it limit creators in terms of advertising?
It may sound harsh at first, however, when thinking about the number of frauds online and violations of advertising regulations, it is a reasonable step. Various governments all over the world are also concerned about the issue and they are planning to make advertising partnerships more transparent.
Statistically, more than 50% of creators online do not comply with this policy and very often their content can be considered to cause violations of regulations. It is all done to meet the needs of consumers and to make content more trustworthy.
In fact, this update does not completely limit creators and influencers from posting their content, on the other hand, it will generate more interest as, according to marketing sources, trust positively affects how people perceive your content and the product that is being advertised. The more information they know , the higher are the chances that they will follow you for more or even buy products from our profile.
What can you do as an influencer to not violate these regulations?
Before posting content on any social media make sure that your content does not violate the terms and conditions of the platform after all, no matter the update. In our situation influencers and brands should have a clear understanding of the tags that are relevant to their posts and sponsored tweets. Most importantly, provide your audience with exhaustive information about your product to increase your credibility online.
How can you make your profile eligible for Paid Partnerships?
We have a small tip for you on how to beat the competition of Twitter and become eligible for Paid Partnerships. The tip is to buy Twitter promotion services from reliable online sources that use marketing tools like Views.Biz.
If you were wondering how to increase engagement on Twitter and how to get more followers on Twitter, focus on key metrics: followers, likes, comments, and retweets. Now it is your turn to get higher in ranking by optimizing your content with Views.Biz. With our SMM panel, you will see how much traffic you will attract and how noticeable your content will become.
Don't hesitate and try some of our promotion services, become eligible for Paid Partnerships on Twitter, and make money on Twitter!
Buy Twitter Likes - the prices are from $16.62 per 1000
Buy Twitter Followers - the prices are from $36.00 per 1000
Buy Twitter Retweets - the prices are from $24.31 per 1000
Buy Twitter Followers - the prices are from $250.00 per 1000
Stay tuned!
Subscribe to our newsletter and never miss a post
You've successfully subscribed
Thank you for your interest!
Don't forget to check your mailbox