Find All Power Of Views.Biz Here!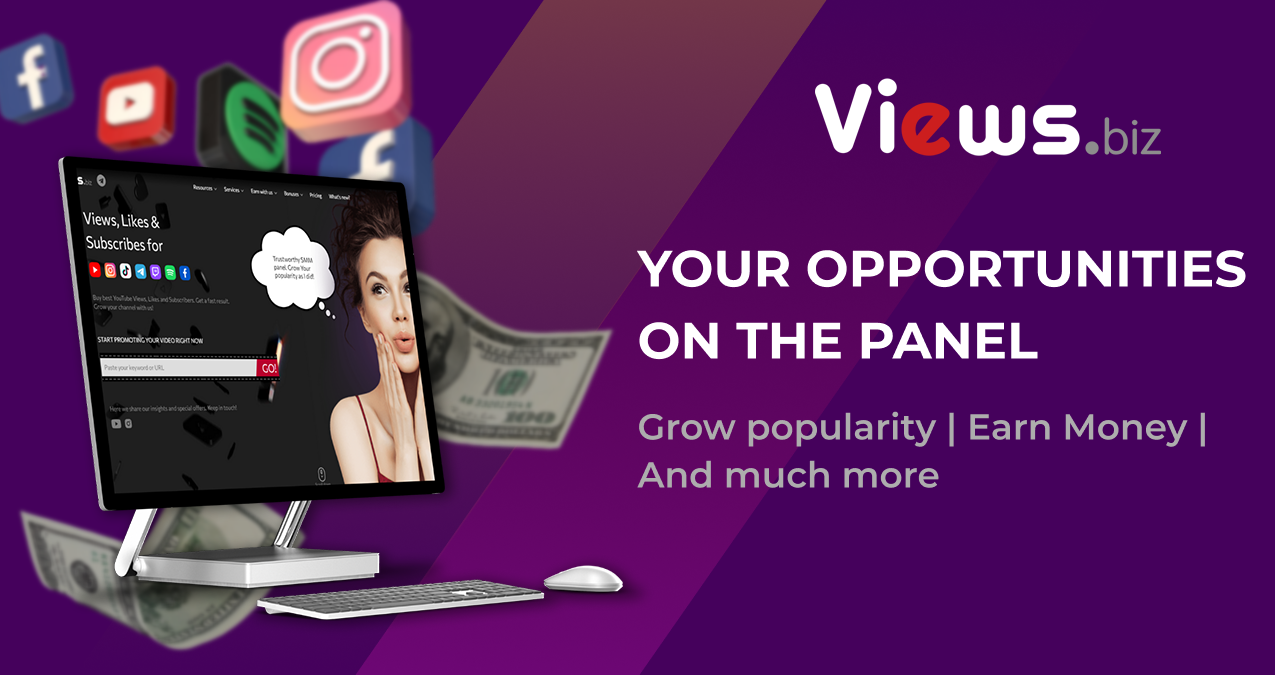 Views.biz: Advantages and features of using the promotion service
Our site is a collection of all the services you might need in the digital universe. Our services are aimed at the promotion of social networks and personal sites, with us you can make money and even start your own business. Let's take a closer look at what services we provide!
Our SMM Panel promotes you on the following sites:
Many of our services are unique. But what is more important, they are absolutely safe for your account. We respect all the rules and know all the algorithms. Here are some important points to prove it:
-We do not use bots in promotion. Promotion is done at the expense of REAL users. No site will notice that you are promoting your account.
-Usually drops do not happen, but if it does happen on rare occasions, we make up for lost metrics. To understand if the service has a refill, read the description.
If you see that views dropped - please contact our Live Support to request a refill and we will do this in accordance with our refill policy.
-We don't need any personal information to fulfill an order.
-Our support team is always available for any country. We'll help with any questions you may have.
-We have thousands of successfully completed orders and hundreds of happy customers every day :)
What might promotion be for?
To be eligible for a monetization program on different platforms you need to meet the minimum criteria. For example:
To apply for YouTube monetization, you need:
-have 1,000 or more subscribers;
-accumulate at least 4000 hours of views in the last 12 months;
-do not violate YouTube's rules.
For Twitch Affiliate Program you must have:
-at least 50 followers;
-broadcast 500 total minutes in the last 30 days;
-have broadcast on at least 7 different days;
-averaged 3 or more concurrent viewers per stream.
With us you don't have to wait when you meet the criteria. You can just order metrics needed and start monetizing your content!
Our exclusive offers:
Make money with us!
Complete simple tasks on YouTube and get paid. Just watch videos, subscribe to accounts, leave comments and likes and you can get a monetary reward! Be careful, you can only withdraw if you have accumulated $20 or more. In addition, the amount can be spent to promote immediately on our platform.
Views.Biz offers you to become our partner and profit. Every user gets a unique referral link to share. Engage new users with the link and get 10% of their spending forever. This link can be placed anywhere - in social networks, on your website or personal blog. The more people you refer to our platform, the more you earn.
In your personal account on our site, you can subscribe to services. It is needed in order not to create each time a new order manually, and you could set up automatic promotion, according to the metrics you need.
How does it work?
As soon as you add a new video to your YouTube channel, our online subscription system will automatically launch an ad campaign to promote it given the settings you've specified.
You can get a free service as a gift with the purchased promotion. For example:
To see all the gift options, go to Free trials.
This service is not available on any other platform! We offer you comprehensive work with your YouTube channel, which includes its analysis, assistance in promotion and creation of a design for the channel.
We will analyze your audience, give you personally selected SEO-keys and develop with you a design that is sure to attract more attention to you and your content! This service is provided by marketing experts who know their business and have already helped hundreds of people create vibrant YouTube channels!
There are 4 packages available with different sets of services from which you can choose what your channel needs.
-Active pages attract new investors, advertisers and buyers. If you have a lot of subscribers, views, and likes, that's a good reason for them to be interested in you. Your content rises to the top because of the activity on the page, so you have a better chance of finding people who want to subscribe to you or buy ads on your channel.
-Your overall credibility goes up. Regardless of how interesting your content is, pages without activity don't build trust with users. You need a lot of followers, comments and likes to want to interact with you. This is especially important at the beginning of your journey. At the beginning of the life of a channel or your site, it's very difficult to get the traffic you need. Promotion is a sure way to get you off to a fast start.
If you still have questions or want to know more about a topic that interests you, you may find it in the blog and our Help desk, where many topics are covered in more detail. In the bottom right corner you will find a chat icon, through which you can contact our employee, who will try to answer all your questions directly and help you create an order if you have difficulties.
Stay tuned!
Subscribe to our newsletter and never miss a post
You've successfully subscribed
Thank you for your interest!
Don't forget to check your mailbox