New YouTube and Twitch services. Make your channel stand out!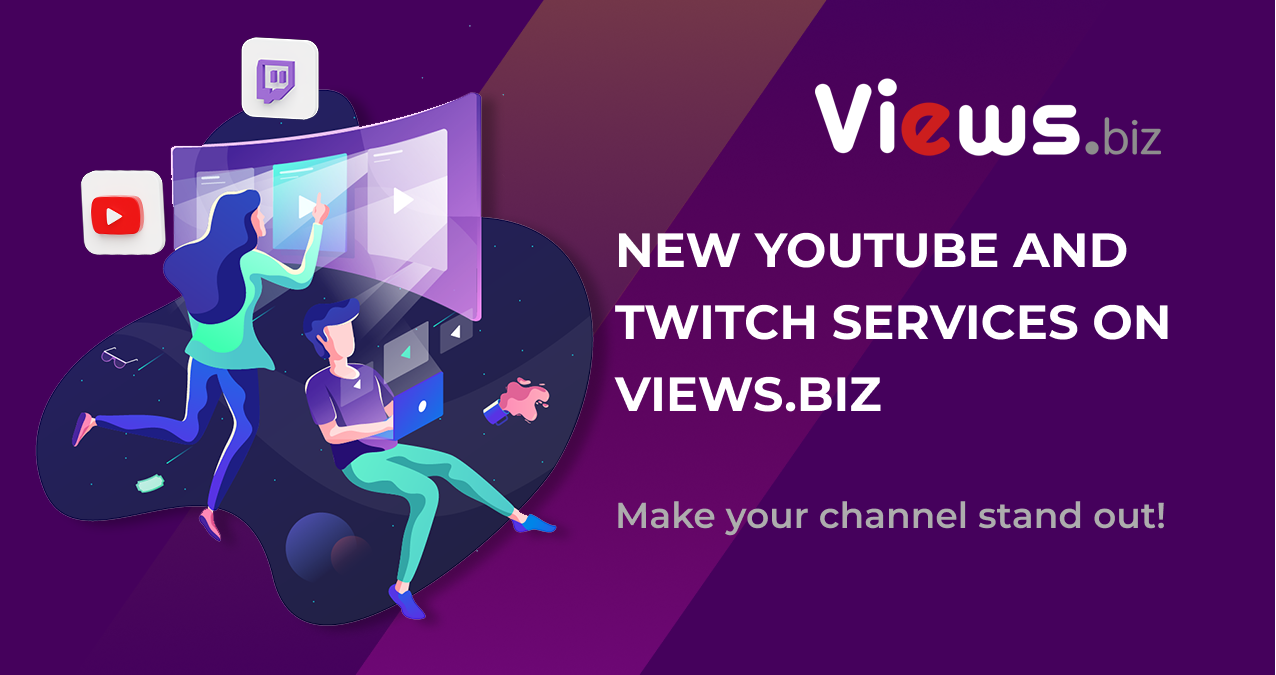 Today's announcement is for YouTube Bloggers and Twitch Streamers who want to make their channel more attractive to viewers.
Let's start with YouTube!
You've probably heard a hundred times about the importance of optimizing your YouTube videos. But tell me honestly, do you understand this topic completely? YouTube SEO optimization is one of the key parameters. Why? Video SEO for YouTube is the selection of the right keywords. If you find the proper words for your video, you will find more viewers and therefore get more youtube views.
Choose your keywords wisely, and add them everywhere!!! In the title of the video, in the description, in the text of itself, which you will say in the video.
There is a question - how to choose the right words just for your channel for each individual video?
This is where the new YouTube Video SEO service will help you.
What does this service give you? Our marketer will analyze the topic of your channel, your videos and prepare the top keywords that will help your video become more popular.
Also, the thumbnail of your video is crucial for optimization. Free YouTube thumbnail makers and YouTube thumbnail templates are not effective, because they don't reflect the individuality and topic of your channel.
When creating a thumbnail, there are many parameters to consider: the emotionality of the image, colors, proper placement of the picture and the right size.
To make this task easy for you, we suggest you use YouTube Video Thumbnail service. When you buy it, you'll get a custom thumbnail from a designer specifically for your videos. Note that you can buy a package of thumbnails for several videos at a special price.
For your channel to be all in one style and for all its elements to fit together, you should think about YouTube Channel Banner. This is the first thing that grabs the user's eye when he enters your page. And it's in your hands to make sure that the banner is attractive and gives the right impression of your channel.
If you want your channel and brand to be remembered, you need to think beyond the basic elements of optimization. Professional video production elements are a must for a good image. We're talking about the YouTube Intro and Outro, as well as the YouTube Trailer.
The intro is the part of your video that catches the viewer's attention, it's usually located at the beginning. The outro is the completion of your video, which makes it more relatable.
If you're wondering how to make a high level intro or outro for YouTube, we suggest you use the services in Video Production.
A trailer is your calling card. The YouTube Trailer on your channel should give an understanding of what your channel stands out and for whom it will be interesting.
YouTube Intro/Outro and Channel Trailer are exclusive services that will be created specifically for your channel. You won't need to do anything, you'll get a ready-made file that you can use with ease.
Let's move to Twitch Channel Design
Twitch has over 2 million active broadcasters. To stand out, there are two things to keep in mind. The first is the quality of your stream. Great sound, charismatic jokes and communication with the audience - this is a must that everyone already knows about. But the second detail is also important - the design of your stream and your channel.
Having an eye-catching Twitch logo on your social media is very important, it's the image they associate you with.
Want to take your game broadcast to the next level? Then you need a fancy design!
Don't be fooled by free Twitch Overlays or standard Twitch Profile Picture Creators.
We offer a full scale of design services for Twitch from Twitch logo to Twitch dashboard.
We have:
The designer will prepare the graphic especially for your channel, you will get a unique professional result.
Entrust your image to us to reach new opportunities!
Stay tuned!
Subscribe to our newsletter and never miss a post
You've successfully subscribed
Thank you for your interest!
Don't forget to check your mailbox