Why is SoundCloud the best platform for a music career?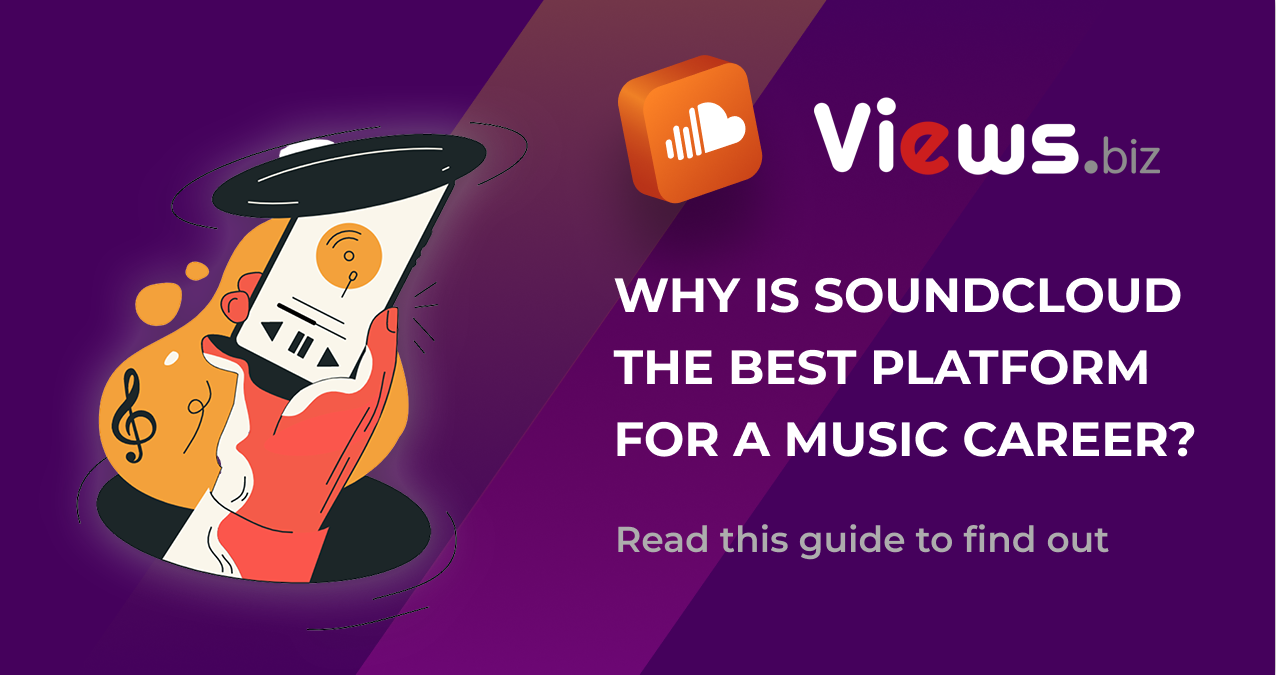 The Benefits of SoundCloud for Music Professionals
Want to make your music more noticeable and become a well-known singer like Billie Eilish, Lizzo, Post Malone and Kygo? Where did they start gaining millions of fans worldwide?
Actually, only a few people actually know that all of them started their careers in SoundCloud.
Honestly, choosing the right application for sharing their songs can be really hard. Musicians think about the apps where they will get maximum exposure and build their artistic career.
In most cases users choose between:
1) Spotify
2) Soundcloud
Considering the popularity of Spotify users still choose to post their content on SoundCloud. Why so?
SoundCloud has a lot of benefits that Spotify doesn't:
Huge number of songs to discover (125 million tracks)

Independent artists content

Anyone has an access to share their music

More music tracks than on Spotify

Ability to get in touch with other musicians via messenger
How to start your career in SoundCloud
One of the main reasons why musicians choose SoundCloud over Spotify is that on Spotify you'll find only mainstream music. Moreover, you can't upload your content without a distributor, while on SoundCloud you're free to post music without the other person.
Using SoundCloud is a proper way to discover music. Artists aim to have a substantial number of SoundCloud plays, SoundCloud likes and SoundCloud views to gain more recognition.
You may wonder: 'How to promote music on SoundCloud?' What are the major tips?
1) Use SoundCloud messenger and get in touch with other artists to collaborate. Leave comments, share their content. Once you're noticed, contact them directly for collaboration.
2) Put proper tags for your songs. Make sure that you choose the best name for your track. Make your content discoverable.
3) Use other platforms to let your audience know more about your music. You can use Instagram Stories or Reels, put links under a YouTube video and so on.
4) Make more music. At least post once per month. Also, it will be great if you can do that once every 2 weeks.
SoundCloud promotion can take a lot of your time that could be used on music editing. Unfortunately, very often when you follow, like or share someone else's content it won't guarantee you the same feedback.
As a result artists choose to buy promotion services for their SoundCloud accounts.
Why do users buy services for their profiles?
1) You FINALLY get exposure to wider audiences that you deserve
2) You have more free time to edit your music content
3) You make your content credible and more popular than of your competitors'
4) You get organic and guaranteed quick promotion services
The Benefits of Promoting Music on SoundCloud
You can get SoundCloud real promotion from Views.Biz. We offer trustworthy resources, safe and secure procedures and 24/7 support. You'll never find any bot or software activity in our services. All the options available on the page were tested and proved to comply with the terms and conditions of SoundCloud.
Usually artists buy SoundCloud plays, SoundCloud playlist reposts, SoundCloud followers, they buy SoundCloud likes and so on. When you get a promotion service you'll be able to improve your SoundCloud monetization and bit SoundCloud algorithm.
Become the next artist who started their career with SoundCloud like Billie Eilish did!
SoundCloud Plays - prices from $0.60 per 1000
SoundCloud Followers - prices from $15.00 per 1000
SoundCloud Likes - prices from $4.00 per 1000
SoundCloud Reposts - prices from $15.00 per 1000
SoundCloud Playlist Reposts - prices from $20.00 per 1000
SoundCloud Playlist Likes - prices from $8.00 per 1000
Stay tuned!
Subscribe to our newsletter and never miss a post
You've successfully subscribed
Thank you for your interest!
Don't forget to check your mailbox