Use Tik Tok & Instagram For Your Own Business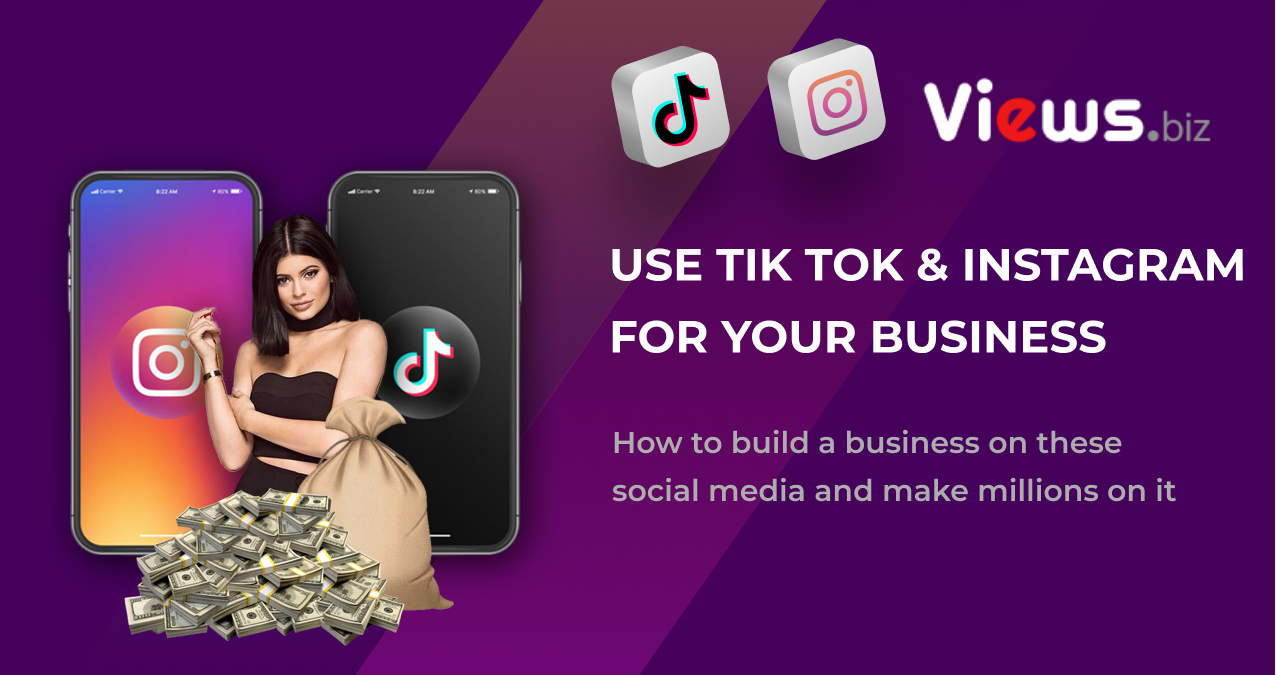 Grow Your Business with TikTok and Instagram
At a glance, it might seem like Tik Tok and Instagram are simply a platform for comedy sketches and photos, but the business opportunities on these two platforms are juicy.
By the way, Pinterest and Facebook were among the earliest to launch shopping/marketplace features and Instagram followed a few years later, giving small businesses the opportunity to reach millions — and in some cases billions — of users. This has been a game-changer for start-ups.
In August, Tik Tok announced a partnership with Shopify, where Shopify merchants who have a Tik Tok for Business account are able to add a shopping tab to their profiles.
Kylie Jenner was among the first users to try the new Tik Tok shopping feature, using it to market her Kylie Cosmetics beauty products to her 37 million followers.
Right now Instagram has more than 200 million business accounts on its app. And, nearly half of Instagram users surveyed (44%) said they use features like shopping tags and the Shop Tab Instagram to shop every week.
Top tips for using social media platforms
So, the main question for today's - how to use these platforms for creating your own business?
1.Have a value proposition
The key to starting a business is to have what's called a value proposition. Figure out something that is unique — something that makes your customers feel special because it's about creating an amazing customer experience.
2.Do competitive research
Search on YouTube to look up "how-to" videos and see what other people have done. Learn what other products are out there, how those creators are marketing them and what platforms they're using.
3.Identify your target audience
Before you dive into making your first video on Tik Tok, for example, know your audience. While Tik Tok is extremely popular with teenagers and Gen Z, a wide range of demographics have fallen in love with the app.
4.Make sure your content looks good and professional
It may seem obvious, but the better your sound, video and pictures quality is, the more enjoyable your content will be to watch. That doesn't mean you need to invest in pricey equipment, but be conscious about filming in well-lit spaces where the audio and quality of the photo is going to be clean.
5.Engage your audience and grow your following
Ultimately, creating great content is the #1 way to get those sweet, sweet views and follows. But also, you can use the best services for your promotion at very low prices! To keep those followers interested and engaged once they're on board, the same rules of thumb apply as to any other social media platform:
-Try out interactive live streams;
-Experiment with polls and questions;
-Respond to comments and questions;
-Comment and like content on other Tik Tok & Instagram accounts.
6.Choose one platform first
Pick one platform and go all-in on that one platform until you see success. Once you've seen success — and you have to know what that means, once you get to that point, then as soon as you can, expand to other platforms and diversify your platform.
Okay, there you have it: Tik Tok and Instagram for Business! Get your account up and running and start exploring all the opportunities these wild and wonderful platforms have to offer.
Buy our best services for your promotion, remember: the more followers you have - the more money social medias can bring to you
Services for Tik Tok Promotion - the prices start at $ 0.30
Services for Instagram Promotion - the prices start at $ 0.06
Stay tuned!
Subscribe to our newsletter and never miss a post
You've successfully subscribed
Thank you for your interest!
Don't forget to check your mailbox