TikTok: How to Make Money on the Platform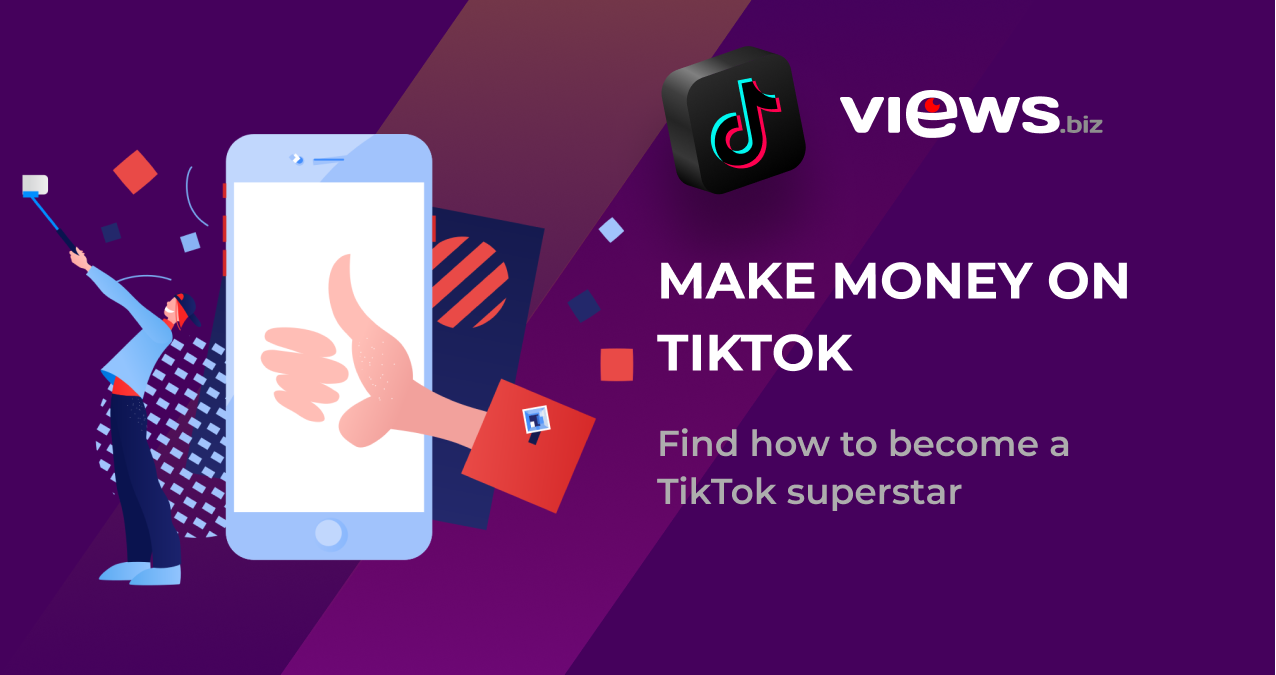 What is TikTok and why is it so popular?
Why is TikTok so popular?
Since the beginning of 2018, TikTok has consistently ranked among the world's most downloaded apps. TikTok ranked fourth in terms of downloads for non-gaming apps in the third quarter, according to a report by Sensor Tower. In the ranking, TikTok is inferior to WhatsApp, Facebook Messenger, and Facebook, for that it is ahead of Instagram!
What is a new account promotion? The latest TikTok statistics show that, as of January 2021, the platform has 689 million monthly active users worldwide (DataReportal, 2021). That makes TikTok the seventh-largest platform in terms of users, ahead of others that have been around much longer such as Snapchat, Pinterest, and Twitter.
TikTok algorithms
TikTok uses artificial intelligence to analyze the interests and preferences of users. Based on likes, comments, video viewability, reposts, TikTok issues individual content recommendations to each user. There is no need to strain and look for what to watch.
TikTok, in support of newcomers, shows their videos to a wide audience to determine the interest in his video. The first 5 videos will get views. The success and future popularity of your account depend on them and your best promotional service like Views.biz.
Consider earning schemes on a personal profile that are relevant in 2021. These monetization strategies are relevant for bloggers, brands, and businesses.
How to make money on TikTok?
1. Selling Ads
The most common method of monetizing your TikTok account is selling ads. The essence of the scheme: an advertiser comes to the author - a large brand, an online store, a beginner Tiktoker - and asks to record and upload a commercial video.
In this video - an advertisement for a product, service, brand, company, or author. The cost of one advertising video depends on the popularity of the author: the more subscribers, views and likes a "Tiktoker" has, the higher the price of one post.
2. Affiliate Programs
You don't have to wait for offers from direct advertisers. Use affiliate programs. For example, from Aliexpress - for this, you need to register on the ePN network.
3. Selling goods and services
Through your personal TikTok account, you can monetize your skills: psychologists can sell personal consultations, Internet marketers can sell contextual advertising.
4. Monetizing live broadcasts
When your TikTok account has 1,000 subscribers, it will be possible to conduct live broadcasts. TikTok has an internal currency - coins. They are sold in the app.
How to become popular on this platform?
1. Video with WOW effect
There is a funny trend in the application - the more meaningless the message of your TikTok video, the more chances it will go viral. So feel free to shoot shocking and hilarious content that can have a wow effect. TikTok loves experiments.
2. Using Popular Tracks
How to get featured in Tik-Tok if you want to be popular in 5 minutes? There is one interesting hint for this - the musical background for the video clip is accompanied by some hype track at the moment. Such content is more likely to be featured in recommendations with TikTok songs, and more likely to find a new audience
3. Comments under the popular video
Excessive activity will only benefit you. Yes, in popular videos under tens of thousands of comments it will be difficult to be noticed, but theoretically, your comment can "shoot".
4. Mutual subscription
Everything is logical here - subscriptions to other users can initiate a reciprocal subscription, at least a person can look at your profile for the sake of interest, and there they are already close to likes with reposts
5. Promotion services
The easiest and most effective way to increase your popularity and gain a large subscriber base is to contact the promotion services like Views.biz. Everything works in automatic mode. As you can see, becoming popular in TikTok consists of 2 parts: good and regular content and a big amount of likes, comments, shares and followers. Paid promotion for tik tok makes your promotion easier.
If you want to become popular or promote your business on TikTok ,Views.biz helps you!
You can choose any promotional tools you need!
Follow the link and make your life easier in two clicks.
Stay tuned!
Subscribe to our newsletter and never miss a post
You've successfully subscribed
Thank you for your interest!
Don't forget to check your mailbox