ᐉ TOP 5 Christmas Ideas 👁️ For YouTube Videos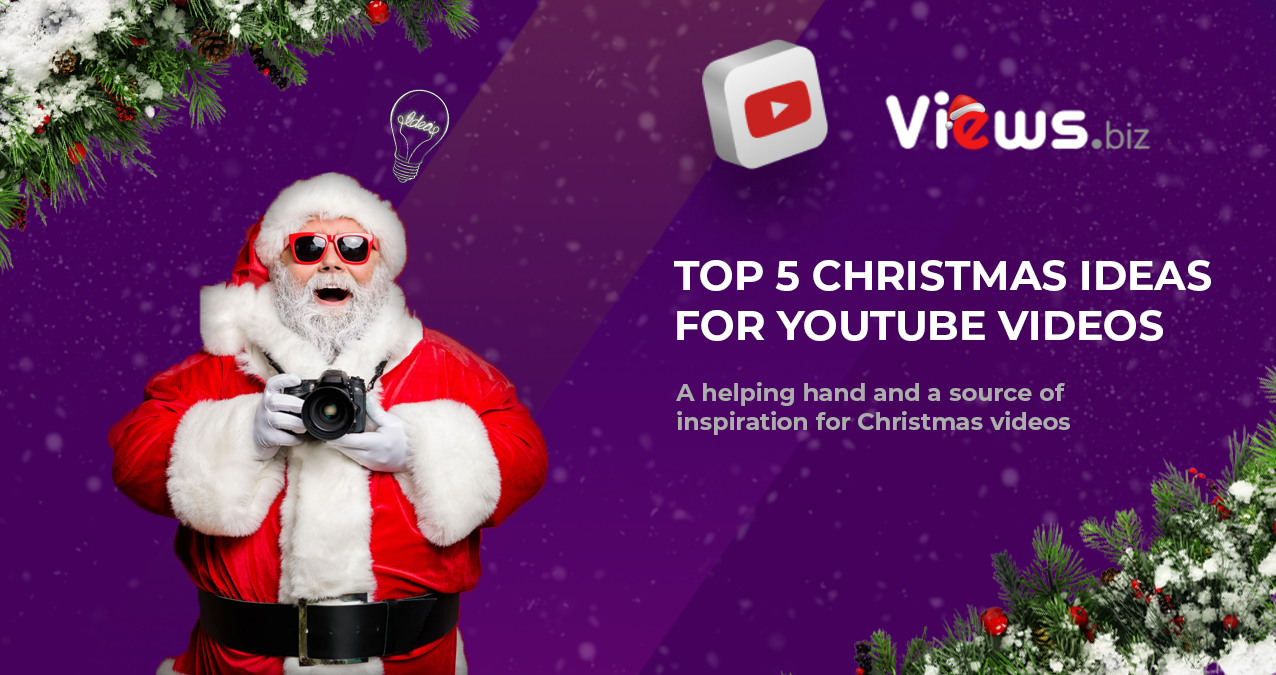 5 Christmas YouTube Video Ideas To Grow Your Channel
Christmas is around the corner and you still don't have any festive video posted on your YouTube channel? Then you should examine this list of Christmas YouTube video ideas and pick something to your taste. First of all, take care of the festive design of the account, blog, page. Already on the cover of a YouTube channel, a group on social networks or the main page of the site, a pre-holiday atmosphere should reign. On the eve of the holidays, it is important to pay attention to publications. Thematically engaging New Year's content will help businesses attract traffic, and as a result — increase sales.
People love watching Christmas-themed YouTube videos around the holidays as it lifts up their festive spirit. Take advantage of that and create an awesome Christmas video for your channel as well. These Christmas video ideas will serve you as a helping hand and a source of inspiration – feel free to fully replicate them or spice them up with your input.
#1 Hack videos
Many people are most stressed out around Christmas, due to making everything perfect and all that shopping, moving around, etc. So, if you know some hacks to help them out, please do so. You never know how big of a help that would be. Side information, do you know that Christmas is the time where most card arrests happen? This is all due to over-stressing. So you can make some neat hacks for Christmas in your video; that's one of the most viewed and loved ideas.
#2 Make Your Own Christmas Advent Calendars
Christmas advent calendars are some of the most popular items during the holidays, especially the days leading up to Christmas in December. We love the idea of making your own advent calendars because you can always reuse it next year. It is more sustainable than buying them outside, and you can change up the surprises inside every year. An advent calendar for Vlogmas? Yes, please.
#3 Makeup videos
Makeup videos are necessary for every occasion. You need a different makeup look for every occasion, right? Christmas is the time where there are big family gatherings, and lots of food, fun, and not to forget pictures. We all know how crazily we all take pictures on Christmas, and for that, you need to have some good makeup looks. After all, who doesn't want to come up good in the pictures? So, make these makeup tutorials and make your subscribers happy.
#4 Christmas Markets
Why not visit your local Christmas markets in your area? They have food, drinks, rides, and tons of fun Christmas entertainment like Christmas carols. Add vivacious colors to your Vlogmas, where I'm sure your viewers will love to see and experience the Christmas vibes!
#5 Christmas Gameplays
What is a better thing to do on Christmas than to make Christmas gameplay videos? While everyone's busy decorating or shopping, you can spend your time leveling up your games and at the same time making Christmas gameplays for your channel, as most of the games usually have special updates on Christmas that you just can't miss in any condition. And if you want more people to see your video, just order a promotion for your channel on Twitch!
There are many more Vlogmas ideas, so use your imagination and creativity to think of relatable and festive ideas that your audience will love to watch. Christmas is all about sharing joy and happiness with the people you love. So, what other ideas do you have?
While you're thinking about Christmas ideas our team will help you to be more popular on YouTube. So order a promotion and we'll do the rest!
ID 40298 YouTube Views [Non Drop, High Retention] - $3.19/ 1000
Stay tuned!
Subscribe to our newsletter and never miss a post
You've successfully subscribed
Thank you for your interest!
Don't forget to check your mailbox