Using Instagram Live and Stories to build a connection with your audience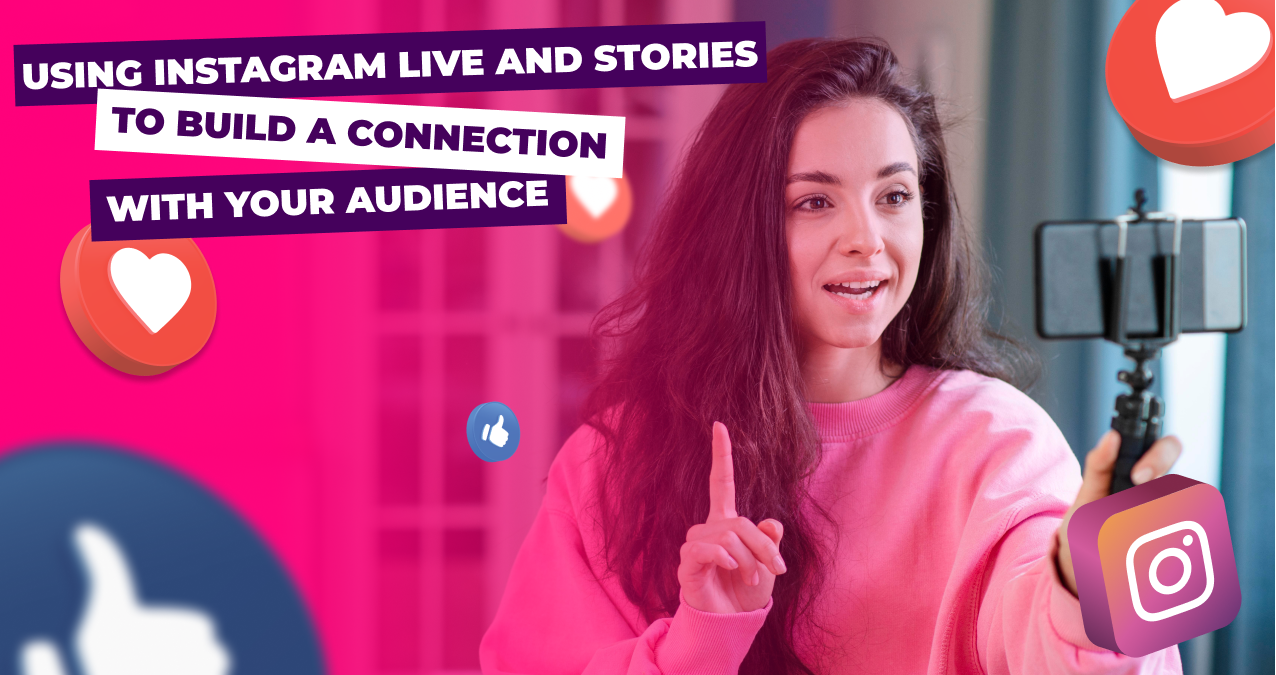 For online brands it is a key element to establish trust and truly connect with customers and potential buyers. Not only that, for influencers it is also important to establish a loyal fan base of people online to become more visible and attract more organic traffic to their social media profiles.
Social media forever changed the way businesses of all scales interact with their clients and potential consumers. Social media platforms enable businesses to engage with their client base on a more personal level. Thus, positively affecting trust and their brand's credibility online.
Why Instagram?
Instagram is one of such social networks that serve as marketing tools for more than 80% of brands. The platform is considered to be the best place for business promotion, building brand awareness and attracting organic traffic. Instagram has an enormous number of creators within and attracts more people to join it for its visual nature and easier client reach.
The vast majority of Instagram influencers and brands engage with their audience using various marketing campaigns. They focus on their potential buyer's interests, location, principles, and every other detail that can make the product become more personalized, and so make users at least check what the product is all about. One of the top benefits that is provided by Instagram is that you can easily target a particular audience and improve your brand awareness on the platform.
Another benefit of using Instagram as a marketing tool is that it enables users to directly interact with brands and so establish a strong connection and trust with businesses. In this case Instagram works as a means of communication - customer service. Users are able to ask for any information and know more about the product or a service via Instagram direct messages and receive exhaustive info about everything they wanted to know. This leads to becoming an even more trusted brand.
How to build a strong connection with your audience on the platform?
We've came up with several tips on how you can interact with your audience effectively and on a much deeper level using Instagram Stories and Live:
BEHIND-THE-SCENES CONTENT
Instagram Stories and Live Streams are great tools to show your audience fun outtakes from your content. This way you show them how you worked on your content, brand, what you think, what kind of thing you worry about, etc. This brings you closer to your clients as they see that you're a person with feelings, who is really passionate about what they do and start trusting you more.
ANSWER QUESTIONS
In fact, answering questions can be a real deal for influencers and online brands. Respond to questions on your Stories and Live Streams in real-time and share your thoughts on whatever topic that matters to your audience. In this situation, you show that you care about your clients being informed about your product and you have a little chit-chat with them/ As a result you establish a solid base of fans of the service as you engage with them that way.
SHARE EXCLUSIVE CONTENT
If you share the same kind of content over and over again on Stories and Livestream sooner users will feel bored and as a result won't check your stories anymore. Unfortunately, this way you will lose some of your audience that were up to engaging with your brand. To avoid that, think about information that you can share exclusively on your stories and live streams. The details that you will not put as your posts on Instagram, you will see that you will generate more interest in your stories which will lead to higher activity on your page and so better rankings.
VISUALS AND SHORT MESSAGES
You will get more attention to your stories and Live stream on the platform if you share straight to the point information. Don't go and beat around the bush much, focus on important details and share useful information. This goes for visuals as well: add high quality images, videos content on stories and Live streams to generate more activity.
CORRECT PROMOTION
Don't forget about promoting your Instagram Live and Stories on your other social media platforms to attract a wider audience. Also, while you do so analyze your metrics and see what kind of content appeals more to your potential customers.
Often it is hard for creators to find which technique is better to use and how to apply it according to their type of content. Promoting content, and analyzing what works for your content and what doesn't may be confusing and can take a lot of your time and energy. The promotion sphere is truly unique and is created to take you places and help you to gain organic traffic for what you're doing.
How to increase your Instagram traffic? In this case, a lot of users turn to get promotion marketing help from SMM panels like Views.Biz. With Views.Biz you get high-quality services that comply with the terms and conditions of Instagram and do not violate any policies. Try our promotion services and make your content go higher in rankings and receive the attention it deserves. With us you will easily promote your social media accounts and make your content visible.
Don't wait up and attract more people to your page organically with our best services for Instagram:
Buy Instagram Live Video Views - the prices are from $24.00 for 1000
Buy Instagram Packages - the prices are from $30.00 per package
Buy Instagram Impressions - the prices are from $3.00 for 1000
Buy Instagram Saves - the prices are from $10.00 for 1000
Stay tuned!
Subscribe to our newsletter and never miss a post
You've successfully subscribed
Thank you for your interest!
Don't forget to check your mailbox