What are the new updates on YouTube and why should you focus on Shorts?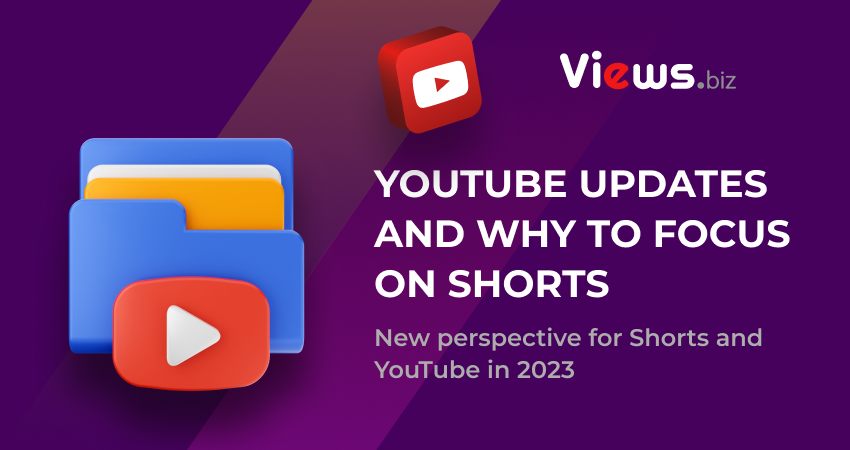 The YouTube team was trying to take the platform to a whole new level with the updated version and new features from November 2022. The team updated:
How to subscribe button looks;

Thumbnails edges;

Video description details;

Playlist upgrade;

Separate tabs;

New details in YouTube Shopping Store;

YouTube Handle.
However, this is not all. Not a long time ago YouTube introduced new analytics updates giving the most focus on Shorts. The possible reason for that is the ongoing popularity of short video entertainment on social media including Instagram Reels, TikTok videos, etc.
What's new on YouTube Studio?
Here we come up with the major updates in YouTube studio and how Shorts will be viewed there:
1. Now YouTube creators will see how subscribers were gained by the channel, in other words, which content type attracted users to keep themselves updated with the content.
With this update, YouTubers will have an opportunity to easily see what kind of video and its formats was appealing and receive maximum feedback from users. Note that this update will reveal how popular your Shorts are and where to put your main focus.
2. Another update is connected with introducing a new display.
It was created to let you know which videos and other content formats are watched by the audience using a mobile app. Again putting a special emphasis on how Shorts affect the overall performance of the channel.
3. From now on creators will be able to choose the frame for their Shorts.
This feature is very similar to the one Instagram has. Once you upload your Shorts video you can choose any frame from the video you're uploading that will be used as a cover image. On Instagram, it is used for any video content (Reels thumbnail and a video post thumbnail). This is a great opportunity to customize your content and make a statement on YouTube.
4. The last major update on YouTube is the section for thumbnails and content length in YouTube Analytics.
From now on you get a chance to get a general idea of how your editing of video content appeals to YouTube users. Using the information from these tabs you will finally see what receives positive feedback, on which video format you should focus more and how you can make it better.
What's the best promotion strategy to help you grow in 2023?
In fact, updates no matter the social media platform bring more attention. People seek new ways of promoting their content and release their full creative potential. As a result, it brings a lot of competition to the platform, and, unfortunately, very often, more than 50% of users (especially if they are beginners) find it hard to make their content visible and attract traffic.
Very often in this case users get services from SMM panels - online resources that provide promotion services. Views.Biz is one of such panels that is considered to be trustworthy by the vast majority of Internet users, the panel that offers quality and reliable promotion.
Of course, you may continue promoting your content on YouTube on your own, this will definitely take you places and you will know a little bit more about how marketing on YouTube works. However, there is a small possibility that it would be done in several months, a lot of YouTubers have been promoting their channel for ages and only now they get monetization from their videos.
To avoid wasting so much time and energy on leaving likes, comments, subscribing to various channels and not receiving any feedback, users get promotion services that will save their time. You can finally focus on your editing style and create your own style while our professional marketers and designers do the best for your YouTube channel.
You will learn more about marketing on YouTube either way (mostly from Views.Biz's promotion process) so you won't miss any information about it. On the contrary, you will grasp the main idea of how it works and become more noticeable at the same time without wasting your time.
It is clear that YouTube is taking its users' experience to the next level. From now on users will get a chance to find more detailed information about their channel's performance, video formats that have more appeal, and on what kind of videos they should be focusing on according to their popularity. With Views.Biz you will get high-quality services that comply with the terms and conditions of YouTube as well as all social networks.
YouTube never went out of style but provides its users with ongoing modifications and new features. Don't hesitate and try our promotion services and make your content appear higher in rankings. With us, you will easily promote your social media accounts and make your content visible. Have a look at these services:
Buy YouTube Views - the prices are from $4.40 per 1000
Buy YouTube Subscribers - the prices are from $40 per 1000
Buy YouTube Packages - the prices are from $21.00 per package
Buy YouTube Video Production and Channel Design - the prices are from $20.00
Stay tuned!
Subscribe to our newsletter and never miss a post
You've successfully subscribed
Thank you for your interest!
Don't forget to check your mailbox