When Was YouTube Created?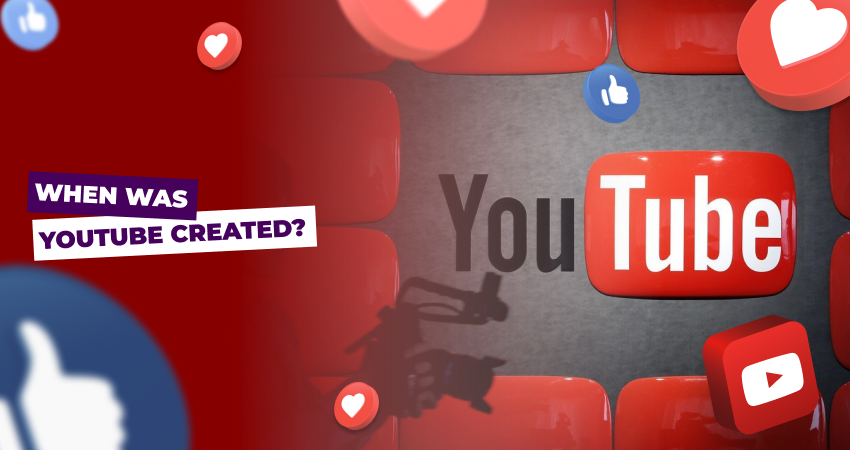 YouTube, now a household name and one of the most visited websites globally, has an intriguing origin story. It was born out of a simple yet relatable problem: sharing personal videos with friends. While today we take the ease of video sharing for granted, there was a time when it wasn't so straightforward. So let's try to go down memory lane and see when was YoiTUbe created and how it later affected the whole world. Spoiler alert: It definitely changed our lives a lot.
Table of Contents
In the mid-2000s, when the internet was already revolutionizing communication, there remained a gap in the easy sharing of video content. It was in this context that YouTube came into existence. Founded in February 2005 by three former PayPal employees, Chad Hurley, Steve Chen, and Jawed Karim, YouTube became the solution to the increasing demand for a platform dedicated to video sharing. What started as a simple idea soon transformed into one of the most influential websites of the 21st century.
The inspiration for YouTube was born from a relatable dilemma. Its founders experienced difficulty sharing video clips from a dinner party with friends. Traditional methods of sending videos via email or other platforms were cumbersome, limited by file size restrictions, and often required software downloads or compatibility checks. Recognizing this challenge, Hurley, Chen, and Karim sought to create a platform where uploading and sharing videos would be seamless, and viewing them would be as easy as following a link. They imagined a space where personal moments, creative endeavors, and informative content could all be shared and accessed with unprecedented ease.
In the early days of YouTube, the concept of a "YouTuber" as we understand it today – an individual creating content specifically for the platform and its audience – was still nascent. The first video ever uploaded to YouTube was by co-founder Jawed Karim himself, titled "Me at the Zoo" on April 23, 2005. This brief clip showcased Karim discussing elephants at the San Diego Zoo. It was simple, unedited, and raw.
As the platform grew, early users started to recognize its potential not just for sharing one-off videos, but for establishing channels with regular content. These pioneers included individuals like Smosh, Fred, and Nigahiga, who began crafting content that appealed to online audiences, laying the groundwork for the myriad of content creators we see today. Their comedic sketches, vlogs, and unique video formats capitalized on the freedom and direct audience interaction YouTube offered, differentiating them from traditional media.
Over time, these early trailblazers would be joined by millions of others, each bringing their own voice, perspective, and creativity to the platform. Today, the term "YouTuber" encapsulates a diverse array of content creators, from educators and artists to comedians and commentators, all of whom owe a debt to those early adopters who first saw the potential in YouTube.
In conclusion, YouTube's inception in February 2005 marked a significant turning point in the digital era, addressing a pressing need for easy video sharing. Dreamt up by Chad Hurley, Steve Chen, and Jawed Karim in response to the challenges they faced in sharing personal videos, YouTube rapidly transitioned from a fledgling startup to a global phenomenon. Its growth can be attributed not only to its founders' vision but also to the early content creators who recognized and harnessed its potential. Today, YouTube stands as a testament to the transformative power of innovation and the enduring appeal of visual storytelling in the digital age.
When did YouTube start earning money?
YouTube began generating revenue primarily through advertising partnerships and sponsorships. However, their major financial breakthrough came when Google acquired the platform for $1.65 billion in stock in November 2006.
When did they introduce monetization on YouTube?
YouTube introduced the Partner Program in 2007, which allowed content creators to start earning money from their videos through ad revenue. This was a pivotal move in incentivizing creators to produce consistent, quality content for the platform.
Were the first YouTubers paid by the platform for their content?
Initially, content creators on YouTube did not earn money directly from the platform. It wasn't until the introduction of the YouTube Partner Program in 2007 that YouTubers had the opportunity to monetize their videos and earn a share of the ad revenue. Before this, any financial gains from video creation would have been through external sponsorships or similar arrangements, independent of YouTube itself.
What was the first video on YouTube?
The first video ever uploaded to YouTube was titled "Me at the Zoo." It was uploaded by one of YouTube's co-founders, Jawed Karim, on April 23, 2005. The video is a 19-second clip of Karim standing in front of elephants at the San Diego Zoo, offering some brief commentary on the animals.
Stay tuned!
Subscribe to our newsletter and never miss a post
You've successfully subscribed
Thank you for your interest!
Don't forget to check your mailbox