Who Has the Most Subscribers on YouTube?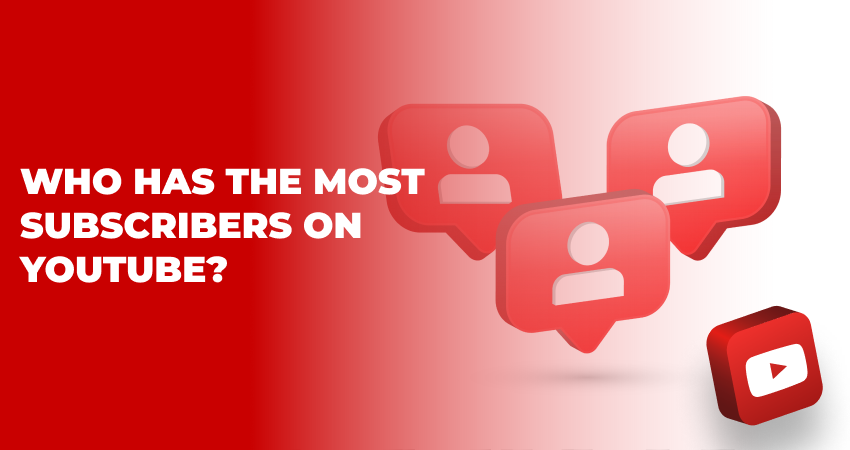 In the vast digital realm of YouTube, where content creators span across numerous genres, languages, and styles, the race for subscribers is ever-intensifying. Earning subscribers is more than just a metric of popularity; it's a testament to a creator's ability to consistently captivate an audience, sometimes even larger than the populations of entire countries. Let's see who has the most subscribers on YouTube and what is so special about these channels and creators.
Table of Contents
Originating from India, T-Series is a music label and film production giant that has firmly established its dominance on YouTube. Founded by Gulshan Kumar in 1983, this channel was initially set up to combat music piracy but soon transformed into a hub for Bollywood enthusiasts. With its vast array of music videos, film trailers, and other cinematic content, T-Series taps into the pulse of the diverse linguistic and cultural tapestry of India. Furthermore, its reach extends beyond the subcontinent, appealing to the global Indian diaspora and lovers of Indian music and films.
In stark contrast to T-Series but equally impactful is Cocomelon, a channel dedicated to children's nursery rhymes and songs. With its colorful animation and catchy tunes, Cocomelon has become a household name for parents and toddlers alike. The universal appeal of its content, combined with the evergreen nature of children's songs, ensures that Cocomelon resonates with young viewers from different cultural backgrounds.
A phenomenon in the world of philanthropy and entertainment, Mr. Beast, whose real name is Jimmy Donaldson, is known for his over-the-top challenges, generous giveaways, and unique content ideas. Whether he's opening a free car dealership, planting millions of trees, or hosting large-scale competitions with hefty cash prizes, Mr. Beast's combination of heart and entertainment has led to a meteoric rise in his subscriber count.
PewDiePie, the online pseudonym for Felix Kjellberg, was for a long time the reigning individual creator with the most subscribers on YouTube. The Swedish content creator is best known for his game commentaries, comedic sketches, and candid vlogs. Over the years, he has reinvented his content, ensuring he remains relevant and continues to resonate with his legion of "bros" – the term he fondly uses for his subscribers.
The realm of YouTube is vast and varied, with channels catering to virtually every interest and demographic. While T-Series, Cocomelon, Mr. Beast, and PewDiePie have amassed incredible subscriber counts, their success stories highlight the diversity and richness of content on the platform. Each channel, in its unique way, underscores the transformative power of YouTube, a platform where creativity knows no bounds and where content creators can reach audiences on an unprecedented scale.
How can I get subscribers fast?
Gaining subscribers quickly requires a combination of quality content, promotion, and audience engagement. Try to upload high-quality videos regularly, adhering to a consistent schedule. Engage with your audience and respond to comments, host Q&A sessions, and engage with your viewers on other platforms as well. Share your videos on platforms like Instagram, Twitter, Facebook, and more to attract a broader audience. You can also partner with other YouTubers or influencers in your niche. Collaboration videos can expose your channel to their subscribers.
How does YouTube pay its creators?
YouTube pays its creators primarily through advertising revenue. Advertisers pay YouTube to display ads before, during, or after your video, or as overlay ads. Depending on the type of ad, you get paid either by the number of views the ad receives or by the number of clicks it gets. If a YouTube Premium subscriber watches your content, you earn a part of their subscription fee. For certain eligible channels, viewers can opt to become paid members and get special badges, emojis, or other perks.
How can I monetize my YouTube channel?
To monetize your channel, you need to be a part of the YouTube Partner Program (YPP). To meet eligibility requirements, you need at least 1,000 subscribers and 4,000 valid public watch hours over the last 12 months. Set up an AdSense account and your monetization preferences. After hitting the YPP thresholds, YouTube will review your channel to ensure it complies with their policies and guidelines.
How many subscribers should I have to be paid by YouTube?
While subscriber count is essential, it's only one part of the eligibility criteria for monetization. You need at least 1,000 subscribers and 4,000 valid public watch hours over the last 12 months to apply for the YouTube Partner Program. Once accepted, you can start earning from your videos. However, remember that the actual earnings will depend on the number of views, the type of ads shown, engagement, and other factors, not just the subscriber count.
Stay tuned!
Subscribe to our newsletter and never miss a post
You've successfully subscribed
Thank you for your interest!
Don't forget to check your mailbox