Why Your Promotion Doesn't Work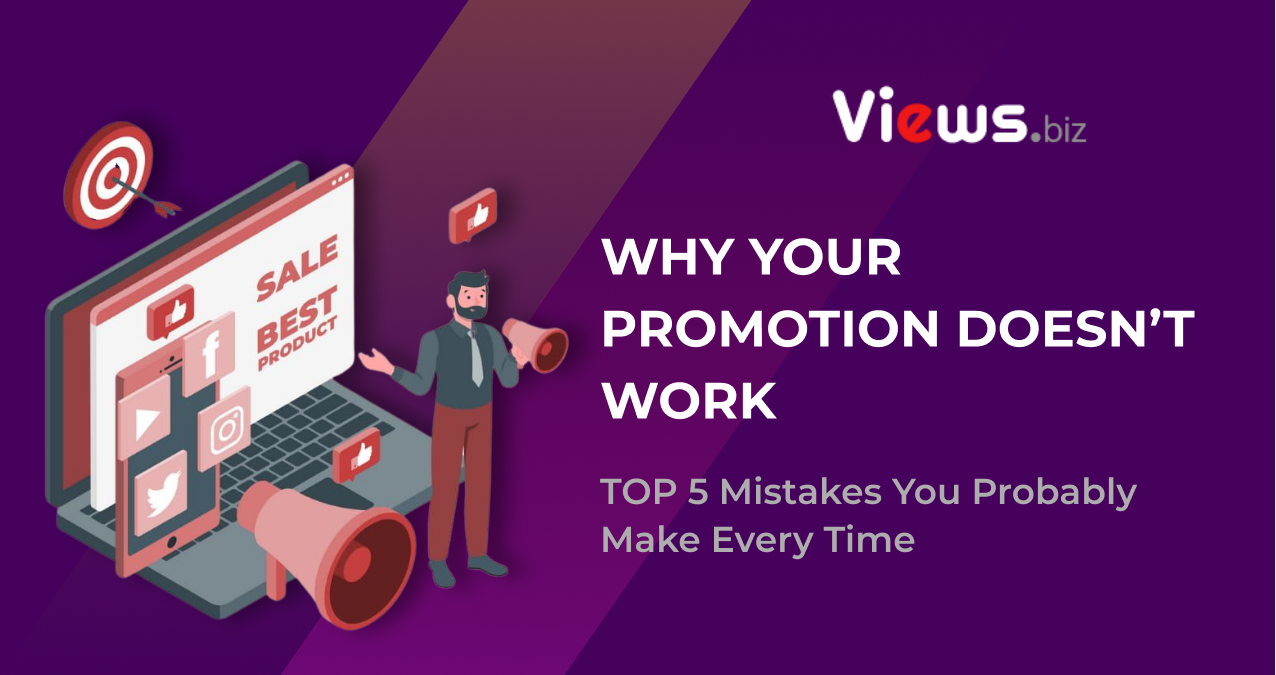 5 Main Reasons You're Not Getting Promoted
Social media marketing is MARKETING just like any other channel. Before we review the five main reasons that lead to social media marketing disappointment, we want to make something very clear. Growing a social community and getting them to engage with your brand is very important. However, building a connection with your followers is not the only reason why social networks are needed. You need to have a multi-pronged effort that works to capture people's attention, while also advertising to them in a value-based way. THAT is the power of social media.
But we know how it all works for many people...You have a few followers on social media and you just can't wait to tell them about the amazing products and services you can offer them. Unfortunately, this hard selling approach just doesn't fly on social media and constantly pushing the sales message and self-promoting will just alienate your audience. The end result? An unengaged following or no followers at all!
So, below some of the key reasons why your promotion on social media doesn't work:
1.Your social channels are overly self-promotional
It's very easy to spend too much time talking about yourself on social media, after all it's what you know. But there's such a thing as too much self-promotion. Your audience by now will understand what you do, why you do it and what makes you the right choice – they might even be customers already. Therefore, it's a good idea to think about what they might want to see, what they might want to read and what's of interest to them. That's what you should be pushing out. Make your content relevant to your audience, not yourselves.
2.Acting Like a Robot
Social media marketing isn't something that should be rigid. There should be room for creativity and inspiration. For example, you don't have to always share a blog post from your website every Monday because the social media calendar notes so. A social media calendar should serve as a way to keep going instead of a be-all and end-all. Your calendar helps you on those days where creativity and inspiration are absent. Furthermore, your social media calendar should be ever-changing based on outcomes. Sticking to post ideas even when they aren't yielding results is a waste of resources. I recommend making adjustments to the plan as you receive feedback from data (e.g., the rate of engagement, views, likes, etc.). Don't be a robot.
3.You Aren't Being Consistent
Every business should be consistent with their brand presence on social media. That means keeping brand assets in line with your style guide and avoiding breaking promises. For instance colors used with imagery should be in line with brand colors. From the tone of voice to font choice to post frequency and others, maintain consistency in everything involving your brand. This way, you'll be noticed and remembered.
4.You're not being authentic
Authenticity in social media marketing is not only really important when it comes to connecting with your audience, but it's also not that common. Many businesses try too hard and it's transparent – users are savvier than ever and they know when you're not being genuine.
Rather than trying to sell to your audience, talk to them instead. Why not humanise your brand by making your posts more personal – show the people behind the business. Reminding your audience that your business is ultimately made up of people who enjoy what they do, and more importantly people who want to help, is only going to increase the chances of them becoming and remaining customers. After all, as the old adage says – people buy from people.
5.You Aren't Investing In Right Tools For Your Promotion
If you're reading this in our blog, then you are in the right place which can help you to grow your popularity. Our services for promotion are literally the most cost-effective way to reach a group of consumers. Why are you still not using it? The free ride is over, and really, it has been over for a long time. While not every business has a large budget to invest in advertising, our prices are the most low and profitable and you totally need to try it out!
Don't forget that Black Friday is almost here and we have some special offers for you. Until the end of November you can buy our best services with up to 50% discounts! Don't miss the chance to wake up popular ;)
YouTube Services - up to 50% OFF
TikTok Services - up to 35% OFF
Instagram Services - up to 45% OFF
Facebook Services - up to 30% OFF
Spotify Services - up to 50% OFF
Stay tuned!
Subscribe to our newsletter and never miss a post
You've successfully subscribed
Thank you for your interest!
Don't forget to check your mailbox