Facebook Groups: How to Create, Manage, and Grow Your Own Community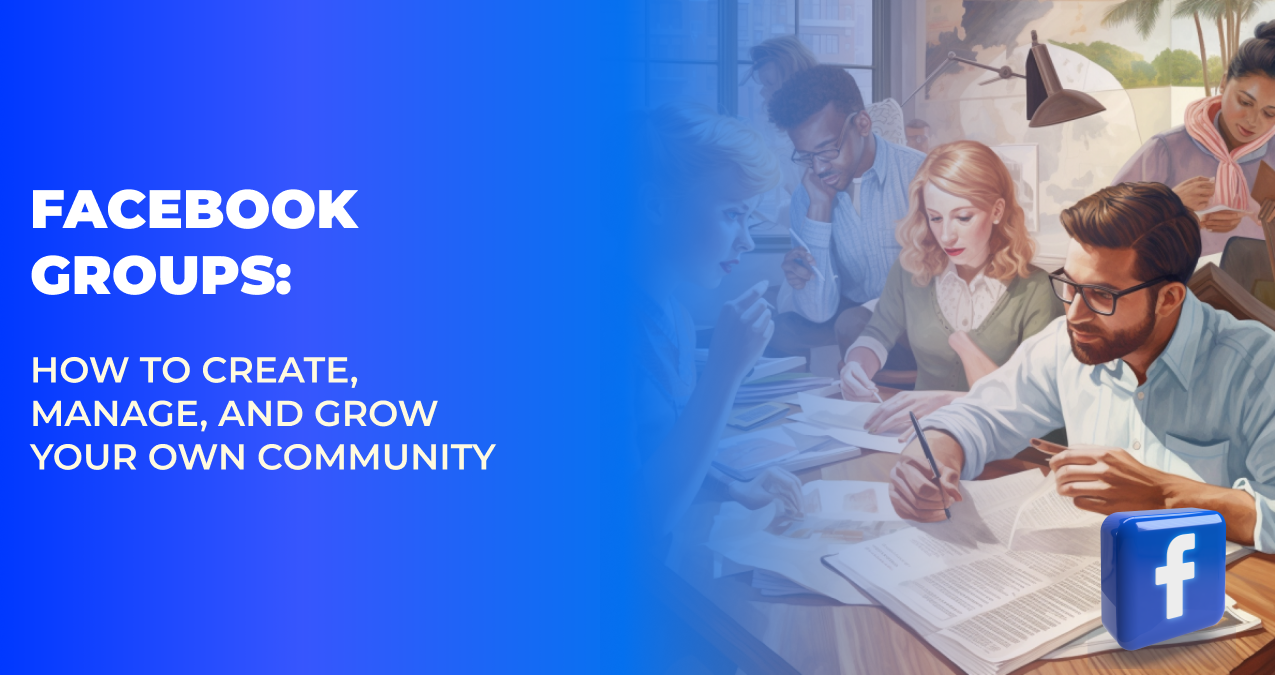 Table of Contents:
How to Create a Facebook Group
Tips for Managing Your Facebook Group
Strategies for Growing Your Facebook Group
How to Monetize Your Facebook Group
Conclusion
Frequently Asked Questions (FAQs)
Facebook Group Creation, Management, and Growth Guide.
If you're looking to create a community on Facebook, creating a group can be a great way to bring like-minded people together. But starting a group is just the first step; managing and growing your community is an ongoing process that requires dedication and effort.
In this guide, we'll walk you through the process of creating, managing, and growing your own Facebook group. We'll cover everything from setting up your group to enforcing rules and fostering engagement, as well as strategies for attracting new members and monetizing your community.
Whether you're starting a group for business or personal reasons, this guide will provide you with the tips and tools you need to build a thriving Facebook community. So let's get started!
How to Create a Facebook Group
Are you looking to create a Facebook community? A Facebook group can be an excellent way to connect with like-minded people, share ideas and knowledge, and build a loyal following. In this section, we will guide you step-by-step through the process of creating a Facebook group. We will provide you with practical tips and tricks that will help you make your group stand out and attract the right audience. Whether you want to create a group for your business, hobby, or cause, this guide will help you get started.
Log in to your Facebook account.

Click on the "+ Create" button on the top right corner of your Facebook homepage.

Select "Group" from the dropdown menu.

Choose a name for your group and add a description that explains the purpose of the group.

Choose the privacy settings for your group. You can choose between "Public," "Private," and "Secret."

Add members to your group. You can search for friends, family members, or colleagues to add to your group. You can also invite people by email.

Customize your group by adding a cover photo and choosing a theme color.
Tips for Managing Your Facebook Group
Once you have created your Facebook group, the real work begins. As a group admin, it's your responsibility to manage the group, ensure that the content is relevant and engaging, and create a safe and welcoming environment for your members. In this section, we will provide you with tips for managing your Facebook group effectively. We will cover topics such as setting clear rules, moderating content, dealing with conflict, and engaging with your members. By following these tips, you can create a thriving community that adds value to the lives of your members.
Effectively managing a Facebook group is crucial for its success, particularly when you have a large number of members. It can be a challenging task that requires a well-thought-out plan, consistent effort, and constant adaptation to members' changing needs. Fortunately, there are various tips that you can use to manage your Facebook group effectively and efficiently. These tips will help you foster engagement, ensure that your group's rules are followed, and maintain a positive atmosphere within the community. How to make a group on Facebook?
Set clear rules for your group. It's essential to have rules that govern the behavior of your group members. Be clear about what is acceptable and what is not.

Be an active admin. As the admin of your group, you need to be active and engaged. Respond to comments, post content, and keep the conversation going.

Keep your group organized. Create categories or threads for different topics to keep the discussion organized.

Use Facebook's built-in tools. Facebook provides admins with several tools to manage their groups, including member requests, post approvals, and group insights. Take advantage of these tools to streamline your group management.

Engage with your members. Encourage your members to post and engage with each other. This will help build a sense of community and keep your group active.

Stay up-to-date with Facebook's community guidelines. Make sure your group follows Facebook's guidelines to avoid any potential issues.

Consider assigning moderators. If you have a large group, you might consider assigning moderators to help you manage the group.
It's never been easier to create a Facebook group and start building your own community online. With just a few simple steps, you can create a group for any purpose you like, whether it's to connect with friends and family, promote your business, or share your interests with like-minded people. Let's take a look at the steps you need to follow to create your own Facebook group and get started on building your community today. Don't forget to also read our article How to promote content in 2023 to better develop your social media.
Strategies for Growing Your Facebook Group
How to create a group on Facebook? Growing a Facebook group is not a simple task, and it requires careful planning and execution. However, with the right strategies and tactics, you can significantly increase the membership and engagement of your group. There are many effective ways to grow your Facebook group, and we will explore some of the most successful strategies below. By implementing these tactics, you can attract new members, keep your existing members engaged, and turn your Facebook group into a thriving online community.
Proven strategies to help you grow your Facebook group:
Know your audience: Understanding your target audience is key to growing your Facebook group. Create content that speaks directly to their interests and needs.

Promote your Facebook group: Share your group on your website, blog, and other social media platforms to gain exposure. Encourage your current members to invite their friends and family to join as well.

Use Facebook Ads: Facebook Ads can help you reach a wider audience and promote your group to people who may be interested in your niche.

Offer exclusive content: Offer exclusive content to your group members to make them feel valued and appreciated. This can include early access to new products or services, exclusive discounts, or members-only content.

Engage with your members: Engaging with your members is key to keeping them interested and active in your group. Respond to comments and questions, ask for feedback, and encourage members to share their own content.
How to Monetize Your Facebook Group
Monetizing your Facebook group can be a great way to turn your passion into profit. Here are some ways to monetize your Facebook group:

Affiliate marketing: To get more likes on Facebook recommend products or services to your group members and earn a commission on any sales made through your unique affiliate link.

Sponsored content: Work with brands and businesses to promote their products or services to your group members.

Paid memberships: Offer premium content or services to members who pay a monthly or annual fee.

Crowdfunding: Use your group to raise money for a specific cause or project.

Product sales: Sell your own products or services to your group members, such as ebooks, courses, or coaching sessions.
Remember, it's important to be transparent and authentic when monetizing your Facebook group. Your members will appreciate your honesty and will be more likely to support you if they feel they are getting value in return.
Conclusion
After following the steps to create, managing, and growing your Facebook group, you'll likely be wondering what's next. While there are always opportunities to continue improving your group and building your community, there are a few key takeaways to remember.
Firstly, creating a Facebook group provides a powerful way to connect with people who share similar interests or goals. With the right management and growth strategies, your group can become a thriving community that brings people together and provides value to its members.
Secondly, monetizing your Facebook group can be a lucrative way to turn your community-building efforts into a sustainable source of income. From sponsored content to affiliate marketing, there are several ways to earn money through your group while still maintaining its value and relevance to your members.
Finally, don't forget to keep up with Facebook's community standards and guidelines to ensure that your group remains a safe and positive space for all members.
Frequently Asked Questions (FAQs)
Q1. How do I create a Facebook group?
A. To create a Facebook group, go to your Facebook homepage, click on the "Groups" tab in the left-hand menu, and then click on the "Create Group" button. Follow the prompts to set up your group, including selecting a name, privacy settings, and group description.
Q2. How do I manage a Facebook group?
A. To effectively manage a Facebook group, you should establish clear rules and guidelines for members, moderate discussions to ensure they stay on topic and be respectful, regularly post content and engage with members, and monitor and respond to any questions or concerns that arise.
Q3. How can I grow my Facebook group?
A. To grow your Facebook group, you can utilize various strategies such as promoting your group through social media, collaborating with other groups or influencers in your niche, running ads, offering incentives for referrals, and consistently providing valuable content to members.
You can buy Facebook likes from SMM panels. It can be an attractive option for individuals and businesses seeking to increase their social proof and enhance their online presence. SMM panels such as Views.Biz provide services that allow users to purchase a specific number of likes for their Facebook posts or page.
The immediate boost in likes can create a perception of popularity and credibility, potentially attracting more organic engagement and followers. This can be particularly beneficial for businesses looking to establish a strong brand presence or individuals aiming to gain recognition and influence in their respective fields.
Professionals and companies can greatly benefit from leveraging social media platforms to establish themselves as industry leaders, generate leads, and expand their network. However, it is essential to exercise caution when selecting Views.Biz.
Don't hesitate any longer; take advantage of our effective service to increase your number of LinkedIn followers and forge valuable connections:
Q4. How many members should my Facebook group have before I start monetizing it?
A. There is no set number of members that your Facebook group should have before you start monetizing it. However, it is generally recommended that you have a strong, engaged community with at least several thousand members before attempting to monetize.
Q5. How can I monetize my Facebook group?
A. There are several ways to monetize a Facebook group, including sponsored posts or partnerships, affiliate marketing, selling products or services directly to group members, or offering exclusive paid membership tiers or subscriptions with access to premium content or perks. It's important to make sure any monetization efforts align with the interests and needs of your group members and don't compromise the integrity of the group's community.
Stay tuned!
Subscribe to our newsletter and never miss a post
You've successfully subscribed
Thank you for your interest!
Don't forget to check your mailbox