How Much Does YouTube Pay Per View?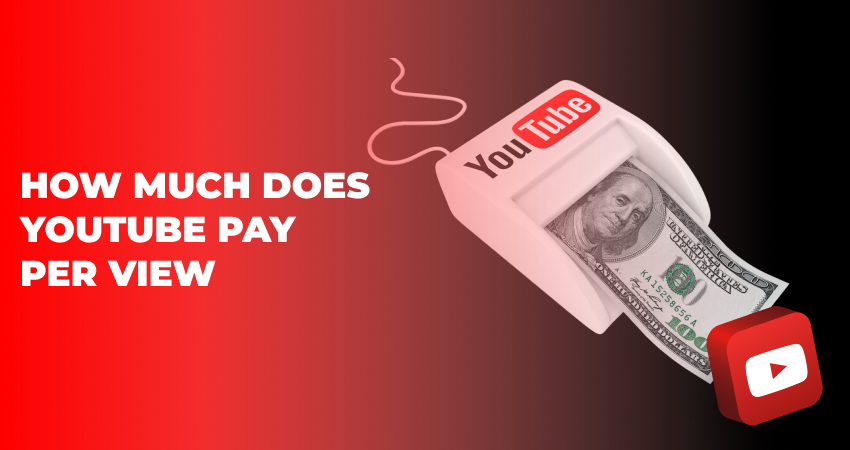 The digital age has paved the way for content creators to turn their passions into profitable businesses. One of the leading platforms for this transformation has been YouTube. Many are drawn to the platform, not just for its wide-reaching audience, but also its monetization potential, if you're considering diving into the world of YouTube or are just curious about 'how much does YouTube pay per view?', this article is for you.
Table of Contents
The most straightforward answer is that earnings are variable. Usually, YouTube pays creators between $0.01 to $0.03 per view via its Partner Program. This means that with 1,000 views, you can expect to make roughly $10 to $30. However, this figure is not fixed and is heavily influenced by various factors.
Creators must have at least 1,000 subscribers and 4,000 watch hours in the previous 12 months to become a part of the YouTube Partner Program and be able to raise income from ad revenue.
Different factors can influence how much you earn per view. For instance, advertisers may pay more for ads in countries with higher purchasing power. Some niches have higher CPM (Cost Per Thousand views) because of their targeted and engaged audience. For example, financial advice or tutorial channels might earn more than entertainment channels. A highly engaged audience that watches ads without skipping can boost your revenue.
You can choose the types of ads that appear on your videos, and some ad types have higher earnings than others. If there are more advertisers wanting to advertise on YouTube, the demand can increase the CPM. Also, videos over 10 minutes can include multiple ads, potentially increasing revenue.
Beyond ad revenue, there are several avenues to earn money on YouTube. To add to your revenue stream you can offer badges, emojis, or special content for subscribers who join your channel at a monthly fee. Viewers can also pay money to pin their comments on live chat during your live streams. On top of that, you can promote products in your videos and earn a commission for each sale made through your link. Brands can pay you directly to promote their products or services in your videos.
YouTube can certainly be a profitable venture, but success often requires strategic planning, consistent content creation, and an understanding of the platform's monetization nuances. While ad revenue is a common earning avenue, diversifying your income sources can ensure more stable and higher earnings.
How much do YouTubers make every 1,000 views?
On average, YouTubers can earn between $0.01 to $0.03 per view through the YouTube Partner Program, with some exceptions reaching $0.05 or even more. When translated to 1,000 views, this means a YouTuber can earn roughly $10 to $30. However, this figure is influenced by several factors, including the video's content, audience demographics, and the type of ads shown.
How many views do YouTubers need to get paid?
To start earning from YouTube's ad revenue, a content creator needs to be a part of the YouTube Partner Program. To be eligible for this program, a channel must have at least 1,000 subscribers and 4,000 watch hours accumulated over the past 12 months. After meeting these thresholds and getting accepted into the program, creators can start earning from the very first view. However, YouTube processes payments only when a creator's account accumulates at least $100 (or a similar threshold in other currencies).
What do you need to become a YouTuber?
To become a YouTuber, sign up for YouTube and create a channel. A clear niche or theme for your channel, whether it's vlogging, tutorials, gaming, reviews, or any other content type. While many start with just their smartphones, as you progress, you might consider investing in a good camera, microphone, and lighting equipment. Regularly upload videos and be patient, as building an audience takes time. Interact with your viewers through comments, live chats, and community posts.
Can I quit my job with YouTube payments?
Whether or not you can quit your job and rely solely on YouTube payments depends on various factors. While you might earn a significant amount in one month, earnings can fluctuate. It's essential to have a consistent and sustainable income before considering leaving your job. Consider the costs involved in creating content, such as equipment, software, and potential travel or product costs. Ensure that your YouTube earnings can cover all your monthly bills, savings, and unforeseen expenses. It's beneficial to have multiple income sources, such as sponsorships, affiliate marketing, merchandise, and more.
Stay tuned!
Subscribe to our newsletter and never miss a post
You've successfully subscribed
Thank you for your interest!
Don't forget to check your mailbox