How to Embed a YouTube Video in PowerPoint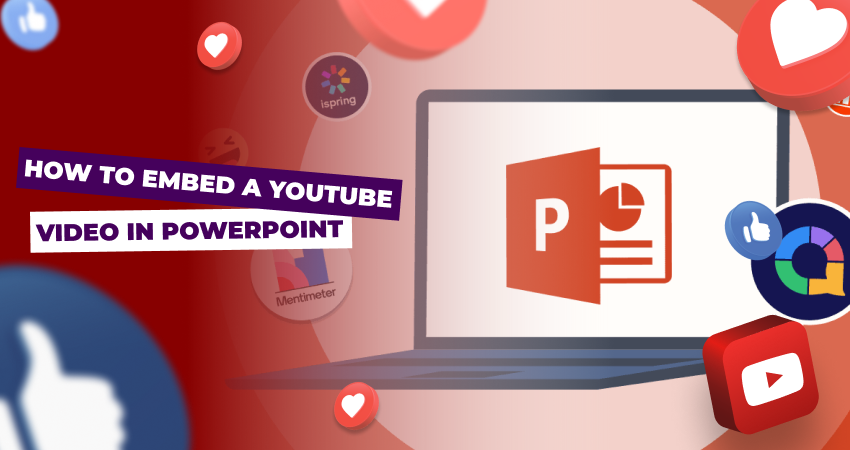 If you want to make your presentation more interesting and informative, you would want to include some videos, not just pictures. For that you probably would need to first find the right video content and then embed it to the slides. Here are some tips for you on how to embed a YouTube video in PowerPoint.
Table of Contents
To add any video to your presentation, first, you would need to go to YouTube and copy the video URL. After that, you can go to the slide where you'd like to add the video and click on the 'Insert'. Find the 'Media' section, choose 'Video', and then select 'Online Video'.
When you embed the video, you can also customize it how you need it to be. For, instance, you can adjust video size or position on the slide. For that you click on the video and this will reveal sizing handles at the corners and sides of the video. Drag these handles to adjust size or move it anywhere else where you want it to be in presentation. Moreover, you also will be able to set a playback and choose when the video starts (e.g., 'On Click' or 'Automatically'), decide if it will loop or play in full screen. If you only want to play a specific part of the video, you can trim it. With the video selected, go to the "Playback" tab and select "Trim Video." Adjust the green and red sliders to set the start and end times for the video playback.
Direct video embedding refers to integrating a video into your PowerPoint file so that it doesn't need an internet connection during playback. However, when you embed a YouTube video using the method above, you're essentially linking to the video online, meaning you need an active internet connection for playback.
For genuine direct embedding (where the video is part of the PowerPoint file), you would need to download the YouTube video. Remeber, that before downloading ensure you do not infringe on any copyrights and can use the video freely. There are various online tools and software options to download YouTube videos. Always choose a legitimate and safe tool.After you download the video, you can insert to a slide. Simply click 'Insert', then 'Video,' and choose 'Video on My PC' (the wording might vary slightly depending on your PowerPoint version).
By doing this, the video becomes part of the PowerPoint file, allowing playback without an internet connection. However, this can significantly increase the file size of the presentation.
Embedding a YouTube video in PowerPoint is a straightforward process that can greatly enhance your presentation's impact. Whether you're linking to a video online or incorporating one directly into your file, the integration of dynamic video content can take your slides to the next level.
What video formats are supported in PowerPoint?
PowerPoint supports .mp4 files encoded with H.264 video (a video codec) and AAC audio (an audio codec), .avi, .wmv, .mov (for PowerPoint 2010 and newer), .m4v, .mpg or .mpeg, .swf (only for older versions of PowerPoint). The exact formats supported can vary slightly based on the version of PowerPoint and the operating system you're using.
How can you play videos automatically in PowerPoint?
For automatic playback, click on the video and click the 'Playback'. In the From the dropdown menu select 'Automatically.'
Why can't I embed the video in PowerPoint?
The video might be in a format not supported by your version of PowerPoint. If the necessary codecs to play the video aren't installed on your computer, embedding might fail. Older versions of PowerPoint might not support embedding certain types of video or online video embeds like YouTube. If you're trying to embed a YouTube video or another online video, a lack of internet connection or a weak connection might prevent the embedding. If the video has restrictions or has been removed, embedding will fail.
Can I download videos for PowerPoint?
Yes, you absolutely can. Make sure, that video is free to use. Once downloaded, make sure the video is in a format supported by PowerPoint. You might need to use video conversion tools if it's in an unsupported format. Higher-resolution videos might be large in file size, which can make your PowerPoint file bulky and potentially harder to share. Consider this when choosing video quality. There are numerous online tools and software available for downloading videos, but always ensure they are legitimate and safe to use.
Stay tuned!
Subscribe to our newsletter and never miss a post
You've successfully subscribed
Thank you for your interest!
Don't forget to check your mailbox